Simplifying PC updates; automating call routing
Keep Your PCs Up to Date
A really hard job for any franchise company's tech department is coordinating all the different systems in franchisee locations. As everyone gets more and more dependent on standardized machines and programs, it's easy to think that the basics are taken care of.

Not so, as Tim Davis of Mail Boxes Etc. discovered soon after taking the job of vice president of technology for MBE in spring 2002, after its merger with UPS. "I had concerns about antiquated software and a communications platform that was not conducive to a retail system," he says.

In 2005, Service Pack 2 for Windows XP was released. "We needed to get it to the franchisees, and that got us to thinking about the challenges of deploying not only the Service Pack but also other administrative tools that franchisees aren't accustomed to doing every day." That especially included security software updates, as well as updates to browsers and other software.

It just wasn't a top-of-mind issue for franchisees, who were more concerned with getting customers and serving them than fiddling with PCs. For those franchisees who did try to keep up, there were issues such as which update needed to be applied, and whether it might in fact be a step backward (a DVD with an older patch that would replace a newer one, for example). All these issues, and correcting them, can eat up a lot of a franchisor's IT department's resources.

"We had experiences where multiple antivirus systems were being deployed by franchisees, and if they didn't do their custodial work, they'd get problems," Davis says. "Employees might use machines in an owner's absence and download malicious software unintentionally. And franchisees can't afford to have the POS machine unavailable."

MBE tried even the extreme solution of shipping out fresh hard drives to replace all the software at once. It was a kind of prevention program, but was obviously expensive and time-consuming - even assuming owners knew how to replace a hard drive.

Davis' staff had come across a company called Everdream, a Fremont, Calif., software firm specializing in on-demand management of corporate desktop computers.

"Our customers take a small lightweight agent and distribute that to all their systems," says Everdream's Jim Obsitnik. "Once that agent talks back to the Everdream control center, our customers access the information through their Web browser."

So the franchisor doesn't have to do anything to roll out a new update. Users don't even have to make an effort to do the update, Obsitnik says.

"As soon as the PC connects to the Internet," he says, "it's communicating with the Everdream control center. It doesn't have to connect to the MBE network, and it could be at home or at the store."

The program also is secure, so no PC is open to hacking while it uses the system. Nor is it set up to collect financial data. Davis says that MBE "wants to avoid the appearance of capturing their data," so he is working to set up a system so that franchisees can work directly with Everdream to create automatic backups of their data.

Davis is happy with the results, and so are the franchisees: "Franchisees by and large want technology to be something they don't have to think about," he says. "It's the nature of franchisees to spend time on other things." www.everdream.com

Mapping Your Phone Calls
We're not done with telephones yet, much as we might think so. Customers use the phone to call for locations and orders, and toll-free numbers are still the mode of choice for most callers.

"Lots of older folks are never going to go there," says Charles Austin, president and co-owner of St. Louis-based AdGeo. The company combines telecommunications with mapping reports delivered through an Internet browser for a way to capture data about customers and make that data useful.

"Customers are calling to get someone to come to them," he says. "We take toll-free numbers and allow franchises with national branding to use that number. We route calls automatically to a local franchisee based usually upon geography," he says, although some might have other criteria.

The data generated by the caller is displayed with other information and presented on a map. A given franchise can have data on the whole system, or an individual franchisee can see just his own. It is especially useful for campaigns at the multiunit level, says Austin.

"We can get down to the street level," he says. "If you go to a telecom service provider, they'll say they can do that, but it's only by area code and prefix. There's no way you as a franchisee can think about maintaining that. We're able to let you describe how you want calls routed."

Calls are routed based on "caller response zones" designated by the franchise. They can be based on the caller's Zip Code, county, closest location, political boundaries, franchise boundaries, complex polygons, busy/no answer routing, time of day/day of week routing, historical data-based routing, multiple terminations with percentage routing, or round robin routing.

Although for franchises, the closest location is the likely choice, ad campaigns might be set up nationally that might be routed differently (some stores might be participating, others not, for example). Also, different numbers can be set up for different marketing campaigns, and the results can be seen on the map.

"We have one large group that has about 1,200 locations. We feed this data to their ad firm so they can change a campaign overnight," Austin says.

Some franchisors are using the system to define proposed territories. Once it's approved, that's updated on the central map, and everyone in the system is operating from one set of data.

Austin calls it the "antithesis of a call center," since calls go directly to the location closest to the caller, rather than to a general center. An additional advantage is that there are no annoying "To find the closest location, press 3" messages. The probability is that a caller gets a real person right away.

Cell phones present special problems, since they aren't tied to a particular location, despite having an area code. Callers are recognized as mobile phone callers, so they can be prompted to select a location to have the call routed there. It is an additional step, but until cell phone companies start sharing more information, it's necessary.

Franchisors or area developers can pick up useful information - say if an individual store owner or manager insists that he's not getting calls.

"The franchisor can show what actually did come in," Austin says. "We had one case where the franchisee said he wasn't getting calls, but actually he wasn't answering the phone."

Austin says AdGeo can show a franchisor where stores are not performing, and provide data to decide where a store might need to be relocated or even closed. www.adgeo.com
Published: December 21st, 2007
Share this Feature
Recommended Reading:
Comments:
comments powered by

Disqus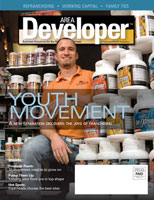 Multi-Unit Franchisee Magazine: Issue 4, 2007
Low investment, fastest growing with over 1,200 franchises in 11 years, #1 in franchisee satisfaction for the last seven years...enough said!
Cash Required:
$20,000
We at Kale Me Crazy believe in real food and that everyone deserves access to real food. We provide a variety of quick and nutritious options to...