Sizzle and Steak!: Taking a 60-Year-Old Legacy Brand into the Future
When Kristina Van Bruggen joined Sizzler USA as vice president of marketing in 2014, the brand admittedly was a little behind the rapidly changing marketing curve. The focus had been on more traditional methods of increasing brand awareness. But change was afoot and Van Bruggen was in the right place at the right time to help usher in and propel that change.
A new way of thinking, a talented marketing team, and new methods of communication helped fuel the early stages of the brand reaching out to a new customer base--while continuing to connect with guests already committed to the brand.
"From marketing campaigns to menu revitalization and brand image and design work, we've created a new look for Sizzler that has high appeal," says Van Bruggen today. She loves being a part of the 60-year old brand and relishes the task of continuing to help increase awareness and continued growth of the brand's 134 U.S. restaurants, located primarily in the western states.
Van Bruggen arrived at Sizzler with more than 20 years of experience in national consumer marketing and a track record of successfully integrating a wide range of marketing strategies. Before Sizzler, she had spent 13 years at marketing and advertising firm TracyLocke, where she led marketing initiatives for T-Mobile, Sony PlayStation, Pepsi Foodservice, and Pizza Hut, among others.
"To be an effective marketer today, you must be able to embrace nontraditional tactics," she says. That's why Sizzler is relying on research, data, and KPIs that help the brand identify coming trends and design effective strategies to make the most of them.
She says her success to date is the result of working with new technologies, agency partners, and franchisees to identify new opportunities for the brand. Execution, she says, is a team effort.
Describe your role as vice president of marketing at Sizzler USA
. My job is to not only protect but also to continue to build a 60-year-old legacy brand that operates 134 restaurants across the U.S. Leading a legacy brand requires a unique balance of staying true to our roots while also pushing the envelope to evolve the company. When I first joined the Sizzler family in 2014, my role centered on growing our guest base. After four years, our system has embraced a different way of thinking. Over the last few years, we've integrated nontraditional digital marketing platforms into what's been a very traditional marketing approach. From marketing campaigns to menu revitalization and brand image and design work, we've created a new look for Sizzler that has high appeal.
What's the most challenging part of being a CMO today?
The landscape is constantly evolving and it's an ever-changing art to effectively and personally communicate with our guests. To be an effective marketer today, you must be able to embrace nontraditional tactics. Being quick and nimble enough to remain relevant and evolve in the digital age is a challenge for legacy brands, but we've managed to implement several strategic campaigns that have proven to elevate the brand to where it is today.
What are the 3 most important keys to being an effective CMO leader today?
Be curious, always have an open mind and a willingness to learn new things, and of course, always listen. Some of our best ideas come from team members who are working hands-on in the restaurants and with our guests. Many of the new tactics we've employed over the last few years have stemmed from new technology, our agency partners, and new ideas from our franchisees, who we love to work with to identify growth opportunities for the brand.
How do you prepare a marketing plan and execute the strategies?
We use a collaborative and consumer data-driven process to design a yearly marketing strategy. Using this data helps us anticipate trends and understand what will drive our business in a very competitive marketplace. Past trends also help us understand if our customers favored a certain culinary trend or flavor profile in an LTO. We want to ensure that we can replicate that same success and continue to deliver and market craveable offerings for our customers on an ongoing basis. Working hand in hand with our franchisees and operations to execute our marketing plans helps ensure consistency. Execution is a team effort!
How do you measure marketing results and effectiveness?
A strong partnership with our analytics team and our marketing, public relations, and advertising agencies is key to measuring and optimizing our results. To better understand Sizzler's lift, awareness, and first-time trial, we look at our KPIs (which include traffic, margin growth, and mix shift) in conjunction with consumer tools like guest intercepts and social media listening tools. These qualitative and quantitative results provide rich information for brand initiatives, and ultimately tell us if what we're doing is working or not.
Discuss your core consumer marketing strategies and objectives.
Our main focus is broadening our base without alienating our core loyal guests. To ensure that we reach a broad guest base where consumers are ready to listen and engage, we do this with a combination of traditional and nontraditional media tactics, such as television, print, and digital media. Traditional media casts a wide net for one-way communication to share our brand story. Nontraditional media is all about community building and is a lead-in to actively engage in and foster conversations with consumers on a variety of platforms. With all the content clutter today, merely being present in the digital and social media scene isn't enough. Creating unique content to create a deeper connection with our brand--like our Cheese Toast campaign--can deliver real value to our guests, which is our main goal. And ultimately, it's what they expect.
How do you go about creating a "customer-centric" marketing and brand philosophy?
Being hyper-focused on guest satisfaction has been at the core of Sizzler's culture for the last 60 years. Our success is based on a variety of factors and is a mash-up of understanding our guest's needs, constantly evolving our culinary development, and delivering and exceeding guest expectations in our restaurants every single day. It's a full team effort. This strategy is exemplified in our menu evolution. Throughout its history, Sizzler has consistently tailored its offerings to incorporate on-trend flavors. This is showcased in the recently upgraded Craft Salad Bar, which features quinoa, artichoke hearts, and avocado, served on a chilled plate for a gourmet experience. Continuously building upon our guest's satisfaction will continue to be a priority.
Describe your marketing team and the role each plays.
We have a small and mighty marketing team focused on helping our restaurants develop meaningful relationships with our guests, in turn driving loyalty and sales. We focus on brand development, local store marketing, digital and social media, innovation and technology, design, and marketing analytics. Our team works closely with our franchise partners, R&D, operations, construction, IT, and finance to develop brand-building programs, craveable food, and a comfortable environment for our guests to enjoy.
Why is it so important for the marketing department to have a "personal touch" when it comes to helping the brand connect with franchise prospects?
We are the brand voice, communicating our expectations, core values, and attributes to someone who is potentially making a commitment to join our family. It's imperative that prospective franchisees understand the brand's key insights--and realize the benefits and support they will receive from the marketing department's overall strategy as it relates to the cross-functionality of each restaurant's success in their respective markets.
How does this help your franchise sales and development effort?
As a whole, all departments, including the marketing department, contribute to the potential franchisee's decision to join the Sizzler system. It's our job to educate new and prospective franchisees about their core guest base, competition, and trade area using mapping and demographic analytic technology. We strive to develop personal relationships and have an open-door policy with our franchisees to ensure the success of their business.
What ways/tools do you rely on to do this?
We rely on various analytic tools and resources for our brand to target development areas poised for rapid expansion and success. But most important, it has been our open-door policy and personal relationships with existing franchisees who share their success and in turn become our biggest brand advocates.
Do today's prospects expect more from the franchise marketing department? What, and how do you provide it?
In general, franchise prospects always expect a proven business model coupled with top-notch marketing strategies. Our marketing department works tirelessly to ensure that the marketing needs of our franchisees are met and can deliver measureable results. At Sizzler, we go above and beyond by providing direct communication support.
How is today's consumer and marketing data helping you fine-tune your marketing initiatives?
Having a strong analytics department is the first step. We have multiple research partners and digital platforms that provide rich data that we aggregate to understand our guest on a broad level. Second, we use data from individual digital platforms to create targeted messaging to communicate effectively with the respective audience in mind. For example, our limited time offers are communicated differently when deployed on television, through our eClub community, or in our social communities. Each platform has specific messaging tailored to activate various KPIs and to engage with consumers from different marketing perspectives and using different tactics.
Describe the evolving role of social media in your brand's marketing efforts.
Social media has given us a tool to communicate Sizzler's brand personality. It's given us a way to create a conversation with a new guest base in a meaningful and authentic way. Since placing an emphasis on social and digital media, we have seen incredible success with a 388 percent increase in building our social communities across multiple social platforms, confirming that our guests want to engage with our brand.
How do you work with other internal departments, and does technology help?
Technology has streamlined our communication efforts, giving every department a platform to share and communicate important information on rapidly moving projects. Training webinars, quarterly marketing webinars, video conferencing, Skype instant messaging, and project management software are just a few of the tools we use internally.
How do you manage costs and budgets for the marketing department?
We have a very stringent planning process to develop realistic and strategic marketing plans annually. Sharing our budgets with agency and vendor partners empowers them to find savings and efficiencies whenever possible.
Do you see vendors as business partners? Why/why not?
Yes, our partners are an extension of our brand. By allowing our partners access to our brand we can take advantage of their skill sets, experience, and diverse business perspectives. Our success is their success.
How have marketing strategies/tools changed over the past decade?
How have you adapted? Being unafraid to move away from traditional marketing tactics and investing in new and innovative technologies, specifically across digital platforms, has allowed us to gain access to insights and efficiencies with our guests, franchisees, and corporate team. In turn, we are better able to understand our guest behavior and use this high-impact data to quickly respond.
How is your marketing/branding strategy developed, and how does it flow through the system?
We work closely with our team and partners to develop annual promotions for campaigns that will support the entire Sizzler system. After that is complete, the marketing team collaborates with field operations, franchisees, and our innovation team to develop actionable strategies, and then clearly articulates the overview of the marketing plans throughout each level that each department manages. Because of the up-front collaboration, deployment of these strategies is seamless through the system.
What advice would you offer to aspiring CMO executives?
Build a great team. Listen to learn. Trust your instincts to know when to pivot and try something new. You have to love what you do. It's a demanding role that can consume you. Having balance in your life will give you the ability to embrace the role and ultimately be effective.
Published: June 16th, 2018
Share this Feature
Recommended Reading:
Comments:
comments powered by

Disqus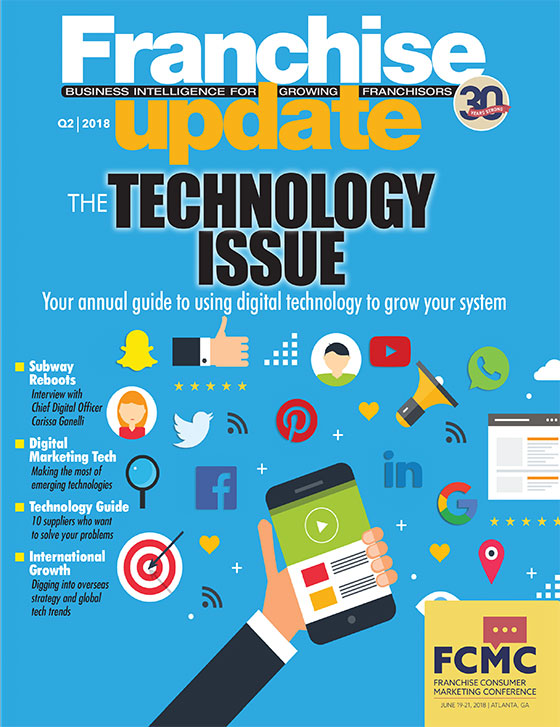 Franchise Update Magazine: Issue 2, 2018
UMI has over 23 years of experience supporting fast-growing multi-unit brands. From strategic planning to design, execution to analysis, UMI...
The business messaging platform that lets you text from your office phone number directly on your computer, so you can actually get a response.