Skipping the Line: Little Caesars' Pizza Portal is a Revenue Booster
In this age of delivery, delivery, delivery, location still matters--which is why so many restaurants have been providing "skip the line" options for their hurried, harried customers. Online ordering and payment are quick and easy, often resulting in higher tickets than in-store purchases. But it's a real buzz-kill for a hungry, time-pressed consumer to have to wait in line while customers hem and haw over the menu board and wait while their food is prepared (especially when yours already is). And then wait again when it's time to pay.
Little Caesars, the country's largest carryout-only pizza chain, has taken another step in customer convenience with its "Reserve-n-Ready" pickup option. Here's how it works. 1) Using the Little Caesars app, a customer orders and pre-pays online. 2) When their order is ready the app notifies the customer. 3) At the store, they go directly to the Pizza Portal (a heated, self-service mobile order pickup station), where they input a 3-digit PIN or scan a QR code from their phone. 4) The door on the customer's secure compartment opens, and off they go to enjoy their meal. No line, no waiting.
Little Caesars announced the Pizza Portal in August 2017, calling it the "restaurant industry's first, heated self-service mobile pick-up station." It was market tested in Tucson at more than a dozen locations, and the results were positive. Last September, the company announced it had completed the installation in nearly all its U.S. stores.
After almost a year of using the Pizza Portal, John Hotchkiss, a franchisee with 46 Little Caesars, is loving it. "Digital sales are responsible for 6 percent of our current company sales--up from zero," he says. "We love the increased ticket average and the speed with which our customers can obtain their order without ever having to go through the normal process of the quick service restaurant."
So do customers. "They love the ability to walk in and go directly to the portal and be on their way without having to wait and pay a cashier," he says. "The feedback from our customers has been overwhelmingly positive. We will continue educating our customers so they understand and hopefully use the Pizza Portal to help us further expand our online business."
"The app and portal now allows us to build on our limited traditional Hot-n-Ready menu to offer custom orders all day," says Hotchkiss. "We like being the only one in our industry that has it. It gives us the ability to differentiate our company in the competitive environment of online ordering."
He's also getting a boost from corporate, with the franchisor spreading the word about the new system. "TV and in-store advertising are helping to promote the Pizza Portal, and our management team was very excited to launch it and work diligently in promoting it to our customers," says Hotchkiss.
Corporate likes it too. "We're very pleased by the incredible feedback we've received from customers after our recent national rollout," said David Scrivano, president and CEO of Little Caesars.
So does the IFA, which presented Little Caesars with its Marketing and Technology Innovation Award for the Pizza Portal this past January. "I commend Little Caesars for their innovative and high-tech approach," said Robert Cresanti, IFA president and CEO. "It's exciting to see franchise businesses adopt new ideas and technology to better serve their customers."
In addition to the Pizza Portal, Little Caesars has been adding features to its mobile app. One example is that customers using the app now can schedule an order up to six days in advance and use touch ID and fingerprint and face ID to log in.
Hotchkiss says the cost to implement the Pizza Portal, which is integrated with the Little Caesars app, was approximately $16,000 per unit. The proprietary technology for the pickup station was co-developed with Apex Supply Chain Technologies.
Published: May 16th, 2019
Share this Feature
Recommended Reading:
Comments:
comments powered by

Disqus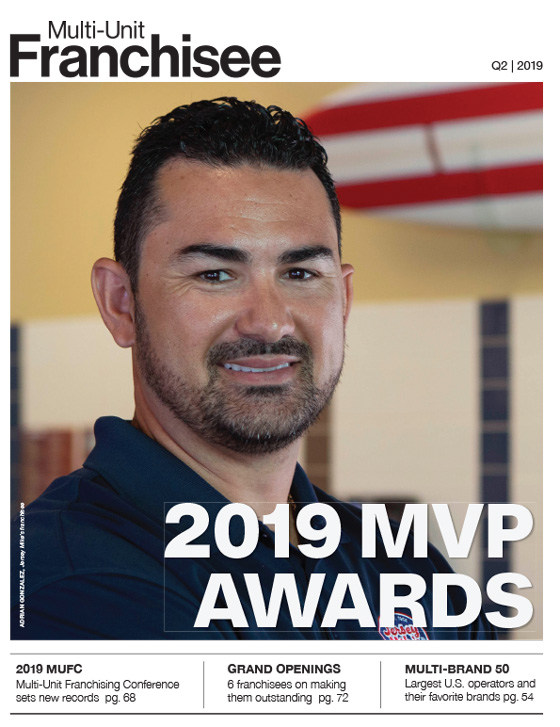 Multi-Unit Franchisee Magazine: Issue 2, 2019
Invest in a Dairy Queen® franchise opportunity and immerse yourself in familiarity. We invite you to get started today. Success has never been so...
Cash Required:
$400,000
On a mission to provide the most exciting Nashville Hot concept in the fast-casual space, The Budlong combines timeless southern flavors with...
Cash Required:
$150,000