Slow and Steady: Loyalty, Dedication, and Teamwork Add Up to Success
One evening in 1982, Iris Cohn's husband, Dick, came home and told the family he wanted to open a Taco Bell restaurant in the Chicago area. So the couple took their daughter, Jennifer, to one of the restaurants, where they proceeded to order one of every item on the menu. "We were hooked," she recalls. Putting everything on the line, the Cohns became the first Taco Bell franchisees in the Chicago metro area, growing steadily over the years to become one of the brand's largest franchisees.
In 2006, their company, RLC Enterprises, received the Franchisee Operator of the Year Award from Taco Bell. And three years later, Cohn and co-owner and business partner Terry Haseman accepted Taco Bell's other top honor, the Glen Bell Award, which recognizes the franchisee who best exemplifies the "entrepreneurial spirit" the Taco Bell founder brought to the QSR business.
She was honored by the awards, but it also was bittersweet. "My husband, who passed away in 2000, and I worked together from the start, and it was very difficult because the one who'd carried the other half of the load was gone," she recalls. After his death, she says, "It was challenging but doable, and I was confident I could rise to the occasion."
Cohn says that her continued success is due in large part to the contributions of co-owner and partner Haseman, a Taco Bell employee since the age of 15, who left corporate to join her company in 1992. "Terry has played a significant role in our company's development. He and I have an extraordinary working relationship. His dedication, loyalty, commitment to excellence, and integrity are above reproach. He's an incredible leader and has an unwavering commitment to team RLC. He's my business partner, for whom I truly care, respect, and appreciate every day."
Haseman is executive vice president of the company, and the core team includes several members who have been with the company for years. Cohn says she's learned "how important loyalty is."
She also has nothing but praise for her daughter, Jennifer, a PhD in clinical psychology whose help, she says, has been invaluable since the beginning. "Jennifer was 15 when we bought the first Taco Bell. She worked after school and on weekends and continues to help, even with her own family and career, whenever and however we need her," says Cohn.
The early days of being a franchisee were tough, but exciting, she says. "I was an accessories manager for a ladies' department store, and my husband was a plant manager for an aluminum smelting foundry. His business closed, but I continued to work in retail for a time. I'd leave the store in my high heels and dress, change into my polyester uniform and work in the restaurant. I remember doing payroll until 5 a.m. We all did what we had to do."
Two years after opening their first Taco Bell, the Cohns opened their second Illinois unit. They set an aggressive growth plan, and by the end of 1988 they had nine stores. Today, they have 47 Taco Bells, including nine KFC, three Pizza Hut, and three Long John Silver's multi-brand units. Cohn and Haseman have also added units in Indiana, Wisconsin, and Michigan.
"I'd describe our growth as slow and steady. We don't want to get stagnant, but we don't want to be out of control either," she says. "On average, we're building one new store per year. We're always looking for the opportunities that are best for our business."
Balancing a business with several different brands has been challenging, she admits. "But we have trained and learned and grown with multi-concepts and seen that it's worth it to give our customers choices."
After 27 years in the business and having created a strong, well-trained team, Cohn is now taking more time off. She enjoys playing canasta and spending time with her family: daughter Jennifer, son-in-law Joe, and her granddaughters. "My grandchildren bring me more joy than I ever knew existed," she says.
Cohn has achieved most of what she set out to do, both personally and professionally, she says. "I'm comfortable with my life, and I don't have regrets or major yearnings for anything else at this point in my life."
She still misses her husband, who has inspired her throughout her life, but she says he sends her a special gift each May around her birthday. "When my husband was dying of pancreatic cancer, we happened to visit Mackinac Island. It was June and there were gorgeous flowers, irises, everywhere. Dick wanted some bulbs so he could plant them at home for me. He went all around the island trying to find the bulbs," she recalls.
He died the following December. On her next birthday, May 25th, she came home, got out of her car, and walked around to the back yard--something she didn't normally do. "When I walked around back that day, I saw dozens of huge, incredible irises blooming in an area of the yard that couldn't be seen from the window. It was such an amazing surprise and birthday present. Every year they come up, so Dick is always with me."
QUESTIONS
Name: Iris M. Cohn
Title: President
Company: RLC Enterprises/RLC of Michiana
No. of units: 47 Taco Bells (includes 9 KFC, 3 Pizza Hut, and 3 Long John Silver's multi-brand units)
Years in franchising: 27
Years in current position: 10 as president (previous 17 as vice president)
PERSONAL
Age: 67
Family: My loving, supportive daughter Jennifer, who has a PhD in clinical psychology and has helped out in various capacities of the family business for 27 years; my wonderful son-in-law Joe, who is a financial adviser with Morgan Stanley and has the uncanny ability to provide real-world advice to me while separating himself as my son-in-law; and my granddaughters, who give more joy to my life than I knew existed.
Key accomplishments:
Raising a beautiful family, providing jobs and growth opportunities for employees, and helping create a multimillion dollar business with a family atmosphere.
Biggest mistake:
Being too trusting.
Smartest mistake:
Can't think of one.
How do you spend a typical day?
There is no typical day although I'm a night owl. If I work during the day, I play at night. If I play during the day, I work at night. Work week: Whatever it takes.
Favorite fun activities:
Canasta, Scrabble, books on tape.
Exercise/workout:
Wii Fitness, water aerobics, dancing.
Favorite tech toys:
My iPad and iPhone are amazing!
What are you reading?
Girl with the Dragon Tattoo by Stieg Larsson, and I always have several audio books in my car.
Do you have a favorite quote/advice?
Do unto others as you would have others do unto you. I try to live by that. Number 2 is advice: Life's too short for bull****. Let it go! Best advice you ever got: Take one step at a time.
Formative influences/events:
My mother died when I was 14, so my father was a big influence in my development and a great role model. He gave me the sturdy foundation and ethics I hope I have passed on to my daughter and her family. My husband, Dick, who passed away in 2000, was always an inspiration to me because of his love of life, his devotion to family, his business sense, and his thoughtfulness.
How do you balance life and work?
always hoped that at some point in my life that all the hard work I've done and time I've spent building the business would allow me to play hard now. I'm able to delegate to our team so that I can enjoy the fruits of my labor.
MANAGEMENT
Business philosophy:
Hire great people, give them the tools they need, and get out of the way.
Are you in the franchising, real estate, or customer service business? Why?
We're in the customer service business. Our mission statement is: "Grow our business for the benefit of all our employees by exceeding our guests' expectations one customer at a time." One Customer At a Time is OCAT, which is taco spelled backwards.
What gets you out of bed in the morning?
I love my life and look forward to each new day.
What's your passion in business?
It gives me great joy to see our employees grow within the organization and be able to provide for their families.
Management method or style:
Allow employees to own their jobs. When you do that, you can delegate and allow them to grow, while still being accountable.
Greatest challenge:
Balancing the ebbs and flows of the business (rising costs and healthcare concerns, etc.).
How close are you to operations?
My business partner, Terry Haseman, joined us in 1992 as director of operations. Terry was not new to Taco Bell; he had worked for corporate since he was 15 years old. Terry played an integral role in the development of RLC and is now executive vice president. Not only are we a great team, but I consider him a true friend and confidant. RLC's director of operations Debera Johns joined the team in 1991, also after many years at Taco Bell corporate. Debera has the ability to multi-task many facets of operations while effectively managing her team. While Jeanette Larimore is our office manager, she has not only been my right arm but has also been half of my left for the last 13 years. Jeanette is intelligent, organized, level-headed, and knows how I think and is able to anticipate. She is a tremendous support and we consider her our "go-to girl."
Have you changed your marketing strategy in response to the economy? How?
We follow the Yum! strategy to provide value to our customers in this challenging economy.
How has social media affected your business?
Corporate Taco Bell handles our social media, which makes communicating with customers easier.
Personality:
Type A
How do others describe you?
Loyal, strong, courageous, thoughtful, determined, and passionate.
How do you hire and fire?
I have learned to remove myself emotionally when it comes to making difficult decisions. I use due diligence in hiring and follow policy and procedures in firing.
How do you train and retain?
We have an excellent director of human resources and training, Debra Doyle, whose passion is to train and communicate the most cutting-edge information to our teams. She prides herself on continuing education and is constantly seeking out the most efficient and effective ways to protect and develop our employees. Debra was with Taco Bell for many years before joining RLC. We are proud to have her in her 18th year with us.
How do you deal with problem employees?
Patience and coaching.
BOTTOM LINE
Annual revenue:
$50 million
2011 goals:
To stay laser-focused on our mission statement of exceeding expectations.
Growth meter: How do you measure your growth?
Of course, crunching the numbers is a method to illustrate growth, but numbers don't always tell the whole story. We focus on due diligence and analysis to make smart business decisions regarding expansion.
Vision meter: Where do you want to be in 5 years? 10 years?
I see myself focusing on building an execution-oriented team to continue RLC's presence in the Taco Bell franchise family.
How has the most recent economic cycle affected you, your employees, your customers?
Where there are problems, there are opportunities. We have been able to slim down and to communicate to employees our determination to succeed.
Are you experiencing economic growth/recovery in your market?
We're seeing positive results from processes we've implemented over the last 2 years. While it has been challenging, we have learned valuable lessons, and our company is poised to continue on the road to success.
What did you change or do differently in this economy that you plan to continue doing?
We identified areas of the business and concentrated on cutting costs where we could become more efficient. We are being prudent and making adjustments that are what's best for the business.
How do you forecast for your business in this economy?
We are budgeting conservatively.
Where do you find capital for expansion?
Fortunately, we have a longstanding relationship with our bank.
Is capital getting easier to access? Why/why not?
We've had a great working relationship with our bank, so things have stayed the same for us. We consider them part of our team.
Have you used private equity, local banks, national banks, other institutions? Why/why not?
Yes. We're constantly searching for alternative sources.
What kind of exit strategy do you have in place?
That's a work in progress.
What are you doing to take care of your employees?
We create a family culture and pride ourselves on employees who have many years with our company. We provide employees access to benefits to protect them and their families.
How are you handling rising employee costs (payroll, healthcare, etc.)?
Judiciously.
How do you reward/recognize top-performing employees?
RLC has an annual managers' conference to share the state of the business, best practices, and recognitions and awards. In addition, we continually recognize excellent performance throughout the year. Our organization has won Taco Bell corporate's two highest honors: The 2009 Glen Bell Award and the 2006 Franchise Operator of the Year Award. We've also won the Pepper Award and the Flying Pig Award. We share these honors and attribute our success to our wonderful team.
Published: May 2nd, 2011
Share this Feature
Recommended Reading:
Comments:
comments powered by

Disqus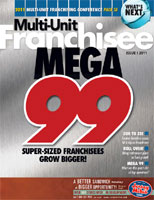 Multi-Unit Franchisee Magazine: Issue 1, 2011
Blend opportunity with success and join the nation's #1 health and fitness smoothie brand today!
Cash Required:
$100,000
As a fast-growing concept dedicated to serving fresh, cooked-to-order cheeseburger sliders, the Smalls Sliders franchise opportunity brings real...