Social Media Resource List
Keeping up on the rapidly evolving social media scene, and how platforms such as Facebook, Twitter, LinkedIn, and others can be used to help achieve your business goals is like trying to catch Jamaican sprinter Usain Bolt in the 100-yard dash.

For additional help, we've provided the following list of blogs, articles, and market research. Many of the resources listed also are doorways to other discussions, observations, and data--from opinionated blogs to cold hard stats.

Editors' Note: These resources run the gamut from unabashedly self-promotional to sober, detached analysis. In their own way, they all have something to offer. What you make of them is up to you. We hope it's helpful. And if some of the sites listed are history by the time you see this, it's all part of the rapid-fire nature of the new social media.

John Carroll
617-353-3450
carroll7@bu.edu
www.bu.edu/com/about/faculty/john_carroll.html

Patrick O'Malley (617Patrick)
617-728-7425
patweb@patrickomalley.com
www.patrickomalley.com/

Robbie Vitrano
504-525-4600
hello@trumpetgroup.com
www.trumpetgroup.com/


GENERAL
Mashable: The Social Media Guide
Lots of links, blogs, and each Monday a Social Media Events Guide.

FriendFeed
A one-stop aggregator that collects updates from social media/networking sites.

Social Media Conference
Several held each year, largest in Miami. Next is January 28-29, 2010 in Miami; then June in Los Angeles. Each has a different focus.

15 Insights from the Social Media Boot Camp
From socialmedia.com's May 2009 event.

10 points: social media reality check

HIRING/EMPLOYMENT/RECRUITING
Social Recruiting Summit Conference
New York City, Nov. 16, 2009. Also blogs, and links to speakers from June 15 summit at Google headquarters.

Using Twitter for hiring

Background checks
CareerBuilder Survey

MARKETING
OneUpWeb
Social Media Marketing Revealed

Internet Marketing Blog

BOLO 2009 Conference
For smaller, independent agencies on search, social, mobile, email, and advertising. Oct. 11-14, Scottsdale.

"Debunking Six Social Media Myths"
Business Week, Feb. 19, 2009

George Kao
Webinars and coaching on effective marketing with LinkedIn, Facebook, Twitter.

SOCIAL MEDIA IN PRACTICE
Ramon de Leon, Domino's Pizza franchisee
He owns 6 units in Chicago. See how he dealt with a late delivery complaint.
http://dpzramon.wordpress.com/

Thom Scott, real estate
Good example of using a blog in a specific sector.
BOOKS
The Long Tail
Chris Anderson

Blogging for Business
Shel Holtz and Ted Demopoulos

Groundswell: Winning in a World Transformed by Social Technologies
Charlene Li and Josh Bernoff; plus a blog.

Facebook Marketing: Leverage Social Media to Grow Your Business
Steve Holzner

Twitter for Business: Twitter for Friends
Mark Aaron Murnahan

Twitter Tips, Tricks, and Tweets
Paul McFedries (May 2009)
BIG THINKERS
Social Media: Evolution or Revolution?
These two have been debating online where social media fits into tech change.

Paul Seaman

Neville Hobson
RESEARCH FIRMS
Altimeter Group

Forrester Research
BLOGS & BLOGGERS
Chris Brogan
Community and social media

Jeremiah Owyang
Partner, Customer Strategy, Altimeter Group

David Meerman Scott
WebInkNow: marketing strategies using social media and online content

Evan Carmichael
Names his Top 50 social media blogs.

Ron Miller
His five favorite from Evan Carmichael's Top 50; also has a Social Media 101 site.

Digital Exercise
"A clearer understanding of the world of franchise communications."

Paul Segreto
Franchise social media marketing

Joel Libava
Franchise social media marketing

David Wilson
Social Media Optimization
Merging of traditional media, SEM, and social marketing

"4 Ways to Boost Business with a Blog"
Entrepreneur
FACEBOOK
Social Media for Small Business
A series of guides from Facebook and Dell.

Social Media Marketing: Facebook Business Pages
Should a business have a Facebook personal profile?

"Is Facebook History?"

32 Ways to Use Facebook for Business
TWITTER
How to twitter naked

Twitter resources

50 Ideas on Using Twitter for Business

Beyond The Fail Whale: How Twitter Is Changing Organizations
University of Washington course on best Twitter practices for business; many links.

"Are Execs Twittering Their Time Away?"
Information Week, May 2, 2009

"All You Need to Know to Twitter"
New York Times, May 6, 2009

"Marketers, Public Disagree About Twitter"
Brandweek, July 22, 2009

"Marketing Small Businesses with Twitter"
New York Times, July 23, 2009

"For Companies, a Tweet in Time Can Avert PR Mess"
Wall Street Journal, Aug. 3, 2009

"Do You Still Think Twitter Is Stupid?"
New York Times, July 30, 2009
Read the 100-plus comments.

Tweeting the Divine
Tweet your prayers to the Western Wall in Jerusalem in 140 characters (or less).
STATS/METRICS
"Social media's top restaurant players"
Nation's Restaurant News, July 8, 2009

Interactive Marketing: 5-year forecast

Nielsen Wire
Consumer, health, media and entertainment, online and mobile, politics, or sports.

Nielsen Report
"Global Faces and Networked Places: A Nielsen Report on Social Networking's
New Global Footprint" (March 2009, 15 pages)

Engagementdb
Social media database from Altimeter and Wetpaint; download free report.

Emarketer.com
Aggregator of articles, research, and stats; browse by category. Some free, some not.
Published: September 19th, 2009
Share this Feature
Recommended Reading:
Comments:
comments powered by

Disqus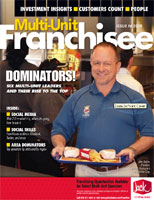 Multi-Unit Franchisee Magazine: Issue 4, 2009
Another Broken Egg is an upscale breakfast, brunch and lunch restaurant that specializes in Southern-inspired menu options and signature cocktails....
Cash Required:
$250,000
At Celebree School, our child care franchise delivers a safe, nurturing, friendly, state-of-the-art learning environment that fosters a solid...
Cash Required:
$250,000