Staffing in the Post-Pandemic Economy: How franchisees can gain a competitive edge
The summer employment season is in full swing. However, across the U.S., jobs recovery is playing out unevenly. Some states are experiencing a people shortage, with five job openings for every unemployed worker. In other states, there is no shortage of available workers, yet jobless rates remain high, indicating many people do not want to return to work. It's no secret to say that this is the most competitive hourly labor market of this generation.
Hiring in a tight labor market is a big job, and this isn't an ordinary tight labor market. The labor shortage we face is multifaceted. While many believe extended unemployment benefits are disincentivizing workers from coming back, that isn't the whole story. Family obligations, burnout from long-term unemployment, lingering health concerns, waiting for more people to be vaccinated, and the millions of people who reevaluated their work during quarantine are also giant contributors.
Today's workers want more out of their jobs, and savvy employers need to meet them in the middle. With the majority of the workforce expected to return by the end of September, it's critical that employers overhaul their recruiting and hiring processes to target the post-Covid worker. Here are three strategies for success.
1) Offer creative benefits
For employers looking to staff up in the current market, offering a livable wage with benefits is the only way to stay competitive. Franchise leaders must put employees first in an effort to attract and retain talent, with a focus on mental health and professional development. This can include benefits such as flexible scheduling, skills training, and health insurance. In our recent survey, we found that the top three benefits workers want are: flexible hours and scheduling (89%), employee discounts (76%), and job skills development and training (54%).
Major businesses across the country are paying attention. Waste Management, Chipotle, Bright Horizons, and Starbucks have all invested in professional development—offering access to continued or higher education for many of their hourly employees. Further, companies like Amazon have launched programs that provide employees access to personalized, convenient, and confidential mental health services. Others are providing paid days off after noticing pandemic-related stress building among employees.
2) Leverage technology
As hiring cycles continue to shorten and become more complex, businesses must move toward more technology-enabled tools for worker staffing, scheduling, backfilling, and hiring. Many employers have started embracing a more agile workforce powered by the gig economy and are now less reliant on the traditional hiring route. By using tech to match workers' lifestyles and by providing flexible schedules, franchise leaders can staff up according to demand.
By using virtual hiring to pre-screen candidates and immediately send them to interviews, franchisees can reduce their hiring process to just a few days, cut down on hassles, and more quickly onboard qualified workers. In turn, giving your managers intuitive, easy-to-use technology for these processes can measurably increase workplace satisfaction, productivity, and time on task for running operations essential to success.
3) Think outside the box
In the rush to find qualified work, franchise leaders can sometimes overlook one of their most valuable assets: current employees. Make your team your recruiting engine. Workers recruited from referrals produce 25% more profit for their companies than new hires recruited the old-fashioned way. Offer current employees a referral bonus if they bring in a great candidate. This will help boost retention while also encouraging the addition of qualified team members.
Also, don't be afraid to think outside the box and look for transferable skills. Many great candidates have what it takes to be an excellent employee but not the exact background you're looking for. Get creative with the applicants you do have and consider where they might fit best in your operation. Many workers left their previous positions during Covid-19 and are looking at new industries for work. They could be the perfect match for your operation even if their background isn't 1:1 with the hiring position.
Mathieu Stevenson is CEO of Snagajob. For more information, visit snagajob.com.
Published: September 24th, 2021
Share this Feature
Recommended Reading:
Comments:
comments powered by

Disqus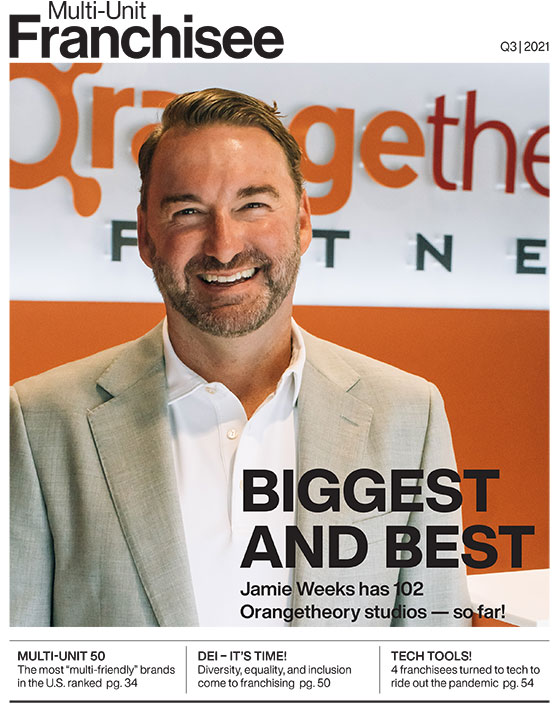 Multi-Unit Franchisee Magazine: Issue 3, 2021
Shakeaway is a unique global company with stores popping up all over the world! Get involved in this fun, fast growing and profitable franchise now...
Make your mark on the billion-dollar esports industry while making a positive impact as a franchise owner!
Cash Required:
$50,000