Success-ion Story: Family Business Diversifies to Expand
As senior vice president and chief investment officer of Impact Properties, Shirin Kanji is in charge of all of the Tampa-based company's investment-related activities. As with most family businesses, however, his real job goes far beyond just getting a deal done. "Since I was a teenager, my role covered anything that would help support the operating team," says Kanji, who has been busy adding more to his business plate.
This past October, the company acquired 40 Rent-A-Centers, further diversifying a portfolio that already included six hotel franchise brands, Firehouse Subs, and BurgerFi. "We had gotten close on a handful of other targeted deals along the way, but ultimately I feel we got the right fit with Rent-A-Center," says Kanji. "We have the ability to continue to grow within this brand and view it as a core holding for us in the years to come."
He was just an infant when the family business got its start in 1981 with a small independent property near the University of Florida in Gainesville. His entire family of nine lived in a small apartment behind the front desk of the mom-and-pop motel. That, says Kanji, "was all we had and we were determined to make the most of it." And they have: Over the past 35 years, his father, along with his younger brothers Kish and Nash (both still actively involved), built the business to where it is today: a multi-unit, multi-brand operation with more than $60 million in annual revenue.
In high school, Kanji spent his summers working at a Tampa hotel, one of his father's first major acquisitions during the Resolution Trust Corporation's days following the savings and loan crisis. Later, he headed north to attend NYU, where he earned a bachelor's degree in finance and political science and a master's degree in real estate finance and development.
Following graduation, he joined KTR Capital Partners, a private equity firm focused on investing, developing, and operating institutional quality industrial real estate across the U.S. That experience would add a valuable skill set to the family business, which is still actively run by his father and uncles. "The culture as a company that our family has developed over time is one that is focused on hard work, integrity, and loyalty," says Kanji.
With the company's addition of BurgerFi and Firehouse Subs, Impact's long-term outlook in the fast casual sector looks rosy. Kanji says BurgerFi's focus on all-natural food and an environmentally friendly design is a winning investment. "In a crowded space, we feel that having a franchise partner with a differentiated focus and offering is critical for ultimate success. We expect the better burger space to continue to grow, particularly in Florida, where BurgerFi has a strong footprint already."
With his eye on becoming a $100 million company, Kanji says the company will continue to pursue growth opportunities with existing brands and new franchise partners. "?A lot of the time the economy dictates the quantity and quality of those growth opportunities," he says. "My goal is to remain prepared for when the right deals come our way."
Name: Shirin Kanji
Title: SVP/chief investment officer
Company: Impact Properties
No. of units: 40 Rent-A-Center; 6 franchised hotels (Starwood, Marriott, Hilton, IHG, Motel 6, Ascend Collection), 2 hotels currently under development with Marriott and Hilton; 7 Firehouse Subs; 1 BurgerFi (3 more under development); 1 Starbucks; 1 independent fine dining restaurant
Age: 35
Family: Wife, Swathi, daughter, Serena
Years in franchising: 7-plus
Years in current position: 7-plus
Personal
First job:
Working for my father during summer break in high school at one of the hotels we owned.
Formative influences/events:
Watching my father grow our small, independent motel business into a large-scale company owning and operating a multitude of brands and businesses. We have built great relationships with all our franchisors and partners along the way.
Biggest current challenge:
Finding and keeping the right people for our company at all levels.
Next big goal:
Growing our portfolio of franchise brands to over 100 total units.
First turning point in your career:
Getting to work for a large private equity firm before I rejoined the family business. It really tested me as an individual and highlighted what I was good at and what still needed improvement. Without this experience I would not be in the position I am today professionally.
Best business decision:
Willingness to try something new.
Hardest lesson learned:
Being smart is not enough to succeed in business.
Work week:
In a family business, you do whatever it takes to keep our businesses succeeding. I am always on the clock!
Exercise/workout:
Three to four times a week in the mornings, usually before work.
Best advice you ever got:
Focus on the things you can control.
What's your passion in business?
Watching our co-workers succeed and grow with our company.
How do you balance life and work?
I make a point to spend quality time with family and friends every week and plan specific outings with everyone to stay connected.
Guilty pleasure:
Sweet tooth.
Favorite book:
The Most Important Thing by Howard Marks.
Favorite movie:
"Saving Private Ryan," "Coming to America," "City of God."
What do most people not know about you?
I love classical music.
Pet peeve:
Drama.
What did you want to be when you grew up?
A businessman like my father.
Last vacation:
Martha's Vineyard.
Person I'd most like to have lunch with:
Benjamin Franklin.
Management
Business philosophy:
Efficiency is doing things right. Effectiveness is doing the right things right.
Management method or style:
Giving our team the resources and tools they need to succeed and getting out of the way. Attention to people, not ideology.
Greatest challenge:
Getting everyone to focus (myself included) on the top priorities each day and not getting distracted by emails, calls, meetings, etc.
How do others describe you?
Hard-working, honest, loyal, knowledgeable, driven, easygoing.
One thing I'm looking to do better:
Work/life balance.
How I give my team room to innovate and experiment:
Empowering them to come up with ideas and solutions to improve our business on a daily basis. It's okay to try something new and different as long as we can learn from the experience and move toward a better solution.
How close are you to operations?
We have been fortunate to have great people who handle the day-to-day operations for our many businesses. We stay close as owners, but let our people do what they do best.
What are the two most important things you rely on from your franchisor?
Consistently growing the brand and maintaining relevance/value proposition with the core consumer.
What I need from vendors:
Reliability and responsiveness.
Have you changed your marketing strategy in response to the economy? How?
Our marketing strategy is always evolving as we try to meet constantly changing consumer needs across our business lines.
How is social media affecting your business?
Social media gives consumers direct access to comment on your business and let you know how your team is doing in real time. This keeps us on our toes at all times.
How do you hire and fire?
Take time to find the right fit. When someone is not working out, we move on and have a suitable replacement ready to go.
How do you deal with problem employees?
Quickly!
Fastest way into my doghouse:
Not taking care of our customers.
Bottom Line
Annual revenue:
$60 million-plus.
2016 goals:
Grow total revenue by 25 percent-plus.
Growth meter: How do you measure your growth?
Total sales, EBITDA, and net profit.
Vision meter: Where do you want to be in 5 years? 10 years?
Total revenue over $100 million.
How is the economy in your region affecting you, your employees, your customers?
The Southeast, where our businesses are located, has been experiencing steady growth across the board. We have units located in eight states and see consistent improvement across all metrics year over year.
Are you experiencing economic growth in your markets?
Yes.
How do changes in the economy affect the way you do business?
Economic changes affect how and when we need to implement new strategy or operating protocols to meet the demands of the changing environment.
How do you forecast for your business?
Staying in tune with the local economies where our units are located.
What are the best sources for capital expansion?
The capital markets are quite robust right now, with all forms of capital available from multiple sources at attractive terms.
Experience with private equity, local banks, national banks, other institutions? Why/why not?
We have worked with each and have found all of them to be valuable sources depending on the business needs. They each have an important role to play.
What are you doing to take care of your employees?
Offering the best compensation, benefits, and training we can.
How are you handling rising employee costs (payroll, minimum wage, healthcare, etc.)?
As the cost of doing business goes up, we have to keep tasking ourselves with new ways to grow revenue, improve product margins, and retain and train talent better. I have not experienced a period when the key operating expenses in our businesses were not increasing each year. It's one of the key challenges of staying competitive and ultimately profitable at the unit level every year.
How do you reward/recognize top-performing employees?
Offer improved compensation, benefits, and opportunities for advancement within our company.
What kind of exit strategy do you have in place?
I am fortunate to be part of a family business. We are here for the long term!
Published: March 21st, 2016
Share this Feature
Recommended Reading:
Comments:
comments powered by

Disqus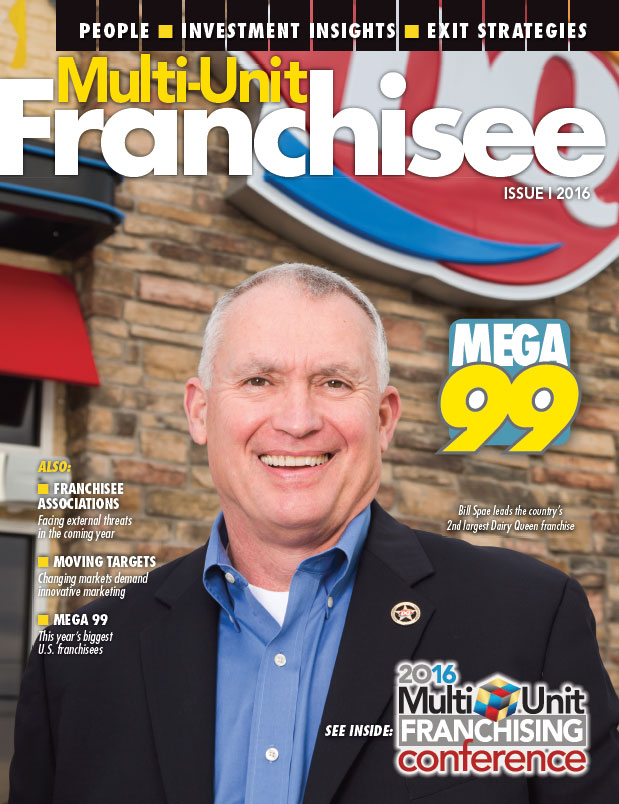 Multi-Unit Franchisee Magazine: Issue 1, 2016
With over 650 stores operating across 28 states and commitments to open more, Scooter's Coffee is in the midst of a strategic growth phase...
Cash Required:
$200,000
At Nautical Bowls, we combine healthy, fresh superfood bowls with an uplifting atmosphere, giving you energy to life a full life! Our goal is to...
Cash Required:
$100,000