Sweet Dealer: CEO and M&A Pro Leads sweetFrog's Expansion
Patrick Galleher is chairman and CEO of sweetFrog Frozen Yogurt. He's also an accomplished private equity executive who leads Boxwood Partners as its managing partner. He has a track record of leading successful transactions and acquisitions at Boxwood, working with national brands such as Yoga Direct, Dragonfly Yoga, and Red Rock Products among others, and was part of the acquisition of sweetFrog itself in 2015.
He's had an illustrious career that has seen him succeed as a top salesman, product management expert, COO, and CEO of WILink plc (now PrecisionIR), a global financial company. He even became the youngest CEO on the London Stock Exchange in 2002 and led and integrated five acquisitions during his tenure to expand the company's core capabilities and client base.
This past May, sweetFrog announced plans to acquire and rebrand as many U.S.-based locations as possible. It's a role right up Galleher's alley. He says sweetFrog's award-winning reputation, supply chain, and cost structure makes the brand an attractive fit for any chain seeking to be acquired and any store owner considering a rebrand.
"In the past two years, we have hired phenomenal corporate employees, added passionate franchise owners, and of course, are serving the best-tasting frozen yogurt, ice cream, and gelato on the market," he says. sweetFrog has been recognized with industry awards and grown to more than 340 stores in 28 states, including 10 overseas locations in Egypt and the Dominican Republic.
As if the rebranding push weren't enough, Galleher has other big, hairy, audacious goals--like reaching 1,000 locations in 40 states, and extending the brand into the grocery aisle for frozen desserts. "Our brand is strong, it resonates with consumers, and we just need to execute further location development," he says. Watch for more sweetFrogs in nontraditional locations such as airports, universities, and malls. And they may just acquire another yogurt brand.
It may sound like it's all business for Galleher but it's not. He likes to stop and enjoy a sweetFrog cup now and then. His favorite is the Vanilla NSA with Cookies & Cream, chocolate flakes, hot fudge, and brownie bits.
Name: Patrick Galleher
Title: CEO
Company: sweetfrog Enterprises
Units: 343
Age: 44
Family: Wife Julia and 4 boys Patrick, William, Jack, and Ryan
Years in franchising: 5
Years in current position: 3
Leadership
What is your role as CEO?
To set vision, objectives, and provide parameters around decision-making. I also provide frequent access to franchisees for feedback to the senior management team.
Describe your leadership style.
Ascribe to people to do what you inspect versus expect. We have great information systems for immediate feedback on store performance, customer satisfaction, and results. This allows a much more informed decision-making process.
What has inspired your leadership style?
My mentor was a McKinsey consultant along with senior management at Mars & Co and PepsiCo. They helped me develop my leadership around making well-informed decisions based on facts and analysis.
What is your biggest leadership challenge?
Finding store-level employees for our 71 corporately owned locations who fit our culture and brand promise.
How do you transmit your culture from your office to front-line employees?
Fun is instilled in everything we do at sweetFrog. We try to make normal everyday activities fun and want every employee to live that way.
Where is the best place to prepare for leadership:
an MBA school or OTJ? I never received an MBA and feel OTJ provides more tactical experience. I did attend the Center for Creative Leadership in Belgium and the London Business School General Management program, which helped transform my leadership style and take what I learned on the job and apply it in a more strategic fashion.
Are tough decisions best taken by one person?
I do subscribe to the buck-stops-with-me and tough decisions need to have an internal owner. I tend to trust tough decisions to my final informed decision after listening to stakeholders make pros and cons arguments.
How do you make tough decisions?
After hearing all sides and reviewing any industry or outside information.
Do you want to be liked or respected?
Respected by far. Being liked as a leader has to develop out of respect. Without respect you can't make the tough decisions that companies need to have made to maintain success. Success breeds being liked, but being liked doesn't create success. I have an extreme lack of empathy and counter that with hard work, good decisions, and leading successful organizations.
Advice to CEO wannabes:
You must be confident, you must not be afraid to make a wrong decision. I shoot for 85 percent correct decisions. That last 15 percent can bury an organization because it can cause paralysis by analysis. Don't bury yourself in analysis and allow yourself to be consumed by trying to make perfect decisions all the time. As Tom Peters said, you ready, aim, fire, or you ready, aim, aim, aim. If you never fire because you continually aim you never hit the target. Make mistakes, learn, and then improve the next one. I will add the caveat that not all decisions are equal and there are some that you need to be 95 percent confident of before making. Don't surround yourself with weak senior executives. If you ever hear a manager feeding back what you want to hear, you need to push back and determine whether that manager is really adding value. I want constructive debate within my senior management team. Without debate your solution, answer, or decision won't be as strong.
Management
Describe your management style:
Hands off, while leaving managers to fail if they can't keep up with the team.
What does your management team look like?
We have a tremendously passionate management team that includes many who have vast restaurant and franchise experience.
Favorite management gurus?
Pat Lencioni, Jack Daly, Cameron Herold, and Tom Peters.
What makes you say, "Yes, now that's why I do what I do!"?
When a franchisee calls and says thanks for everything we do!
Operations
What trends are you seeing with consumer spending habits in your stores?
Our business stabilized and grew modestly in 2016 after a difficult 2014 and 2015. So far, 2017 has been tremendous. Consumers are still spending on frozen yogurt, ice cream, and gelato, and our brand has gathered more of the consumer wallet as competitors have closed down.
Has the economic recovery reached all of your customers?
Our target audience is 10- to 14-year-old females. As minimum wage and employment rates of teenagers have improved, we have seen strong sales gains from our 13- to 18-year-old customer segments.
How is the economy driving consumer behavior in your system?
The stronger employment is better for us. Also we contend with high-volume, lower average ticket dinner restaurants. If business is strong for them it leads to strong sweetFrog sales. We also benefit from strong movie releases since a good portion of our footprint is located near or next to movie theaters.
What are you expecting from your market in the next 12 months?
Continued growth in same store sales and expansion of our footprint. We have stores opening every month and are looking for new locations in South Florida, Texas, and California.
Are your franchisees bullish or bearish about growth and adding additional units?
Most of our unit growth is coming from existing franchisees building new locations. I would say most of our franchisees understand that a national brand with national buying, distribution, and marketing is much stronger than a mom-and-pop location in our industry.
Personal
What time do you like to be at your desk?
8 a.m. is my usual start time, but if you asked my team they would complain about texts and emails starting at 6 a.m. from my home office before I head downtown.
Exercise in the morning? Wine with lunch?
Even though I own a large health club my workout routine has taken a break for the past year as travel schedules and meetings have given me a good excuse to fall off the wagon. I don't drink wine, but an occasional vodka soda.
Do you socialize with your team after work/outside the office?
A little bit, but not as much as in other companies I have led.
Last two books read:
Make Big Happen by Mark Moses, Double Double by Cameron Herold.
What technology do you take on the road?
iPhone, iPad, and laptop.
How do you relax/balance life and work?
Play golf once a week and spend time with my four sons.
Favorite vacation destination:
Duck, N.C.
Bottom Line
What are your long-term goals for the company?
1,000 locations, 40 states, and a brand that can extend into the grocery aisle for frozen desserts. Our brand is strong. It resonates with consumers and we now just need to execute further location development. We currently have few nontraditional locations such as airports, universities, and malls. This is a great opportunity.
How has the economy changed your goals for your company?
Lease rates have increased since our launch in 2009, which makes some lease renewals challenging. We are focused on some fast-growing metro areas such as Dallas/Fort Worth where sometimes you have to site a store in front of growth, which makes year one challenging.
Where can capital be found these days?
We are a small private equity group so we are actively looking for places to put capital at the moment. We have plenty and it's fairly easy to find in today's market.
How do you measure success?
Number of locations, same store sales, and four-wall profitability.
What has been your greatest success?
We have reacquired several underperforming stores and within a couple of months have turned their sales and profitability around. We are convinced that our product is industry-leading in flavor and taste, that our brand resonates with our target better than any competitors, and that our team and marketing is improving every month. This increased confidence is leading our expansion.
Any regrets?
Always regrets, but we learn and improve from them.
What can we expect from your company in the next 12 to 18 months?
Lots of new opening announcements, hope to acquire another frozen yogurt brand to reflag under sweetFrog, the acquisition and rebranding push, and lots of new flavor and product announcements.
Published: August 26th, 2017
Share this Feature
Recommended Reading:
Comments:
comments powered by

Disqus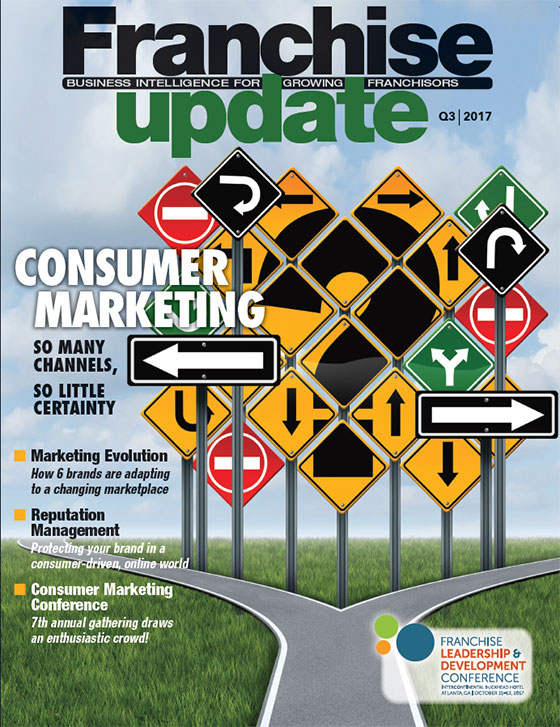 Franchise Update Magazine: Issue 3, 2017
ServiceScore helps businesses get the results they want from phone calls.
Clayton Kendall provides franchise communities nationwide with comprehensive branded merchandise programs leading to greater brand exposure,...