The March to 500: Scooter's Coffee Prepares for Growth
Todd Graeve has motored his way through the Scooter's Coffee organization. He's been an area representative for the brand, served as chief financial officer for 8 years, and now is CEO. Under his leadership, the brand has opened 44 franchises over the past 18 months. And he says expect more to come.
"We'll be investing in the people and infrastructure needed to support and encourage growth," he says. That will include adding directors and vice presidents in the marketing and operations departments. He also plans to double Scooter's roasting and distribution facility by the first quarter of 2018.
Franchisees are front and center at Scooter's, and soon there will be more. Graeve says the company plans to add 40 to 50 new units in the next 18 months. "We're seeking entrepreneurs in the Midwest and nationally who have interest in participating in our march to 500 stores," he says.
He also is focused on maintaining a culture of family with their employees and franchisees as Scooter's progresses from a small company to a larger one. As an entrepreneurial company and culture, he says, "We'll continue to be aggressive in our goals and growth trajectory. But it won't be what defines us. Taking time to help others find success and purpose will be our testimony. It will be what characterizes us at the end of the day."
Looking ahead, he expects a strengthening in same store sales and an increase in demand for the Omaha-based brand.
Name: Todd Graeve
Title: CEO
Company: Boundless Enterprises & Scooter's Coffee
Units: 166
Age: 48
Family: Wife Melanie and two daughters, Mackenzie and Madison
Years in franchising: 12
Years in current position: 1
Leadership
What is your role as CEO?
I serve three key and very important groups of people: 1) our employees, 2) our franchisees, and 3) our private investors. I serve these groups by leading day-to-day operations of the company and support of our franchisees. I communicate vision and strategic direction and make sure that the company, our employees, and our franchisees have the resources they need to achieve success and advance short- and long-term initiatives. In addition, I actively attend to company culture and seek to nurture or grow key relationships internally, externally, and with our franchisees.
Describe your leadership style.
Although not always perfect, I strive to lead on a platform of humility and an "others first" frame of mind. As Zig Ziglar said: "You will get all you want in life, if you help enough other people get what they want." I balance that mentality with a firm commitment to a concise course of action and strategic goals. Also, building trust is key to effective leadership. Engendering trust takes time, humility, integrity, and a genuine and consistent commitment to doing what's right and good for others. As a company and leadership team, we will always seek to help others along the way.
What has inspired your leadership style?
As a younger man, my parents and family relationships were key to a developing my leadership style. I was blessed to have a number of high-integrity influences cross my business path during the course of my life, starting with my father. I still interact with a few of those key individuals today. As a spiritual man, I navigate by a "True North" when it comes to moral or ethical thinking. This influences significantly the manner in which I lead and serve.
What is your biggest leadership challenge?
We're growing quickly. As leadership, we're challenged with a couple of things: 1) investing in the people, infrastructure, and systems needed to support a growing company and franchise community; and 2) maintaining a culture of family (employees and franchisees) as we advance from a small company to something much larger in scale.
How do you transmit your culture from your office to front-line employees?
Active communication and development of trust are key components to culture advancement and transmission. As a growing company, we must create platforms by which we cast and communicate vision, invite front-line employees into the conversation, and create visibility to the greater purposes. There must be a collaborative dynamic with the front line. Leadership must walk at the highest level of integrity, genuinely serve our employees, remain approachable and open to ideas from within, commit fiercely to our core values, and cast vision in a clear and concise manner. In doing so, we walk the walk while deepening and further establishing company culture and trust.
Where is the best place to prepare for leadership:
an MBA school or OTJ? Nothing can prepare one for life, leadership, and success like on-the-job experience, a balance of real life success and failure, tough decision-making, and trial by fire.
Are tough decisions best taken by one person? How do you make tough decisions?
I'm prepared to make tough decisions and clearly understand that, ultimately, the buck stops with me. I'm best prepared to make tough decisions by surrounding myself with and pursuing wise counsel. I meet with other executives and leaders in the company often. In those meetings, foundations emerge for quality decision-making. In addition to seeking sound counsel from those I trust, I never make challenging decisions without first assessing circumstances through filters of high integrity and humility. All of this must be balanced with timeliness of decision-making and active and purposeful advancement of strategic goals.
Do you want to be liked or respected?
I want to be approachable and a humble leader who has earned the respect and trust of others over time.
Advice to CEO wannabes:
Many CEOs are smart and talented producers. However, conviction beyond the numbers is the separator. The great CEOs seek success for their company but also strive for higher purpose. This includes a fierce commitment to integrity, humility, and simply doing what's right for others. The great CEOs will place others before themselves. In addition, a CEO should be passionate and purposeful about what they're doing daily. Passion is infectious and purpose-motivating. Finally, know that there will be critics and that's okay. Just walk with integrity, always.
Management
Describe your management style:
I don't like to micro-manage, but I do want to make myself available to offer resources, expertise, or guidance when needed. I will, at times, get more involved when I sense a need or issue that requires swift movement.
What does your management team look like?
We're developing an amazing management team, full of very smart and competent individuals. The team reflects an ever-growing entrepreneurial spirit balanced with servant leadership hearts.
What makes you say, "Yes, now that's why I do what I do!"?
When we have a positive and meaningful impact on the business of a franchisee, or on an employee's life, I become energized. At those times, I further recognize purpose in our daily walk with this company and community of people. As an entrepreneurial company and culture, we'll continue to be aggressive in our goals and growth trajectory. But it won't be what defines us ultimately. Taking time to help others find success and purpose will be our testimony. It will be what characterizes us at the end of the day.
Operations
What trends are you seeing with consumer spending habits in your stores?
We're seeing higher average tickets through increased add-on food purchases. Much more often, consumers are purchasing a food item along with a drink. Our afternoons are becoming busier, as demand for coffee and breakfast food items trends toward other day parts. Also, speed of service is key. Our fastest-growing stores are operated by franchisees who clearly recognize consumer demand for fast and friendly service.
Has the economic recovery reached all of your customers?
Economic recoveries will place more disposable income into the pockets of our customers. And our customers have choices. So we must be on our A-game all the time at our stores. We must deliver an excellent experience, each time. We call this the "Amazings": Amazing People, Serving Amazing Drinks, Amazingly Fast. We compete very well by remaining ruthlessly focused on fast and friendly service, while delivering the best coffee.
How is the economy driving consumer behavior in your system?
While we're not immune to shifts in the economy, the loyalty-based dynamic we have with our customers does mitigate the larger economic fluctuations for us. As in 2008-2009, we tend to remain quite strong in sluggish economies or recessions, relative to other concepts and industries. Our customers are very loyal during good and bad times. While some industries may have struggles during trending economies, we've been very pleased with continued growth at the unit level. It's also been interesting to watch the increase in average ticket during this period.
What are you expecting from your market in the next 12 months?
I expect to see a strengthening in same store sales and an increase in demand for the Scooter's Coffee brand and franchised business model, in particular in the Midwest.
Are your franchisees bullish or bearish about growth and adding additional units?
Definitely bullish. More than any other time in our history, our franchisees are increasing their holdings. New units are being developed by our existing and established franchisees. At the same time, demand for the brand and business model from new and prospective franchisees is growing.
Personal
What time do you like to be at your desk?
I'm an early riser and like to be working and reading at my home desk (over coffee, of course) by around 6 a.m. I commute to the office after that.
Exercise in the morning? Wine with lunch?
Although not always as dedicated to a workout as I need to be, I prefer to exercise in the morning. I enjoy a glass of wine or beer on occasion in the evening with my wife. Unless I have business lunch plans, I'll tend to work through the lunch hour.
Do you socialize with your team after work/outside the office?
Outside of company-sponsored social events, which I love to attend, I generally don't socialize with the team outside of the office. That said, we have many company-sponsored events that encourage a culture of family and togetherness.
Last two books read:
Jim Collins' series of books; Wild at Heart by John Eldredge.
What technology do you take on the road?
Laptop and iPad.
How do you relax/balance life and work?
This has been a challenge for me over the years, as I tend to enjoy work and the challenges and rewards associated with building businesses. In recent years, and with the help of my wife, I'm learning to take time away from work. I'm always amazed by the clarity and vision gained when there is a clearing of the mind for a short period.
Favorite vacation destinations:
My wife and I love the beach, in particular the Caribbean and Mexico. We'd love to spend some time in Italy soon.
Favorite company product:
I love our dark roast brew, black. I drink it every day. I also love our cinnamon rolls and spicy breakfast burritos.
Bottom Line
What are your long-term goals for the company?
We will remain laser-beam focused on expanding Scooter's Coffee drive-thru units in the Midwest and ultimately nationally. We'll do this by our growing franchise system. We have a specific goal of 500 profitable stores within 6 to 8 years.
How has the economy changed your goals for your company?
It hasn't changed our plans much, if at all. Over the years, during strong and weak economies, and in the midst of evolving competitive landscapes, we've remained strong on same-store sales and seen growth with new unit additions and unit-level profitability. As along as we never take our eye off unit-level profitability and ROI for our franchisees, we believe we can hit or beat our goals during varying economic conditions.
Where can capital be found these days?
Our franchisees often secure capital through traditional financing mechanisms and banks that understand our business model and unit-level cash flow. Many times, our franchisees bring their own banking relationships and/or they connect with banks that have a history and established relationship with Scooter's. Many new units are advancing on the platforms of our successful multi-unit franchisees. Those established franchisees capitalize stores with a combination of earnings, bank debt, and private investors. We award franchises to financially strong and proven prospects who have available capital of their own and who typically leverage that personal capital with traditional financing, SBA financing, or other private investors. In our franchise system, we've seen increased alignment between quality operators and silent investor capital. In the right circumstances, it can be a very productive and meaningful match.
How do you measure success?
Our ability to influence the success of others.
What has been your greatest success?
In business, the development of quality and sustainable partnerships.
What can we expect from your company in the next 12 to 18 months?
With more robust annual unit additions and increasing demand for the brand, we'll be investing in the people and infrastructure needed to support and encourage growth. This will include new director level and VP level hires in marketing and operations in 2017 and 2018. In addition, we'll expand our roasting and distribution facility by more than double by Q1 of 2018. We'll add 40 to 50 new units to the system over the next 18 months. We're actively seeking entrepreneurial individuals or groups, in the Midwest and nationally, who have interest in participating in our march to 500 stores. Most existing and prospective franchisees have interest in building Scooter's Coffee stores on multi-unit platforms. Our job is the help them achieve those dreams and success through strategy, roadmap development, teaching, and proactive execution.
Published: September 23rd, 2017
Share this Feature
Recommended Reading:
Comments:
comments powered by

Disqus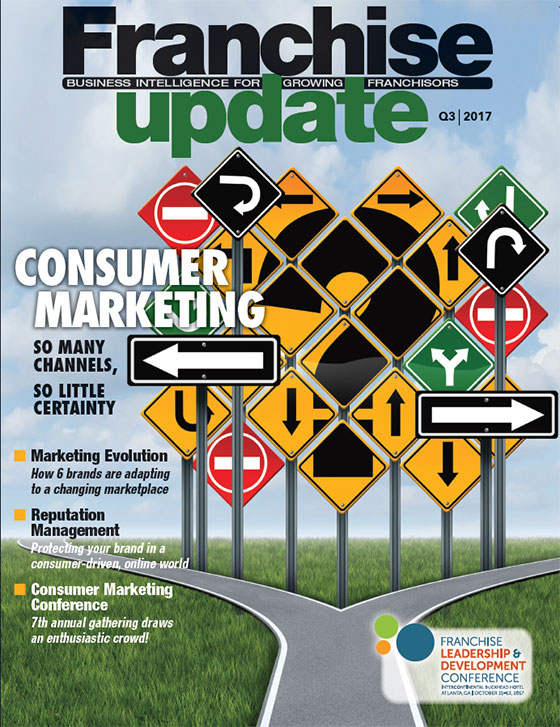 Franchise Update Magazine: Issue 3, 2017
Prisma has reinvented the marketing supply chain with an end-to-end solution that makes it easy to design, customize, order, download, print, kit,...
More than 15 years of passion and fascination with the franchise system. Thanks to having met many Franchisees, today I can help new ones and those...