The Entrepreneurial Stock Portfolio: Multiple Brands Make Franchising Interesting--And Profitable
Listening to franchisees with multiple brands discuss business sounds a little like stock brokers strategizing with clients about their portfolios.

For example, "diversification" was the name of the game when Ricky Ainsworth of Baton Rouge and his partner Duke Marcus took on Back Yard Burgers after they had successfully built as many Popeye's Chicken & Biscuits as their area would support.

In addition to Popeye's and Back Yard Burgers, Marcus owns, with his father, units of another couple of brands, giving them a total of 18 units and four brands in three states. "What we've done is choose brands that have legs," Marcus adds, using one of Wall Street's favorite catch phrases.

And Chris Serrano, owner of nearly 100 salons (Supercuts, Cost Cutters and Pro Cuts), never forgot what her stock and commodity broker-dad told her: "He told me I want to be the low cost producer of a high quality service," she recalls. The brands she chose seemed to fit that equation.

According to FRANdata, Ainsworth, Marcus, and Serrano are among a growing number of franchisees--approximately a third of all area developers--that have decided, for a variety of reasons, to take on multiple brands.

The advantages are obvious, they say. You're spreading the risk; seldom will two brands lag at the same time, so one can pick up the slack until the other begins to flourish again.

Sometimes, as in the case of Jim Schwartz of St. Louis, one brand naturally leads to another. Schwartz, former director of sports sales and marketing for the St. Louis Rams Radio Network, went first with Outdoor Lighting Perspectives, the nation's largest landscape and architectural lighting company. In the course of helping people create elaborate and comfortable outdoor living space, he began to learn more about dealing with outdoor pests. Then he added the Mosquito Squad brand to his business. "These two brands share the same customer base and potential market," he says. "Obviously, we're getting lots of opportunities to present the second product to the customer when we're selling the first product."

Another advantage to multi-branding: taking on additional brands gives those high-achieving area developers practically endless opportunities to keep building and growing even when they've saturated their area with an initial brand.

Serrano, whose areas include Oklahoma, Kentucky, Arkansas, Kansas and other neighboring states, took that concept one step further. She describes the way she brought in two other brands as a "game of Stratego." "In Oklahoma when I first started with Supercuts, I was it; there was nobody competing with me. But if you don't continue to expand, you leave openings for others to come in," says the Tucson, Ariz., resident. "You have to protect your markets. Otherwise, you become vulnerable."

The cons? Some say it's tough to fly the flags of several different brands. You have to be able to walk and chew gum at the same time as well as learning the cultures of the brands and implementing their operating procedures to the letter on a day-to-day basis.

But most say the benefits outweigh the negatives and that area developers with multiple brands is a trend that will continue to grow.
Why more brands?
Ainsworth, whose family had owned a Sonic Drive In for 22 years, grew up learning about being a franchisee. After college, he went into banking for 10 years. "Despite the level I reached in banking, I wasn't really making a lot of money, and it was, frankly, pretty dull. I missed the challenge of starting from the ground up, and a year later, having an investment that is profitable and that is your own business," he says.

He started with Popeye's in 1994 and has one more unit to open on his and Marcus' 10-unit contract in Louisiana and Arkansas. "We've spent the past year backfilling the market, but there's not much room left to develop in Louisiana and Arkansas," Ainsworth says.

Ainsworth, who's in his 40s, and Marcus, in his 30s, decided to sign on with Back Yard Burgers; for Ainsworth, the choice was about having experience in QSRs, while also having some diversity in product (burgers vs. chicken). They have the rights to develop five BYBs in the Baton Rouge/Lake Charles area. They've bought and taken over two existing units so far.

The move was a good one, the partners believe. "Back Yard Burgers is out of Memphis, so in staying close to the region, it's not been hard to build the brand," Ainsworth says. "The two hurricanes have created additional challenges we'd not planned for, but all these experiences make you, in the long run, better operators."

Before signing up with Back Yard Burgers, Marcus and Ainsworth in the late '90s had signed a five-store deal for development of an Italian restaurant franchise in northern Louisiana. But like many investment choices, this one didn't work out for them. "I didn't like the direction the brand was going," Marcus says. "Specifically, the price point in the brand was too low. It was difficult to make our food-cost and labor margins." So they found a buyer and moved on.

They have found Back Yard Burgers to be a better fit. "We liked its position in the market and we like its décor and product a lot. It's a more upscale burger place. We feel like it's a brand that has legs--it's going to go somewhere. We needed a regional brand that could go national and this is it," Marcus says.

Choosing additional brands requires a lot of homework, he adds. "Nationally, some brands work better than others. And you also have to look at what works best regionally."

Marcus has an accounting background like his father but admits he's followed more closely in his father's entrepreneurial footsteps. "I watched him partner with operational people in various businesses such as food franchising, and I liked it so I've expanded on what he did," he says. "You deal with a lot of different types of folks but most always good, hard-working folks, and then, in the restaurant business, you meet lots of interesting people on a daily basis when you serve them."

Marcus especially enjoys his company's innovative travel center off Interstate 20 in Calhoun, La. The truck stop includes a Popeye's, a convenience store, a Huddle House with a 2,500-square foot seating area, and a Subway.
Fending off competitors?
Serrano, who has a degree in business administration and once worked as a comptroller for a real estate developer, got her first clue that Supercuts was a successful business when she noticed that the store in a New Mexico shopping center the developer owned paid its rent on time when few other tenants could accomplish that during the economically tough late 1980s.

In 1989, she and a partner decided to open a few stores, but in 1993, they parted amicably--he to pursue real estate development and she to franchise area development. It was the 1990s and it was "difficult to fail at anything" in business, Serrano recalls, so she began to open Supercuts at an outrageous pace. "One year we opened 15 stores in 12 months. Then up until about 2001 or 2002, we opened a ton of stores; we're growing a little more slowly now. And I don't regret it. In the 17 years I've been doing this, I've only closed a handful of locations--I feel good about that," she says. (The vast majority of her salons are Supercuts but she has 18 Cost Cutters and 7 Pro Cuts and more of all brands on the way.)

At the time she acquired her second brand, she was "still a loyal Supercuts franchisee." "I believe in their concept, their training, their techniques," she says. But since Supercuts was focusing somewhat on the male market, she thought she'd open Cost Cutters, a full service brand which focuses in her markets on females. "I began opening salons where others might find a niche. I thought it was important to do that and also to maintain my customer base and to keep my staffs. So now I had another place to put a loyal team member of Supercuts who wanted to do foils, perms--do it all--at Cost Cutters, instead of losing him or her to the competition."

The third brand came about a few years ago, when she signed on with Pro Cuts, the most affordable of the salon brands. "I knew this brand wasn't going to go away. Either someone else was going to pick it up or I was. I'd much prefer to compete with myself," she says.

She's learned an important lesson about multiple branding, she adds. "You have to keep brand identities separate. My mistake was trying to grow Cost Cutters off Supercuts. It didn't work. You have to make each person believe his or her brand is the best brand."

Serrano, whose husband Nathan handles the build-outs and oversees the Kentucky and Indiana markets, says she has learned that having more than one brand makes looking at real estate easier. "A good location is a good location. You choose what concept to put in based on where your other brands are," she says.
Too much of a good thing?
When it comes to brands, how many is too many? Marcus, who has 18 units from four brands in three states, says he's "not concerned" about that. "I'm more concerned about our operational partners. In this business, it's all about how you operate the individual restaurant," he says. "We really focus on our partners and on the individual units. …As for what's next--I wake up every day and say, 'What is the possibility today?' You never know where it's coming from. I never dreamed I'd be cooking eggs, making Subway sandwiches and pumping diesel fuel, but this business gets in your blood."

The food business is also in the blood of former CPA Gary Schultz, who once had 23 Burger Kings in Dallas and Austin, Texas, when he decided to sell them and "do nothing for a while."

The former manufacturer of women's sportswear says he likes golf but found he "couldn't play it five days a week." "I was always afraid of mental atrophy," he grins.

He became interested in the Wingstop concept. "The franchisor is here in Dallas, so it was easy to do my due diligence," he says. He liked it and he started developing Wingstops; he has five in the Ft. Worth area and two in west Texas.

His company's second brand, Pollo Campero, which originated in Guatemala, "fell in our laps," he says. "I'd been reading about Pollo Campero's first entry into the United States in California and how successful it had been. I'd always felt like there are a couple of things to do to diversify risk in the franchise area: you can have different concepts or have geographic diversification."

Yes, Wingstop and Pollo Campero both focus on chicken products, but that's where the resemblance ends, according to Schultz. "They are not competitors, other than that they both serve food. So even though all my primary investment has been in the Dallas-Ft. Worth area geographically, these two concepts gave us a bit of diversification."

Pollo Campero has "instant appeal" to Central Americans, according to Schultz. "It's not just a broad Hispanic concept. It is as well known in Central America as McDonald's is here. If you build the first store in any city with a contingent of Central Americans, you have an instant base of customers. That gives you time to introduce the product and flavor profiles to a wide variety of groups. There's not been an Anglo or African American who's come in who didn't love the food, and the newspaper voted it the best fried chicken in the state."

He has one store open and an agreement for 15 to 20 stores in the Dallas/Tarrant County area.

He became interested in his third brand, Pizza Patron, because the creator of Wing Stop, his first franchise, sold out and started the new pizza brand. "I knew how he did business and what kind of franchisor I was teaming up with, so I felt good signing up for a store in Fort Worth," he says.

Juggling three brands is easier, Schultz believes, when you break things down. "Our approach to running all these brands is that success depends largely on the management at the store level," he says. "Everything happens at the store level--it doesn't happen at my level. We have a strong commitment to a business philosophy that says we don't hire employees to run stores. We have owner-operators; everyone that is involved in management is also an equity owner and a large participant in the cash flow of that store. This allows us to have more brands and more stores than we'd otherwise have, based on time constraints. That means you'd better have somebody running the store that cares as much as you do; if they have money in it, they care. It makes all the difference in the world."

Because of his years in the food business, Schultz hasn't really considered other types of franchises. "Franchising, in general, is a great platform for doing business. But no matter what your background, it takes a while to learn and to acquire a good operating knowledge of the business," he says.

He has no set idea about how many brands is too many. "That's a function of commitment and capital. However, it is important to make sure you don't have so many brands that you do not fully take advantage of the brands you do have."
Key to success?
Carlos Bernal, president and CEO of Los Angeles-based FoodBrand, L.L.C. is not an area developer. His large full-service restaurant management company builds, markets and manages individual restaurants in shopping centers and airports for owner-clients. "We take the restaurants to the people," he says.

Bernal knows from handling multiple brand franchises.

FoodBrand operates and manages more than 80 brands of casual dining restaurants (Houlihan's, Tony Roma's, Johnny Rockets), quick service restaurants (Burger King, Popeye's, Sbarro, Subway, Taco Bell), and snack restaurants (Cinnabon, Starbucks, Carvel) in cities, including LA, Denver, Houston, Nashville, St. Louis, Philadelphia, Baltimore, Atlanta, and Cincinnati.

When multi-brand franchisees ask him for advice, Bernal doesn't sugarcoat it. "It's difficult to operate a large number of brands like we do. You have a variety of cultures you're trying to deal with," he says. "You have to consider your own company's culture. Then, you have subcultures in your brands. Each has its own unique culture. Then there are operating characteristics specific to each of your brands. It's all a very challenging process to manage."

From an organizational standpoint, FoodBrand looks at both what the customer sees and feels and what he doesn't. "What the customer doesn't see or feel--accounting and HR systems, for example--is our organization, and these systems are consistent throughout our organization. This gives value to the brand, but it's something most customers don't care about," Bernal says. "What the customer experiences, feels and touches is brand driven."

FoodBrand is successful for one primary reason, he adds. "We're very good as a company at executing and managing brands, because we execute 100 percent to the brand standard. If you want to be a visionary, franchising is not the business you want to get into."

Area developer and real estate developer Adam Saxton, who, with his father Kelly, once owned both McAlister's Delis and Mazzio's Pizza says he sees multiple brands that are similar enough to go into the same location can work especially well. Co-branding allows a "cross flow between employees who are comfortable working at both brands," Saxton adds.

Co-branding is working well for 25-year-old Andy Lanz of Madison, Wisc. He owns stores with three brands in the same location: Cousins Subs, which is a primarily a day business; Figaro's Pizza, which is mainly a night business; and Chocolate Shoppe Ice Cream Parlor, which he views as an "additional product."

"All our employees work in all three brands, which is great as long as we don't have a lot of turnover. It makes things a lot more efficient," Lanz says. "On the other hand, if we do have a good bit of turnover, then we're constantly training in all three systems."

When Californian Piyush Bhagat and his partner Anand Patel owned Wingstops and Juice It Ups at the same time, each took responsibility for one brand, rather than both trying to run both at the same time. It worked for them. Now they're back to a single brand but not because of the difficulties of operating multiple brands but because of the challenge of finding good real estate.

However one handles the owning and operating of multiple brands, there's one detail that is very important to remember, advises multi-brand area developer Marcus. "The problem I have is that our restaurants are not in my back yard, so I have to pay any time I want chicken or burgers. It's a little sad," he grins.
Published: July 3rd, 2006
Share this Feature
Recommended Reading:
Comments:
comments powered by

Disqus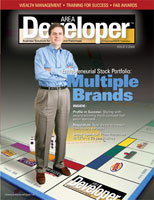 Multi-Unit Franchisee Magazine: Issue 2, 2006
Anytime Fitness makes wellness approachable for millions of members and gives franchisees the opportunity to be a part of a worldwide family of...
Cash Required:
$225,000
Tropical Smoothie Cafe is a healthier, quick-casual restaurant brand with 1,175+ locations in 44 states. One of its key differentiators is what the...
Cash Required:
$125,000