The Real Deal: Life Lessons from a 13-Year-Old
I have had the good fortune to experience and witness many professionals who truly know how to serve. However, one person in particular consistently blows me away by how he builds rapport instantly with strangers and learns so much about them in only a short conversation. This person is my 13-year-old son, Bo DiJulius. I've been so intrigued by his ability to strike up a conversation with someone he has never met before and have that person share so many intimate details with a teenager that I asked Bo if he could share how he does it:
If someone asks me what customer service is, it's like tying my shoe. But not all people know exactly what it is, especially a teenager like me. Some businesses don't look at customer service as it should be looked at. Why should they look at it differently? Well, it just makes life easier for so many people, including yourself. Treat customers like a celebrity and make them feel special. Make them want to come back.
Customer service also helps you. If you leave a mark on someone or treat them very nicely it's very easy to remember them. For example, it's the first day you see this man walk into the store. You make him feel special and do your job by providing the product he came to your business for--but you also provide him with a different outlook on his day, and even you and the business.
Next time he comes in, you will hopefully say, "Joe, it's so nice to see you." Just think about walking into a business with other people there and somebody calling out your name. It would probably seem like you're an important person. Well, that's the goal. Make them feel like they are the real deal. Not only for Joe, but for Susan and Aaron and Lou. Then they don't have to worry about how their new shoes are going to look, or if this dress is cute, because with your support they will have such a boost in confidence!
This is only one part of customer service. You've got to smile, laugh, and talk, but not about yourself all the time. For example, "Joe, how's your family been?" "Joe, how's your job?" "Joe, you look very good today, did you get a haircut?"
Another important thing is that if you need to bring a "mask" to work, then bring it. If you fought with your boyfriend or girlfriend all night and morning and come to work with negativity, it's going to spread like a virus. It will fill the air. Hide your feelings under a mask, and at the end of the day that mask might not come off because you feel too good to take it off. You're making people's days and releasing stress from yourself. And you meet interesting people when being inquisitive. Not all people are all happy and smiley. But that should never change you.
Why do I do this? Well, I just love that feeling when you know someone's going home with a smile. And that somebody is the person you helped--and yourself. Because positivity is just as contagious as negativity. So fill the air with joy and bright smiles.
"Where are you from?"
I was at the Cheesecake Factory in Buffalo, N.Y., eating with my dad. We were sitting next to a man and a woman. While my dad went to the bathroom, I stopped playing Pokémon Go and said, "Where are you guys from?" The woman was from Germany and the man was from Buffalo. They were dating, too. I learned so much as we spoke and it was one of the craziest things ever. John Stanz was the man's name. He served, I believe, 10 years in the Marines and was a staff sergeant. He was shot in the ear one time and also blown up in a truck by an IED. He broke and tore so many things I can't remember. He was in a coma for five-and-a-half weeks. His family was called to say their goodbyes because John had a 0 percent chance of living. His family said no they will not give up, which forced his parents to quit their jobs. Amazingly, John woke up from his coma but was told he would never be able to speak or eat on his own, or even walk ever again. Almost two years go by and John is recovered and was overcoming the impossible. He still has lots of injuries but is a hero.
The thing is what if I didn't say, "Where are you guys from?" I would have missed out on something that inspired me so much. That's why you have to talk and learn and meet people.
Thank you for your time. And remember, make them feel like they are the real deal so you can be the real deal. If you ever want to contact me, email me at bodijulius9@gmail.com, or bodijulius on Twitter and Instagram. You'll find the kid who is learning and living an amazing life thanks to my amazing father and two brothers who taught me it all. Thank you and have a great day.
John R. DiJulius III, author of The Customer Service Revolution, is president of The DiJulius Group, a customer service consulting firm that works with companies including Starbucks, Chick-fil-A, Ritz-Carlton, Nestle, PwC, Lexus, and many more. Call him at 216-839-1430 or email info@thedijuliusgroup.com.
Published: March 23rd, 2017
Share this Feature
Recommended Reading:
Comments:
comments powered by

Disqus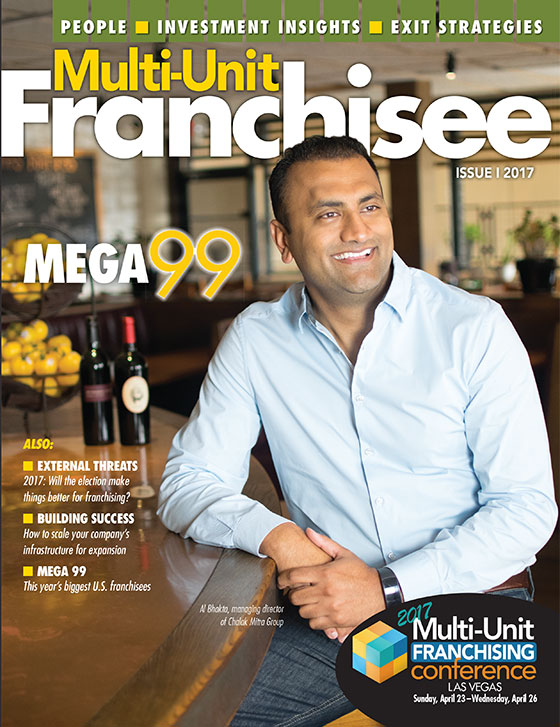 Multi-Unit Franchisee Magazine: Issue 1, 2017
Big Frog's proven-and-tested business model allows you to take charge of your financial future with a business concept that offers unlimited revenue...
Cash Required:
$50,000
Tropical Smoothie Cafe is a healthier, quick-casual restaurant brand with 1,175+ locations in 44 states. One of its key differentiators is what the...
Cash Required:
$125,000