The Real Full Meal Deal
Guillermo Perales Has 5 Brands, 142 Units, And A Philosophy Of Growth
It all began with a single Golden Corral restaurant in 1997. In just over a dozen years, Guillermo Perales has grown to operate 142 franchise locations, spread across 5 brands throughout Texas and Florida. It's quite an accomplishment for this native of Mexico, and he's not even close to finished.

"I'd like to double the size of my business over the next decade," says Perales. Based on his track record, it's a good bet he'll succeed. He just inked a deal with T-Mobile for some new units, and he's negotiating with a yogurt and seafood franchisor--and that doesn't even include his planned hotel project in Dallas.

The soft-spoken Perales is a man on a mission and he knows what he wants. It's always been that way. After growing up in Mexico, he headed north of the border with big ideas and even bigger optimism. He honed his chops first with a large Mexican-based company (Grupa) during the 1980s, picking up experience to complement his natural finesse. When the time was right, he set out on his own.

"I started that first Golden Corral with a loan from the SBA," he says. Success followed quickly, as did his rapid expansion into multiple units and brands. "With one location you can easily fail, but with several you can support the network."

Perales is proud to be the largest Hispanic-operated multi-unit franchisee business in the U.S. Today his organization, Sun Holdings, oversees more than 5,500 employees. He remains the largest Golden Corral franchisee in the country and is the second-largest franchisee in the Popeyes system (he also has Burger King, Denny's, and Bennigan's). And if there's a problem with a unit, he either fixes it or gets rid of it. It's a no-nonsense approach.

Perales is not just a smart franchise operator, he's a savvy real estate developer as well. "My father once told me that land is the best investment you can make, and even though many things have changed throughout the years, his advice is still true," he says. Owning and managing real estate has been one of the fundamental steps in the rapid and sustained growth of his organization.

He understands that his success is dependent upon happy employees, satisfied customers, and his dedication to community involvement. "Delegation is key and I have directors for each brand," he says. "I have to be able to trust them to take care of things." If they are doing their jobs right, he says, that will keep the customers returning again and again--and the units profitable.

Community involvement is a priority for Perales. He co-founded the Latin America/DFW Fund to raise money for Latino-based programs and initiatives, and he has supported other programs that encourage Latino students to stay in school. Each year his company distributes 4 million certificates for free kids meals to the Dallas school district. Each Veteran's Day he offers free meals to veterans at his Golden Corral restaurants. And he provides thousands of jobs to people throughout the Dallas-Fort Worth community, where most of his units are located.

Last year was tough for just about every business in the U.S. Yet despite the unprecedented times, Perales had annual revenue of $190 million in 2008. This year he says he's looking to gain back a little market share and add a few more units, at least 8 Burger Kings.

"Why not?" he asks. "Our Burger King comps experienced a double-digit increase last year."

Name: Guillermo Perales
Title: President/CEO
Company: Sun Holdings LLC
No. of units, by brand: Golden Corral, 44; Popeyes, 75; Burger King, 17; Denny's, 5; and 1 Bennigan's
PERSONAL
Age: 46
Family: Wife Adriana, and three kids, 10, 8, and 4

Years in current position: 11
Years in franchising: 11

Key accomplishments: Building a multi-unit restaurant company out of only one restaurant.

Biggest mistake: Buying into the Denny's franchise without any financial disclosure.

Smartest mistake: Buying our first Popeyes restaurants even though the price seemed high at the time. It's been a great move for us, and we now have all of the Dallas market.

How do you spend a day, typically? Sending and responding to e-mails, taking and making phone calls, attending meetings, and evaluating potential opportunities for the business.

Work week: If I am not traveling out of town for a conference I usually spend my time attending meetings of all kinds and visiting stores to oversee their operations. Also, once a week I meet with the chief of operations and with our district managers to evaluate the job being done at the stores.

Favorite fun activities: Spending time with my family. We love to go skiing in Colorado whenever we can.

Exercise/workout: I like to play tennis and I try to make it to the gym three times a week although it is hard to find the time to be consistent.

Favorite stuff/tech toys: Blackberry phones

What are you reading? Usually trade and business magazines. It is a good way to invest my spare time in news that is of interest to me and is also helpful for my business.

Do you have a favorite quote or advice you give? Never give up. Learn from your mistakes and keep on going.

Best advice you ever got: When I was young, my father once told me that acquiring land is the best investment you can make, and even though many things have changed throughout the years, his old-fashioned advice is still true. Today, owning real estate has become a fundamental step for the growth of the company.

Formative influences/events: My father. He infused me with his belief of making a difference by becoming your own boss. He taught me to fight for what you want.

How do you balance life and work? It is extremely hard to find a balance when your business consumes so much of your time. For that reason I try to set up several mini-vacations with my family throughout the year so I can spend some quality time with my wife and kids away from the everyday demands of the business. I also try to be as faithful as possible to my exercise routine to stay healthy physically as well as mentally.
MANAGEMENT
Business philosophy: Our mission statement is to create the most efficient and productive group of nationally franchised restaurants through the growth of the company by offering an array of opportunities to our employees.

Would you say you are in the franchising, real estate, or customer service business? Why? All three are part of the essence of our business. Even though we are franchisees, part of our strategy as a company is to focus on the ownership of the land and the development of our own stores. In addition, one of our highest priorities is to please our customers. After all, the success of our business depends on happy customers choosing us time and again.

What gets you out of bed in the morning? The urgency of getting done all the things that need my immediate attention.

What's your passion in business? The whole challenge of owning a company and making the right decisions.

Management method or style: We have directors for each of our brands. I delegate to them and trust them to take care of things. I rely on their expertise to keep those brands operating effectively. If there is a problem, I will step in.

Greatest challenge: Employee retention. We are constantly looking for ways to lower our turnover.

How close are you to operations? I'd say that I am really close. I evaluate the numbers every week, I keep an eye on the cash flow, and I visit our stores on a regular basis.

How do others describe you? As an individual, very exigent. I expect my requests to be carried out immediately and to be performed at a high level. Except for that I am an easygoing person.

How do you hire and fire? We are constantly searching for suitable individuals to join our workforce. Our managers interview and select the right candidates based on either their experience or willingness to learn, vocation to the service industry, and their integrity as future representatives of our company. And when it comes to a poor performing store or manager, the company is not afraid to make changes to get to the bottom of the problem as soon as possible.

How do you train and retain? Each of our brands has its own training requirements and they're all different. We have training managers and, for example, with Golden Corral, we have training stores. In regards to employee retention, I believe in promoting from within. We try to compensate fairly and we offer financial incentives.
BOTTOM LINE
Annual revenue: $190 million in 2008

2009 goals: We are hoping to build at least 8 more Burger Kings, 3 Popeyes, and 1 Golden Corral. We plan to work at getting back some of the lost market in 2008 since commodities have dropped, and also close the bad performing stores.

Growth meter: How do you measure your growth? We mainly set up a goal to build 10 restaurants per year. I am happy if we successfully reach that milestone every year.

Vision meter: Where do you want to be in 5 years? 10 years? I hope to double the size of the business in 10 years.

How is this economic cycle affecting you, your employees, and your customers? In economic times like this the customers try to spend less in dining. As a consequence the sales in our Burger King stores have seen an increase, while our Golden Corral stores are not doing as well as they used to during dinnertime. We have seen an increase in the number of prospective employees who apply for a position at our restaurants. In this economy it is easier to find qualified individuals willing to work in the food industry.

What are you doing differently in this economy? We are trying to watch our costs closely and shop wisely when it comes to food supplies or utilities. We are also trying to be more aggressive, marketing-wise. For example, this year we are introducing Golden Corral to National Cable to attract new customers. Even in this discouraging economy, we are very excited about building more Burger King restaurants fueled by the fact that our Burger Kings' comps saw a double-digit increase last year.

Where do you find capital for expansion? As we all know, the credit bonanza ended and it has become really difficult to find financing. The banks are now very meticulous when it comes to all financial covenants. We are currently in search for local banks that seem to be the least affected by this tough economy. So far we have been successful in regards to mortgage loans, but we still need to work on cash flow loans.
Published: June 15th, 2009
Share this Feature
Recommended Reading:
Comments:
comments powered by

Disqus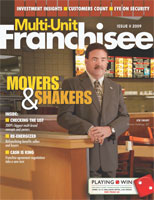 Multi-Unit Franchisee Magazine: Issue 2, 2009
Class 101 college planning franchise helps high school students get into better colleges and qualify for higher amounts of scholarships and financial...
Cash Required:
$50,000
Anytime Fitness makes wellness approachable for millions of members and gives franchisees the opportunity to be a part of a worldwide family of...
Cash Required:
$225,000