The Woman's Touch
In 1963, women's advocate Betty Friedan wrote in her book, The Feminine Mystique, that women were preparing to break new barriers. Friedan lived to see her prophecies come true before her death earlier this year. And nowhere are the broken barriers more apparent than in multi-unit franchising.

The special skills that women bring to business are widely evident in franchising. From extraordinary stamina to a light-hearted view of business, women in franchising achieve strides today that even Friedan couldn't have predicted.

"We've come a long way," says Betsy Ludlow, founder of Slim and Tone. "But that's not to say we can't do more."

For Ludlow that means more area developers for her 30-minute workout fitness concept in places such as Singapore and China, where women are just beginning to break the male-dominated barriers to business ownership. Slim and Tone is the only female-managed company in the highly competitive and fast-growing women's express fitness industry. Founded in 2002, Slim and Tone awarded 160 franchises in 26 months. The fitness centers are in most of Europe and Scandinavia, Canada, the United States and Japan. And women own most of those units.

Women-owned businesses are opening at twice the national rate in this country, employing 19 million workers and generating $2.5 trillion. Says SBA deputy administrator Melanie Sabelhaus, "We're the economic powerhouse of the 21st century. We have absolutely broken through the glass ceiling."

From baby steps to leaps and bounds, women have discovered that tapping into the innate skills of being female works better than trying to copy the men. They seem to have found a way to use the attitudes and styles that are uniquely feminine to rise up in both the corporate and small business world. And they tap into many of the characteristics not seen in their male counterparts.

"Women have a creative streak that helps them to solve problems," says Ludlow.
"Women have a willingness to work together and are not afraid to ask for help. Point them in the right direction and they are off."

Ludlow says that her highly successful multi-unit owners are women who embody three essential traits often attributed to the female spirit. "They have strong relationship skills, a passion for the business and empathy," she says. "So many of our club owners have been through the same things as our members. We have some male owners, but they come more from a physical fitness and business orientation."

Ludlow landed in the fitness business through her own experience with declining health. An executive with American Express for 18 years, she wasn't sleeping well, was putting on weight and was not happy. She took a severance package and started working out in a local women's club.

After working out for a few months, her own creative juices started flowing and she thought she could do a better job. So she developed her own concept and opened three clubs. From there she launched the franchise.

"I like franchising because it's very scalable," she says. "I can offer one unit or 200 units."

Ludlow epitomizes the woman with vision whom she sees in her own successful franchisees as she moves throughout the world opening units.

"My passion is being with people," Ludlow says. "There's a lot at stake with people's health."

Ludlow, 53, says she couldn't have a family and such a high-energy career if she didn't have a supportive, "special" husband at home. Many women in franchising rely on a husband at home willing to take a back seat or as a partner.

Maria Piotter, vice president of franchising for Cousins Subs, is getting ready to retire from the corporate world of franchising to open her own units with her husband. She appreciates the difference between her husband and herself and says they can achieve more by playing on each other's strengths and complimenting each other's weaknesses.

"I have the ability to multi-task and make decisions quickly and move on," Piotter says. "And from what I've seen in our other female owners, it seems to coincide in how we run a household and the whole hunters and gatherers concept. Mothers hover and watch everything that goes on."

After spending the last five of her 18 years with Cousins as VP of franchise development, Piotter, 42, has seen enough of men and women franchisees to note the trends in the different styles of management.

"Women seem to be more direct and do well at managing people," she says. "Men stop and think about issues before they address them, whereas women see an issue and talk to the person right away."

In her own business, she often sees her husband putting off confrontations over trouble spots whereas she tends to "pluck them off as they occur."

While Piotter transitions from a corporate career to small business owner, she plans to take the advice that she's given to women over the years.

"I don't think there's anything wrong with wanting to do it all," she says of the 21st century woman who desires a full work and home life, replete with children and vacations. "It's a personal choice. Time management is vital. But I'd never have it any other way."

Keeping up with a demanding career and a household is often made easier with the help of other women too, Piotter points out. "Especially in franchising, you see women who rely on flexible schedules," she says. "Franchising is so great for women because we're so good at multi-tasking."

Women also will come up with solutions and share them with each other or with the corporate office. "We have a company web site and are always getting suggestions from our women franchisees," she says. "We enjoy teaching too, but we can tend to take that too far and over explain."

One of two women on a management team of six at Cousins, Piotter says the two women tend to remain more light-hearted at meetings and are willing to talk more with each other, interspersing personal tidbits in the business conversation. And at conventions, there's nothing like a bunch of women together, she says.

"I've not been to too many conferences where someone comes up to you and says, 'great jacket,' except with other women," she says. "Can you imagine a guy coming up and saying 'great shoes? We just bond easier."

Women seem to have more stamina and endurance too, Piotter says. "There are times in the evening when my husband is just done," she says. "And I just keep going."

The Energizer Bunny persona also seems best to describe Margaret McEntire to a tee. The founder of Candy Bouquet International, McEntire sells territories rather than multiple units, and has a keen sense for the special qualities that women bring to a growing business. Candy Bouquet is the largest candy franchise in the world with more than 700 stores in 45 countries.

In her business, women start out with a big advantage. "A lot of men are colorblind and don't even recognize it," McEntire says.

When it all adds up however, she says that women are better communicators and avoid problems better than men. "There are no formal statistics, but I believe that women business owners have fewer lawsuits," she says. To validate her impressions and to keep herself on track and intact, she regularly communicates with other female franchisors. She shares her experience and appreciates the same from her peers.

"Women can just let things flow and not get stressed," she says as she watches her top performer in the corporate headquarters answer the phone with a baby on her hip having just finished breast-feeding. "We have a tendency to be more organized. And we have the ability to take care of things that would just freak a man out."

McEntire had six children when she opened her first store. She says that family and friends warned her of the risks she was taking and advised against it. But her husband was steadfast in his support.

"He had his success and was willing to take a backseat to let me have mine," she says. "Husbands of successful women tend to buck the stereotypes."

McEntire owns her own building and is looking for ways to use and develop the space. She says that multi-tasking is the most useful characteristic shared by successful women.

"I just talked to one franchisee who just went through Valentines Day," McEntire says. "She told me that someone asked her if she was tired and she said, 'I'm not any more tired than normal.' We just take it for granted and don't let it get us down when we feel tired."

And women are willing to ask questions more readily than men, which can save a lot of time and tough learning experiences, she says. "It is not uncommon for a woman to ask me 'How do you know how to hire the right employee?' Can you imagine a man asking that question?"

And women like to talk. She also sees the tendency to bond among her franchisees. "I can be standing talking to a franchisee and she'd be talking serious business with me and brushing something off my coat," she says.

"We are creative too," McEntire says. "We don't have so many preconceived ideas of how to run a business. We're open to new ideas. I wouldn't hire a Harvard MBA graduate if he offered to work for $20,000. They have too many preconceived ideas."

In her Little Rock headquarters there is a nursery. She runs a relaxed shop and wants everyone to enjoy coming to work. "Who invented the button-down shirt and the stuffy suit anyway? Some man?"

The role of women in the international economy is no longer an optimistic vision. It is here and it is profound.

Speaking to a businesswomen's forum, SBA Administrator Hector Barreto says, "I hear it said that women are an important part of the economic recovery. I think that is understating things a bit. You ARE the economic recovery. You are where the jobs and growth are coming from."
Published: September 19th, 2006
Share this Feature
Recommended Reading:
Comments:
comments powered by

Disqus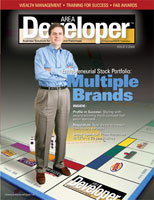 Multi-Unit Franchisee Magazine: Issue 2, 2006
The Joint® Chiropractic is reinventing chiropractic care. Our vision is to become the largest, most respected provider of chiropractic services...
Cash Required:
$100,000
L&L Hawaiian Barbecue has grown to become the leading Hawaii-based restaurant franchise, consistently appearing in national franchise and restaurant...
Cash Required:
$200,000