Think Positive
Finding the silver lining in the cloud called Covid-19
In the past 3 months, operators have focused their time, energy, planning, and execution on navigating through the adverse impacts of the coronavirus pandemic. This focus includes generating sales through new and expanded channels, minimizing operating losses, navigating through the Paycheck Protection Program, maximizing short-term liquidity through creditor, landlord, and franchisor abatement/deferral arrangements, and managing the retention and safety of employees and guests.
Conversely, through adversity comes opportunity, and as the country begins to reopen, certain positive trends are emerging. Well-positioned companies that have maintained sales, liquidity, and balance sheet strength can capitalize on opportunities in labor, development, acquisitions, and off-premise sales and delivery platforms. In addition, as many marginal units close and some brands cease operations, the competitive landscape will improve for the surviving companies and locations.
Labor. Before the coronavirus hit, the biggest challenge facing operators was labor. With record unemployment before the pandemic, the labor market has shifted as the number of qualified candidates seeking employment continues to grow. The value and dependence on front-line and management staff has never been more evident. Successful operators will concentrate on necessary steps to upgrade pay and benefits. Consider investing in behavioral and benchmarking tools to hire more effectively and minimize turnover. Operators must continue to invest in their people.
Development. While most new unit development and conversions have largely slowed since the coronavirus surfaced, future development and conversions of new units will change dramatically. Many brands will curtail growth indefinitely as operators navigate through the evolution of the post–Covid-19 environment. Future development will significantly change both in customizing facilities to create efficiencies in drive-thru, delivery, and take-out; and in reengineering in-store layouts to minimize constraints in the post–Covid-19 environment.
The casual/sit-down dining segment has been most affected. Before Covid-19, the segment was struggling, with only select brands showing positive trends. This segment is crowded, and some operators and brands will be forced into bankruptcy and/or into closing their doors permanently. Covid-19 has only accelerated this process. Look for innovative solutions to the bigger dilemma of how to maintain sufficient sales and cash flow to survive. Some facilities may convert to ghost kitchens, while others may be converted to different concepts. Fewer new units will be built. Landlords will be flexible in keeping current tenants and attracting replacement tenants. Conversion opportunities will proliferate, resulting in lower expansion costs for opportunistic groups.
Acquisitions/capital markets. Traditional, time-tested valuation metrics are being questioned as the fundamental concept of going concern value is now under assault. Sellers will argue that the pandemic is a 3-month hiccup, while buyers will price in longer-term adjustments. Until valuations and the lending environment stabilize, deal activity will come from distressed sellers with forced exits because of liquidity and creditor issues. These distressed assets will trade at lower multiples, attracting more aggressive investors looking for value opportunities with higher risk and a greater equity component in the capital structure. Regulated lenders will be constrained until the Covid-19 recurrence risk abates and the competitive landscape normalizes. Non-bank lenders and lenders with minimal exposure to the industry pre–Covid-19 will have a competitive advantage. Private equity and family offices will continue to play large roles. Some opportunistic equity groups are already executing and actively seeking challenged transactions.
Growth and diversification. Operators are looking for ways to grow their business, and often struggle to grow within their existing portfolio of brands, and so diversification becomes inevitable. As well-positioned operators emerge from Covid-19, there will be ample acquisition opportunities from struggling franchisees looking to exit. Multi-concept franchisees are better positioned than their peers. For the same reasons as before Covid-19, diversification helps to limit exposure and spread risk. Within every segment there are winners and losers, and while some brands clearly stand out from others, it is impossible to predict what might happen in the future. Every brand is one step away from trouble. Diversification is one strategy to help mitigate that risk.
Off-premise sales and delivery. The competitive landscape and the channels through which businesses connect with consumers have forever changed. Off-premise sales, delivery, drive-thrus, and curbside pickup have all become commonplace as consumers increasingly rely on and expect these conveniences. These changes were already evident before Covid-19, but the pace of adaptation because of Covid-19 has accelerated the process. Pizza chains had a distinct advantage because they already had successful delivery/off-premise platforms. As a result, they have benefited greatly from Covid-19. The rest of the restaurant industry has been playing catch-up and trying to make the economics work, and has done so with varying degrees of success. Covid-19 has pushed everyone to accelerate the pace operators are approaching delivery/off-premise sales, which has caused the competitive gap to close significantly—and much sooner than it would have otherwise. Brands and franchisees have been forced to make alternative channels more efficient and profitable. Drive-thru operations have become the most significant competitive advantage, benefiting QSR over other segments.
Conclusion
While the pandemic has had a dramatic effect on how business is conducted, the reality is that winners and losers will emerge in the post–Covid-19 world. The best brands and operators will focus on how to execute their operational, financial, and expansion strategies in the new normal while evolving and adapting to capitalize on expanded growth opportunities.
Carty Davis is a partner with C Squared Advisors, a boutique investment bank that has completed hundreds of transactions in the multi-unit franchise and restaurant space. Since 2004 he's been an area developer for Sport Clips in North Carolina with more than 70 units. Contact him at 910-528-1931 or carty@c2advisorygroup.com.
Published: July 23rd, 2020
Share this Feature
Recommended Reading:
Comments:
comments powered by

Disqus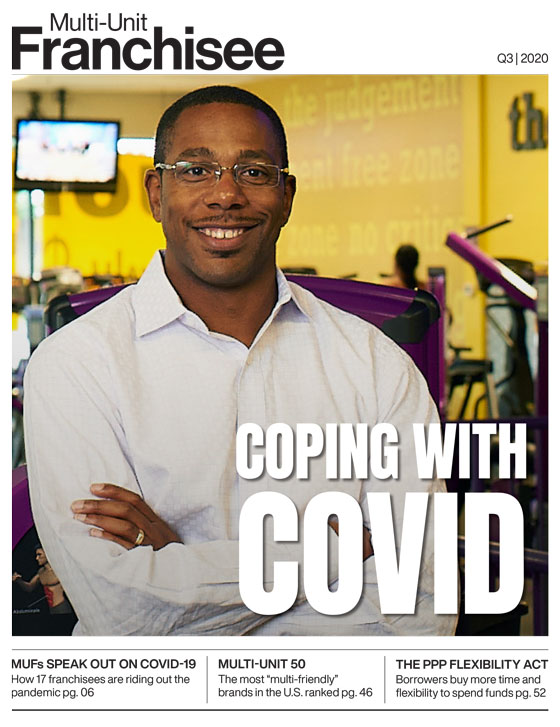 Multi-Unit Franchisee Magazine: Issue 3, 2020
Checkers Drive-In restaurant franchises are small but efficient making our restaurants easy to operate and typically reduced overhead costs.
Cash Required:
$250,000
It's time for a fresh start. Join Kona Ice today! We're a low-investment, fast-growing business with over 1,500 franchises in the last 12 years. And...
Cash Required:
$20,000