Time To Own Up
Who is really responsible for network security?
An overwhelming number of franchisees are perplexed about network security ownership and responsibility--especially when it comes time to pay for a data compromise. Many incorrectly assume the franchisor or franchisee-appointed third party IT company manages all aspects of their security, including adherence to Payment Card Industry (PCI) compliance. Generally speaking, this confusion stems from unclear delegation of security obligations between franchisors and franchisees. This leads franchisees to make assumptions concerning who is ultimately responsible to ensure their PCI compliance is fulfilled, and who is liable in the event of a breach.
Who is responsible for your security? In every arrangement but one, the franchisee is wholly responsible and liable for its security. Franchisor-controlled scenarios are the outliers, and in these situations the franchisor completely regulates and monitors each franchisee payment network from a single corporate location. In this setting, the franchisor typically delivers, sets up, and supports all franchisee systems. In every other situation, the franchisee is responsible. Even if a franchisee outsources its security systems to hotel management or IT companies, the franchisee is 100 percent responsible, especially for the actions of its employees who handle patron credit cards.
Franchises on hackers' "most wanted" lists. Our forensic investigations find that hackers choose to attack franchise-operated hotels, restaurants, and retail locations because many do not understand how to protect their business network. PCI Data Security Standards (DSS) are payment card industry regulations required of any business or franchise that processes, stores, or transmits cardholder data. PCI DSS compliance helps franchisors and franchisees better protect their business from data breaches that may result in debilitating fines, damaging news stories, loss of customers, and revenue deterioration.
Security outsourcing: here be dragons. If a franchisee or a third party manages a POS system, it is wise to assume not all aspects of security are being handled correctly. Many franchisees rely heavily on third parties to complete security requirements, but many IT companies, POS vendors, and hosting providers don't know the extent of PCI compliance. In fact, about 30 percent of data breaches we investigate have been caused by a third party's insecure remote access. In defense of these hired organizations, IT companies offer most services that enable secure systems and compliance to PCI DSS standards. The problem is that many franchisees choose substandard security that doesn't include the security services and products that would help them meet PCI requirements and adequately secure their business.
Top 10 ways franchises are hacked
As a franchisor or franchisee, ask yourself the following 10 questions. You may not know the answer to each, but it's important to identify who is responsible for each. Remember, in nearly all cases, the franchisee is the liable party if a data compromise occurs.
What type of firewall do you have? Does it restrict outbound and inbound traffic?
Do you require complex alphanumeric passwords? Does each network user have a unique username?
Is internal risk assessment performed on a regular basis (anti-virus, internal vulnerability scanning, internal penetration testing, file integrity monitoring, intrusion detection/prevention)?
Is external risk assessment performed on a regular basis (vulnerability scanning, penetration testing, wireless rogue detection)?
Do you store cardholder data? Is it encrypted?
Do you employ third parties that process, handle, transmit, or store cardholder data?
Is your payment server segmented from a public environment?
Is your current payment application PA-DSS certified?
What types of policies and security training do your employees have?
What are your systems for updating computer software?
This list is merely a sample of all PCI requirements your franchise is required to comply with. The easiest approach to discover who should manage specific security aspects is to download the PCI Self-Assessment Questionnaire D (SAQ-D) from the PCI SSC website (www.pcisecuritystandards.org/security_standards/documents.php). Then assign each of the 288 self-assessment items to the appropriate party you believe should be responsible for addressing each requirement (IT group, franchisor, hotel management group, yourself). Once the list is complete, verify each assigned responsibility with the suitable party and ensure they fulfill that requirement by formally defining responsibilities in a written document. If you are breached because of third-party negligence, you can use these records to recoup any losses you might sustain.
Get help
Most franchises don't consider how third parties such as booking agencies, POS vendors, and management groups could be exploited by criminals and expose customer data. It's in your best interest to enlist the assistance of an independent organization whose core competency is security, such as a Qualified Security Assessor (QSA), to help you understand who should address individual security requirements. Let them help you ask the right questions to see which PCI requirements have yet to be met at your business.
---

Gary Glover is QSA director for SecurityMetrics. To learn more about your security responsibilities as a franchisor, franchisee, third party, or business owner, please call 801-705-5656 or email largeaccounts@securitymetrics.com.
Published: November 21st, 2012
Share this Feature
Recommended Reading:
Comments:
comments powered by

Disqus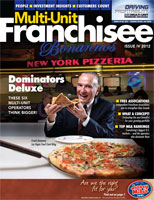 Multi-Unit Franchisee Magazine: Issue 4, 2012
Our core mission is to nourish, nurture and inspire healthy communities by giving back and creating value.
Invest in a legacy brand with 40 years of experience serving up crave-able food in a fun environment. Here's all you need to know
Cash Required:
$1,500,000