Trading Wall Street for Franchising: Kal Gullapalli is building a new kind of portfolio
Name: Kal Gullapalli
Title: CEO
Company: MPZ Holdings
Units: 42 Marco's Pizza, 46 European Wax Center, 2 VIO Med Spa
Age: 40
Family: Wife Krishna, son Narayan, daughter Anika
Years in franchising: 6
Years in current position: 2
Kal Gullapalli spent 7 years on Wall Street before the entrepreneurship bug bit him in 2016. Now he's on a fast track in franchising, running 42 Marco's Pizza stores and aiming for 100. He also operates 46 European Wax Centers and 2 VIO Med Spas.
"I'm spending a lot of time learning from others," he says. "What are the 15- to 20-unit folks doing now? What are the 100-unit folks doing?" As he hit each milestone, Gullapalli has learned that each comes with its own challenges. "You can get away with a lot at five... and nothing at 100," he says.
Whether attending conferences, becoming involved in franchise councils, or simply asking people in franchising to share their best practices, Gullapalli is constantly working to learn more about building a successful franchise organization—and has learned more than a few lessons on the way.
Expanding rapidly, for instance, taught him that "sometimes you think you can scale more quickly than you should." And when problems inevitably arise, he's an advocate of a quick response. "Once we agree something is a mistake, we look for solutions right away," he says.
As he builds toward his goal of 100 Marco's locations, Gullapalli has realized he'll have to build a flexible training team and larger support infrastructure to open new locations and to coach employees in existing stores. Creating that team will be a definite requirement for reaching his goal.
None of this deters him on his growth path, however. "I've always wanted to be part of growing a very large organization," he says. "I like the challenge."
PERSONAL
First job: Insider at Little Caesars.
Formative influences/events: Playing sports from an early age gave me the ability to work in a team environment. My parents instilled in me that having a strong work ethic is vital to success in our professional lives. My first job at Little Caesars gave me the confidence that if I could lead a team at the age of 17, I could probably further hone my skills and lead larger teams.
Key accomplishments: I've sold 5 different companies in 6 years. Two kids!
Biggest current challenge: Labor. Finding qualified team members is challenging in an environment where unemployment is at 3.7%. However, Marco's "Passion for Primo" initiative helps us recruit and retain talent in creative ways. We'll continue to lean into this as labor remains an ongoing challenge in the restaurant/QSR industry.
Next big goal: To have 100 profitable Marco's Pizza restaurants.
Best business decision: Getting into franchising. I realized in my early 30s that I like getting a playbook and following it. In franchising, it's easier to scale quickly.
Work week: I'm very passionate about what I do, so for me, it's not really viewed as work. Because of that, I put a lot of hours in. I'm not sure there is a day that I don't do something. So I do work 7 days a week, but I'm starting to get a little more balance in my life.
Exercise/workout: I work out anywhere from 2 to 5 days a week. It helps me get in the right mindset. There are times where I have not placed enough emphasis here, but I'm working hard to do so.
Best advice you ever got: From my immigrant parents: "This is the best country in the world. If you work hard, you can achieve whatever you want."
How do you balance life and work? I have not been great at this in the past. I put way more emphasis on work in my 20s and 30s. But in my 40s, and with my wife's guidance, I'm becoming more balanced. It's still a work in process.
Guilty pleasure: I enjoy eating great foods, so my family goes out to restaurants whenever we have the chance.
What did you want to be when you grew up? Professional basketball player. Until about 7th grade, this was my dream. But in 8th grade, I realized I was not as passionate about the sport as some of my peers.
Last vacation: Costa Rica with my family for my 40th birthday.
MANAGEMENT
Business philosophy: Treat your team well, pay them a fair wage, and provide clear expectations.
How do others describe you? Quiet, but a great motivator.
One thing I'm looking to do better: Getting every location to look, feel, and operate the exact same way.
How close are you to operations? Given our size, I do not get to sites as often as I would like. But I am on weekly ops call with our senior team, a monthly virtual call with our managers, and have quarterly in-person meetings with our managers.
What are the two most important things you rely on from your franchisor? To make decisions that help franchisees be more profitable, and to provide ops support when needed.
What I need from vendors: To be timely and communicative.
How do you hire and fire? I tend to hire slow and fire fast. If I'm hiring or firing, I'm looking to see if the team member has heart and a desire to work hard. If they have both of those traits, I know they will align with our core values.
How do you deal with problem employees? We are very transparent and communicative in addressing the problem and providing the resources needed to resolve and find a solution. We give them one or two chances to address it, and if they don't adjust to tweak their methods they will be gone.
Fastest way into my doghouse: To not show up, or to give up before you try.
COVID-19
How did Covid-19 affect your business? As an owner of several fitness locations and health and wellness retail centers, I saw the nonfood service industry completely shut down. This jarring realization triggered me to begin looking at the franchise brands that were thriving. This led me to Marco's Pizza, which was experiencing double-digit, record-breaking sales growth.
How have you responded? Diversifying my franchise portfolio with Marco's Pizza has really helped my business thrive.
What changes do you think will be permanent? Consumers will continue to expect restaurants to accommodate their demand for both delivery and carryout options. I expect the convenience of curbside carryout and pickup windows to continue because many people don't want to leave the comfort of their own vehicle.
BOTTOM LINE
Annual revenue: $35 million in 2022.
2023 goals: $45 million.
Growth meter: How do you measure your growth? Our main focus is EBITDA, or profitability. Without positive EBITDA, we can't grow.
Vision meter: Where do you want to be in 5 years? I would like to have 100 profitable Marco's and then talk about getting to 200!
Do you have brands in different segments? Why/why not? Yes. During Covid, I learned that diversification was really important. Some sectors were really affected during the shutdowns and others were not. Pizza, for example, was a beneficiary.
How do changes in the economy affect the way you do business? Changes in the economy significantly affect our business. We are directly tied to the consumer, so if consumers have higher discretionary incomes, we do better.
How do you forecast for your business? We do a full budget by store and then forecast out the next 3 years. Included in that will be our assumptions for sales growth, new store development, and acquisitions.
What are the best sources for capital expansion? Capital expansion can come through equity and debt. Luckily, we have been able to secure both through various investors, but also by working with banks that are supportive of long-term growth.
What are you doing to take care of your employees? I offer competitive pay and work to empower and motivate my team. I'm a big believer in letting your team know how much you appreciate their work and showing them their impact. This, in turn, will result in increased motivation and energy.
How are you handling rising employee costs (payroll, minimum wage, healthcare, etc.)? Like many businesses, we see a trend of increased costs in the economy, including employee wages. I currently offer competitive pay to make sure we are hiring top talent who are driven to grow in their roles. To manage these increased expenses, our team works tirelessly to find ways to increase profits and maintain a smaller group of employees.
Published: March 10th, 2023
Share this Feature
Recommended Reading:
Comments:
comments powered by

Disqus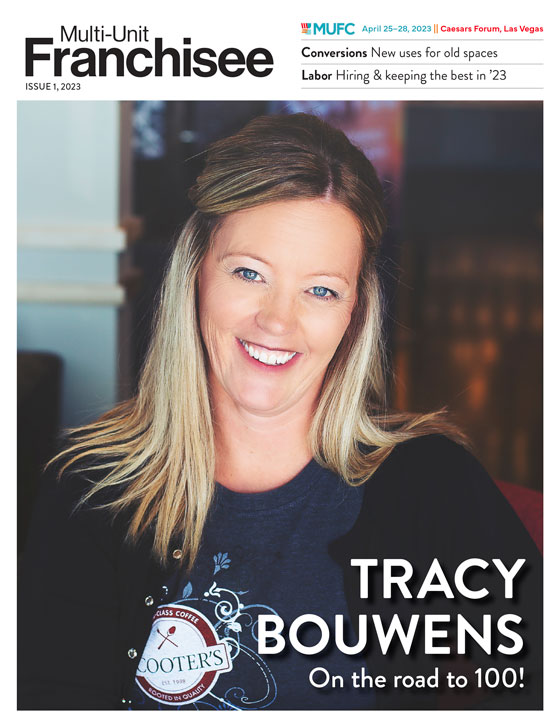 Multi-Unit Franchisee Magazine: Issue 1, 2023
At Radiant Waxing, we make it our mission to help people achieve smooth skin and beautiful brows in mere minutes.
Cash Required:
$100,000
Own one of the world's most beloved ice cream franchises! For nearly 35 years Cold Stone has been the go-to for the Ultimate Ice Cream...