Transmission Transition: Passing the family business to the next generation
Randy Whitworth sits in the middle of three generations who have all worked in the auto repair business. His father was a diesel mechanic, and he followed suit, spending more than 40 years in automotive repair. For the past 34 years, he has been in business for himself. Today his three adult children also have followed suit, and all work with or near him in their home state of Alabama.
"Car repair is in our family's blood," says the 61-year-old. So is succession planning.
Whitworth got his first taste of franchising in the mid-1980s when he opened his first Mr. Transmission. He liked the way the model worked so he bought another nearby in 2007. Today he owns Mr. Transmission shops in Riverchase and Pelham, Alabama. His daughter Amberly manages the Riverchase shop, and his son Randall manages the Pelham location. Kimberly, his elder daughter, opened her own Mr. Transmission shop in Birmingham in 2019.
As you might expect, his kids grew up in the business, just as he did. Whitworth recalls his children coming into the shop before and after school when they were younger and pretend to fix cars, work behind the desk, and talk with the customers. As teenagers, they took on real jobs at the business such as cleaning, writing up job tickets, and ordering parts. They seemed naturally drawn to the business and were able to spend extra time with their father while learning the ropes.
"I've really been blessed. They are all wonderful children," says Whitworth. "I still have some things to teach them, but I feel really good about how successful they have been."
Though the kids all worked with "Dad," they understood that everyone was treated equally in the operation and there has never been any preferential treatment. When they come to work their boss is "Randy," not "Dad," something the other employees recognize and respect.
Whitworth says his children all <chose> to work in the family business, that there was no pressure from him. He says each has their own niche and is really good at what they do. Randall is great with mechanics in the shop and shooting for perfection with the details. Amberly can diagnose problems in vehicles with the best of mechanics and is good at finding parts. And Kimberly is particularly strong with business skills.
Kimberly, he says, took an interest in the business early on. By the time she was 15 she was already helping at the shop, cleaning windows and doors. "As you show a little responsibility, you just get a little bit more responsibility," she says. That's how she found herself eventually coordinating sales, marketing, advertising, billing, and other administrative tasks. She says her father also taught her how to interact with customers, the importance of finding and using quality parts, and earning the trust of customers by taking care of them.
Before setting out on her own to open a Mr. Transmission/Milex shop, she spent a dozen years learning and doing all this at both of her father's locations. In March 2019, she signed a lease on a property, renovated the space to include 10 indoor vehicle work bays, and opened in June. Business is good, she says.
Now in his 60s, Whitworth thinks about the future and says he will continue training his children on all aspects of running the business. He says it's important for them to be able to operate <and> manage the operation before he passes it on to them.
All three children say he's done a great job preparing them. From his knowledge of cars to his ability to build relationships with customers, they say they still learn something new from him every day.
Published: October 30th, 2020
Share this Feature
Recommended Reading:
Comments:
comments powered by

Disqus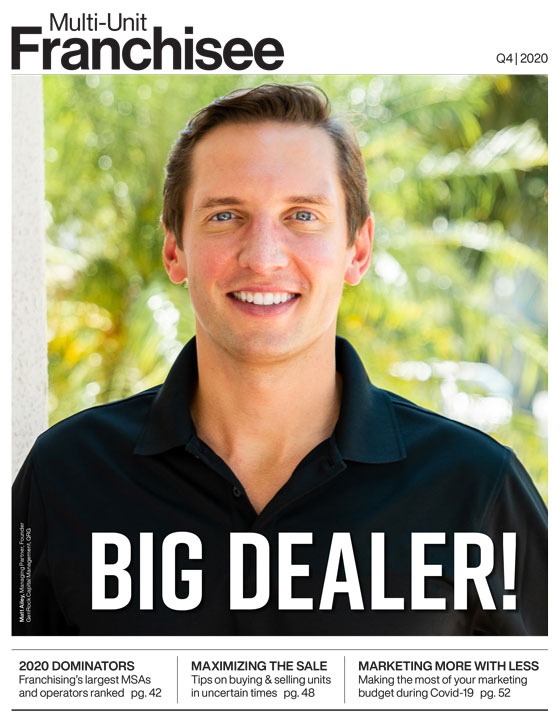 Multi-Unit Franchisee Magazine: Issue 4, 2020
Owning your own Pancheros restaurant is a chance to start a business without starting from scratch.
Cash Required:
$250,000
With 500+ restaurants in development worldwide, Wayback Burgers is America's favorite hometown burger joint and one of the world's fastest-growing...
Cash Required:
$250,000