Rental Recalibration: Landlords and tenants alike are adjusting
As the country continues to navigate through the pandemic, commercial property renters are facing an increasing struggle to reshape their business models to move outside their traditional brick-and-mortar spaces, while the residential industry moves business toward property management companies and away from independent landlords.
Residential rentals
Landlord-tenant relationships often can be strained. However, to keep tenants in their homes and help landlords plan for late payments amid the pandemic, the property management industry has grown more flexible. With data suggesting that rent collection is down only 3–5% since March, the rental market has not been affected as severely as many had expected.
Many landlords and property managers have adjusted to become proactive and communicate more openly with their tenants, documenting who has been affected by the pandemic and assisting them as best they can, including pointing them in the direction of any additional aid they could potentially qualify for. Tenants who previously proved to be timely and responsible are being trusted as such, and payment plans have become a temporary solution to aid those who aren't working, or who are working less frequently or for less pay. For many property managers, the mindset is that a good tenant pre-Covid will be a good tenant post-Covid. Additionally, many independent landlords are seeking advice from property management companies and making the decision to hand the reins over to them. For our company, the number of properties managed has increased in some areas over the past 6 months.
With the additional unemployment benefits from the CARES Act expired at the end of July, the rental market is anticipating that the lower-than-expected reduction rate in rent collection may change. Unless an additional stimulus package is released or additional unemployment benefits are awarded to renters, it's likely landlords will see an increase in the number of tenants unable to pay their rent on time, if at all.
Commercial rentals
With SBA loans running out and businesses that have received them reluctant to spend their loan on rent, commercial renters and the industry at large are taking a hit.
In the case of commercial properties, landlords are being forced to reevaluate rent expectations. Most businesses are reliant on revenue as the main contributor to their rental payment, so without regular business and additional government funding there is not a viable long-term solution. An estimated 75% of commercial property renters have been able to complete payments compared with 95% of residential renters.
Brick-and-mortar businesses unable to transition their business online or to drive-thru, pickup, or delivery are more likely to go out of business. Without stronger legislation in favor of aiding these struggling businesses, adapting to alternative models is the only way to remain afloat.
Looking ahead
As the country continues to navigate the pandemic, many of the unprecedented problems that arose received Band-Aid fixes and creative solutions, some of which will have lasting effects on how the industry does business.
For example, when it comes to transitioning between residents there is a new standard of cleanliness property managers and previous homeowners are now held to. Management companies are making strong efforts to update their health and safety guidelines and staying informed on best practices for sanitizing rental homes and apartments.
With in-person home showings no longer a safe option for Realtors or residents, lockboxes have been the easiest way for interested parties to see homes themselves. As self-showings start to become the industry standard, companies like Tenant Turner and Rently continue to see development.
As we discovered at the beginning of the pandemic, the future of real estate and property management is uncertain and will likely be tied to Covid-19 case projections and breakouts. As it stands, 30% of the commercial market is out of business and unemployment is stagnant. Without more significant intervention and government assistance to banks and renters it is difficult to say how long a residential recession will be postponed.
It's hard to know what a full recovery will look like, but as the industry makes adjustments it is clear that we cannot expect a complete return to "normal" any time soon, if at all. For now, property management companies are following changing consumer behaviors and surviving within business strategies that have been implemented to set them up for success as things continue to move forward.
While property managers continue to do their best to help their tenants, it is important that they continue to help themselves as well. For example, to diversify to a more steady stream of income, we are offering our managers the opportunity to take on multiple pillars of management: doing business in commercial, short-term, association, and residential fields. It's a strenuous time for everyone involved, and seeking creative solutions when possible is the key for survival through these difficult times.
Randall Henderson is Vice President of Commercial and Residential for Property Management Inc., based in Lehi, Utah. Founded in 2008, PMI provides expert property management services and solutions across four pillars: residential, commercial, association, and vacation rental management. Call 801-477-8556 to learn more.
Published: October 9th, 2020
Share this Feature
Recommended Reading:
Comments:
comments powered by

Disqus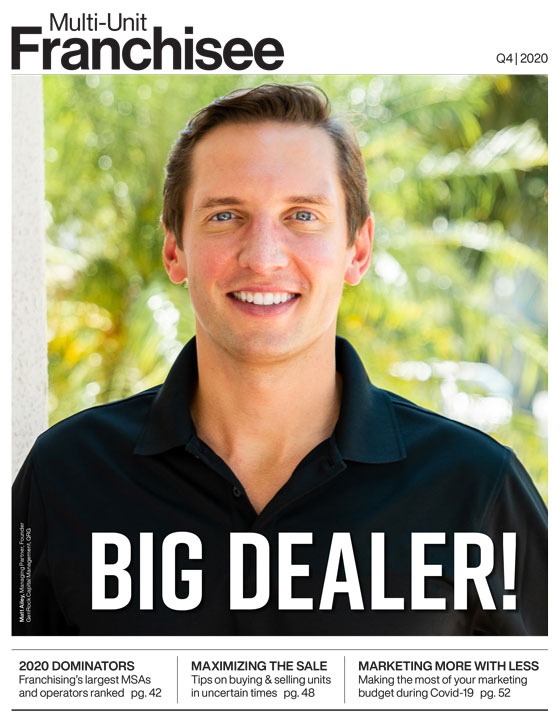 Multi-Unit Franchisee Magazine: Issue 4, 2020
BoConcept was born in Herning in 1952 and has grown from a small firm to Denmark's most global furniture brand, with over 300 stores in more than 60...
Cash Required:
$500,000
Bonchon is an internationally recognized Korean Fried Chicken concept. Bonchon means "my hometown" in Korean, and represents our...
Cash Required:
$250,000