Triple Player: Focusing on Operations, People, and Community
When we first met Jeff Rigsby in 2010, he was a successful multi-unit operator with 21 Bojangles' locations. Back then, the father of three boys told us he was an operations guy who loved being in his businesses because, he said, "The best feedback you can get is talking to your customers--they will let you know how things are."
There must be something to Rigsby's strategy because over the past 8 years he has expanded from 21 stores and a single brand in the Carolinas to 62 locations, two more brands, and a presence in three additional states: Georgia, Tennessee, and Kentucky. His newest brands are Salsarita's (2) and Donatos Pizza (1). His goal today is to add 15 more restaurants by the end of 2019 and to own 100 stores within the next 5 years.
All of this growth has required Rigsby to beef up his organization's infrastructure. Putting his money where his mouth is, he recently moved his corporate team into a new office where they are focused on handling the company's growth--and preparing for more.
As could be expected, his growth has presented new challenges. "Our culture in all of our restaurants is important," he says, which is why he and his team are focused on trying to hire and retain the best people they can. "But as we grow into more markets, keeping the culture, inclusion, and values that are the core of our success is our biggest challenge--and opportunity."
Throughout, Rigsby remains devoted to his family and to the communities where his restaurants operate. "As much as we want to be successful, we want to be able to support the community," he says. "Our goal is to do business with a purpose and to do right by all of the people involved." He's also proud to have one of his sons working right alongside him.
Oh, and Rigsby is no longer just the father of three sons--since 2010 he's added three more units, all grandsons.
Name: Jeff Rigsby
Title: Franchise owner, CEO, president
No. of units: 59 Bojangles', 2 Salsarita's Pizza, 1 Donatos
Age: 56
Family: Married 37 years with 3 sons and 3 grandsons
Years in franchising: 40 working in franchising, 17 as a franchisee
Years in current position: 18
Personal
First job:
A paper route when I was 13.
Formative influences/events:
I've been in the business for 40 years now, and the key to my passion has been the mentors I've had over the years, including my father. Many of my colleagues were seasoned franchisees who were also strong mentors to me. Randy Kibler, Bojangles'current CEO and president, has been a huge influence on me in my time with the brand.
Key accomplishments:
I'm proud of the strong career I've had. Before I joined the Bojangles' team, I worked at KFC for 15 years where I was able to advance my career and receive the Key Award as one of the top 10 managers in the country. In 1994 I started at Bojangles' and worked my way up to director of operations. From there, I became a multi-unit franchise owner. The highlight of all of this has been my ability to grow my restaurants. This is something I'm most proud of.
Biggest current challenge:
Keeping the Bojangles' culture fluent in all of our restaurants. I want the best people out there in my restaurants. But as we grow into more markets, keeping the culture, inclusion, and values that are the core of our success is our biggest challenge--and opportunity.
Next big goal:
To reach 100 restaurants in the next 5 years.
First turning point in your career:
When I became the director of operations at Bojangles', because that's where I started developing my passion for the brand and had a lot of occupational growth. I would also say becoming a Bojangles' franchise owner was also a turning point, because I was able to use everything I had learned on the corporate side in my own business.
Best business decision:
Becoming a franchise owner at Bojangles'.
Hardest lesson learned:
There were a few site selections where I trusted my gut instead of doing the research and following the systems in place. And those locations really struggled for the first few years. Eventually they worked out, but I learned to always follow the procedures put in place, because that's what leads to success.
Work week:
Usually, I work five days a week. I visit the restaurants early in the morning, and then I get into the office around 10 a.m. and head home around 6 p.m. I probably clock in 55 to 60 hours a week.
Exercise/workout:
I try to do the treadmill every day, but my biggest workout is playing with my grandchildren.
Best advice you ever got:
"Take care of the people who take care of your business." This also applies to taking care of the community, because when you help the community they in turn give you their loyalty--and that is the key to long-term success in any market. We always try to be very cognizant of supporting everyone in the business, whether it is the customer, employee, or vendor. We try to do right by all parties involved.
What's your passion in business?
My passion for the business relates to the people. Every time we build a restaurant we create opportunities for people. When we go into communities, we have a platform for doing great things. As much as we want to be successful, we want to be able to support the community. Our goal is to do business with a purpose and to do right by all of the people involved. When you do that, everything falls into place. The loyalty gets better, and the business gets better. It is what gets me out of bed in the morning.
How do you balance life and work?
My wife helps me a lot with balancing life and work, and I try to spend a lot of time with our family. We go on vacations together and I try to be home early in the evening. I also integrate family into the business, which allows us to spend time together. My business is like my hobby, so it never really feels like work. We also try to help our employees with their work/life balance. It can be tough, especially in the restaurant industry, so we definitely make it an important focus for our employees as well.
Guilty pleasure:
Bojangles' food, specifically our Cajun Filet Biscuits.
Favorite book:
Winning by Jack Welch.
Favorite movie:
"The Godfather."
What do most people not know about you?
I am a roller coaster enthusiast.
Pet peeve:
Laziness.
What did you want to be when you grew up?
I wanted to own my own business.
Last vacation:
Paris and London in July 2018.
Person I'd most like to have lunch with:
Vince Lombardi.
Management
Business philosophy:
Taking care of people who take care of business. Developing our people to achieve great results. Trying to set people up for success. It is all about the people for the success of the company.
Management method or style:
Get the best people. Empower, listen, coach, and support them. Set standards for them to grow. We grow as a company through the growth of our people.
Greatest challenge:
Getting the culture, mission, and vision to be spread throughout the whole company.
How do others describe you?
As a caring person who has very high standards and expectations. I think my employees would say that I care about them and am very approachable. They know we are going to take care of them if they take care of the business.
One thing I'm looking to do better:
I continue to evaluate the business as we grow. I would like to continue growing our infrastructure.
How I give my team room to innovate and experiment:
Regular communication. When we do decision-making it is always in a group environment, and leaders are given an opportunity to try new things. We want everyone to know they have a voice. I think our people feel very empowered to make decisions, as long as we all communicate on how we do those things. We are always asking for everyone's opinion so we can get better.
How close are you to operations?
I'm fairly involved in operations, but not as much as I used to be. We have weekly operations meetings. I visit the restaurants every day and am constantly talking to our two operations officers. My passion is in operations and I try to stay as connected as possible.
What are the two most important things you rely on from your franchisor?
To keep the operation sound, and to keep the brand relevant.
What I need from vendors:
To be true partners and work with our business on how we can continue to make our partnership a win-win situation for all.
Have you changed your marketing strategy in response to the economy? How?
Yes, our marketing strategy has changed a little bit. Consumers are changing the value message. I think people want the total package: a good restaurant, good service, and good food, all at a value price. The message stays consistent with the quality of everything we're doing.
How is social media affecting your business?
With mobile apps and online ordering, people want their food quick and they are using their phones to order. They also can review us online. So we try to stay very engaged online. You need to be out there promoting your company and business, now more than ever.
How do you hire and fire?
We hire the best people. We try to do a lot of recruiting from within. We try to approach any issue with learning and developmental processes. Usually when people leave they fire themselves, because we have given them all the tools to make it work. Many people say it is hard to find good people, but it's harder to keep good people.
How do you train and retain?
We have a training process and a specific training team that tracks progress of the restaurants. A lot of that goes with the idea of setting people up for success and coaching managers on creating an environment where people feel comfortable communicating. One of our biggest missions is to have a positive impact on everyone who works for us, whether it's high school kids working part-time or those trying to move up within the company. We want to make sure we treat them all well. We are looking to roll out a tuition reimbursement program, and have whole store bonuses. Retention is far more important than the recruiting.
How do you deal with problem employees?
When we have issues with an employee it usually comes from a bad attitude. So our approach is to pull them aside, coach them, and try to get them to turn their attitude around. If that does not work, usually the person terminates him or herself.
Fastest way into my doghouse:
Act like you don't care and give a lot of excuses.
Bottom Line
Annual revenue:
$85 million.
2019 goals:
To add 15 restaurants by the end of the year.
Growth meter: How do you measure your growth?
Several ways: top sales to previous year, market share, market value, especially looking into our core markets, and unit growth.
Vision meter: Where do you want to be in 5 years? 10 years?
My goal is to reach 100 stores in the next 5 years.
How is the economy in your regions affecting you, your employees, your customers?
Everywhere we are operating, the economy is growing stronger, which means more restaurants are being built and customers have more choices, which drives up competition. But when customers have more choices, they look for the best value. They want better food, better service, and better dining experiences. Our employees also have more choices of where to work. We tackle this by focusing on retaining our employees and adding value to their work, which in turn helps our sales to grow.
Are you experiencing economic growth in your markets?
Yes.
How do you forecast for your business?
We look at different things that affect the upcoming year: the economy, what the competition is doing, and our new restaurants we are building. We put our yearly budget together in October and focus on mirroring the economy's positive growth.
What are the best sources of capital for expansion?
Local banks. Any time we enter a new market we develop close-knit relationships with local banks.
Experience with private equity, local banks, national banks, other institutions? Why/why not?
We haven't been in a position where we have to use private equity groups. We tend to shy away from private equity groups because they don't know your business as well, and you end up paying a lot more for your money. Instead we focus on local banks because we are able to foster a more intimate relationship with them and help ourselves get established in the community.
What are you doing to take care of your employees?
We offer our employees fair compensation and many opportunities for career advancement. Additionally, we offer an excellent benefits package that includes a 401(k), vacation time, dental, health, and life insurance. We also offer a bonus program and focus a lot of energy into creating an environment where they can be successful.
How are you handling rising employee costs (payroll, minimum wage, healthcare, etc.)?
We try to hire the best people and are competitive in our wages. We want to be the employer of choice for our employees in terms of pay and benefits, because we wouldn't want to hinder great talent from joining our team. The better the people we have, the better the business is going to do.
How do you reward/recognize top-performing employees?
We have a monthly bonus program and are always looking for new, creative ways to reward our top performers. We have an end of the year banquet where we give out rewards and recognize those who have had a great year. We give out awards for best in sales, retention, and a restaurant of the year award that our managers are always very excited about. This is a huge deal for us because we all get to dress up and have a nice meal together to celebrate our people's success. Additionally, we give managers a week at our beach house each year. We are always looking to incentivize our team members, because we see that when they feel like they are recognized for their hard work, they are able to reach even better results.
What kind of exit strategy do you have in place?
I have a few ideas in mind. I love this business and am not ready to retire.
Published: December 14th, 2018
Share this Feature
Recommended Reading:
Comments:
comments powered by

Disqus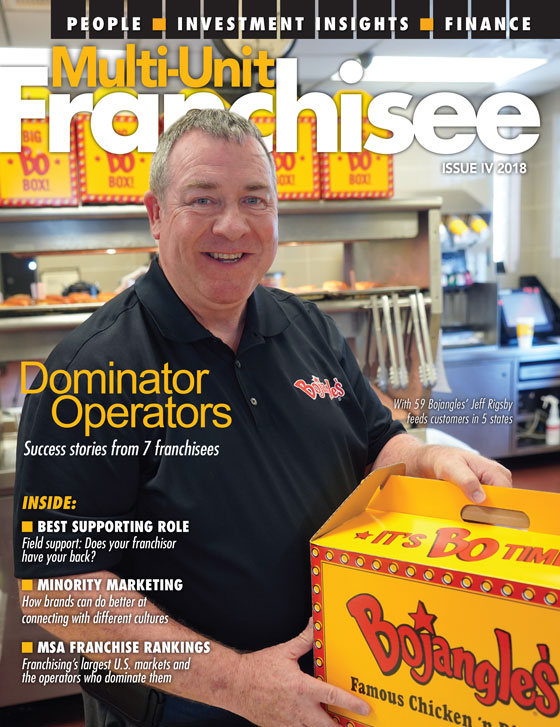 Multi-Unit Franchisee Magazine: Issue 4, 2018
Loyalty Brands has launched an exciting new franchise concept, Loyalty Business Brokers. This brand is focused on connecting buyers and sellers of...
Phenix Salon Suites is awarding our scalable, semi-absentee opportunity to motivated entrepreneurs. With no salon experience required, franchisees...
Cash Required:
$300,000