A-Gon Goes 6-for-6!: Former MLB star is batting 1.000
Adrian Gonzalez is a five-time Major League Baseball All-Star and four-time Gold Glove Award winner. And now the longtime San Diego Padres star first baseman, currently a free agent, is also a Jersey Mike's franchisee.
This past February, Gonzalez purchased six Jersey Mike's stores in San Diego County and teamed up with his operating partner, Ken Nicola, who oversees daily operations. Gonzalez has three Jersey Mike's locations in Oceanside, two in Carlsbad, and one in Encinitas and says he plans to open five more in the next five years.
"I have to think about the future, and this is one of the things I will be doing," says the 36-year-old Gonzalez, who says he will be much more active as a franchisee once he retires.
Gonzalez says he always wanted to be a professional baseball player. He was selected by the Florida Marlins as the first overall pick in the 2000 draft. The Marlins traded him to the Texas Rangers, where he made his MLB debut in 2004. Folllowing the 2005 season, the Rangers traded him to the San Diego Padres. It was in San Diego that he began racking up awards. He spent the better part of a decade with the Padres, where he was a three-time All-Star and a two-time Gold Glove winner. In 2009, he led the majors in walks with 119 and hit 40 home runs for the first time. He went on to play with the Red Sox, Dodgers, and Mets and is currently a free agent. In his 15-year MLB career, Gonzalez hit .287 with 317 home runs.
He says two things drew him to Jersey Mike's: the freshness and quality of the food, and the brand's reputation for giving back to the community.
"I love the fresh ingredients and how everything is sliced right in front of you," he says. "Jersey Mike's is a top sub sandwich enterprise." And the brand's "Sub Above" commitment to community and charity work also struck a chord with him.
"My wife Betsy and I love helping and being part of the community," says Gonzalez. "We are happy to be a part of a company like Jersey Mike's that has built making a difference into their business plan."
This past March, all of his stores participated in the brand's annual "Month of Giving" and, along with 32 other locations in the San Diego area, raised $248,494 for Rady Children's Hospital.
Gonzalez may be new to franchising, but the drive and determination that made him an All-Star in professional baseball is sure to lead him down the path of success in franchising.
Name: Adrian Gonzalez
Title: Franchisee
Company: Jersey Mike's Subs
No. of units: 6 Jersey Mike's
Age: 35
Family: Wife Betsy and two daughters,
Years in franchising: 1
Years in current position: 1
Personal
First job:
Professional baseball player.
Key accomplishments:
In baseball, I have accomplished a few personal awards: Gold Gloves, Silver Slugger, etc.
Biggest current challenge:
To manage everything in life with my baseball career.
Next big goal:
To have a healthy and successful baseball season.
First turning point in your career:
When I was traded from the Texas Rangers after the 2005 season to the San Diego Padres, where I was able to play every day for the first time in my career.
Hardest lesson learned:
To always take care of your money. Even family can take advantage of you if you are too careless with it.
Work week:
Baseball is a 7-day-a-week job.
Exercise/workout:
With baseball, we exercise on a daily basis.
Best advice you ever got:
Have fun, but when it is time to get serious and focused, know to flip the switch.
What's your passion in business?
To grow and be connected with the right people and companies.
How do you balance life and work?
By taking one situation at a time.
Guilty pleasure:
Chips and a good salsa.
Favorite book:
The Bible.
Favorite movie:
"Tombstone."
What do most people not know about you?
I love to spend time with my family.
What did you want to be when you grew up?
A professional baseball player.
Last vacation:
Puerto Vallarta, Mexico.
Management
Business philosophy:
It's all about the team. We make sure that every team member is trained properly, and that they know how important it is for us to provide our customers with a "Sub Above" experience.
Management method or style:
I make sure that my teams get all the training and leadership they need. Then I trust them to execute in the way that they have been trained.
Greatest challenge:
Balancing baseball on the East Coast and Jersey Mike's on the West.
How do others describe you?
Passionate.
One thing I'm looking to do better:
Perfect making a sub--Mike's Way, that is! The slicer is something to be respected and I'll go through the same training as my team.
How I give my team room to innovate and experiment:
I encourage team members to share ideas.
How close are you to operations?
Ken Nicola is an outstanding operating partner who knows the Jersey Mike's business inside and out. I just came on board recently and am learning quickly.
What are the two most important things you rely on from your franchisor?
Support and communication, and Jersey Mike's provides both. My area director is a great resource, and there are many different departments at the corporate office that provide support: marketing, training, operations, real estate, public relations, etc. These people are all excellent at what they do.
What I need from vendors:
Responsiveness, fairness, and quality.
Have you changed your marketing strategy in response to the economy?
No.
How is social media affecting your business?
It's a great way to showcase the brand.
How do you hire and fire?
We hold auditions for new team members and look for great energy and a positive outlook. We can train for the rest. We hope to make our Jersey Mike's such a great place to work that they love their position and would not want to do anything to put it in jeopardy.
How do you train and retain?
Peter Cancro, Jersey Mike's founder and CEO, describes Jersey Mike's as a training company. It's all about providing a "Sub Above" experience to our customers, and that means focusing on training. This covers more than making a sub. We also teach about the history and giving culture of Jersey Mike's, operational excellence, how to build strong customer relationships, and more. It's about recreating the experience customers had in the very first shop at the Jersey Shore more than 60 years ago.
How do you deal with problem employees?
We believe in immediate feedback, which we hope leads to improvement.
Sports & Business
What skills/experience from sports have carried over to operating a business?
Work hard and never let any obstacle stop you from accomplishing your goal.
Which do you find more competitive, sports or business?
Sports is very competitive, but business can be as well.
Why did you choose franchising as an investment option?
It was not any franchise--Jersey Mike's comes with a great name and brand. The fact that they have a great giving component sealed the deal. My wife and I like to do a lot of charity work in the community.
How did you transition from sports to franchising?
The same way I deal with everything else in life, one decision at a time.
Bottom Line
Annual revenue:
N/A.
2018 goals:
To continue connecting with the local community and growing. We are happy to join a company like Jersey Mike's that has built making a difference into their business plan.
Growth meter: How do you measure your growth?
By the number of stores we open every year, and by our year-over-year sales. Since I have owned these stores, they have seen an improvement in sales.
Vision meter: Where do you want to be in 5 years? 10 years?
Our immediate focus is on opening at least five more Jersey Mike's locations in the next 5 years.
How is the economy in your region affecting you, your employees, your customers?
We are fortunate to have a devoted following in San Diego.
Are you experiencing economic growth in your market?
We focus on offering a great quality product, excellent service, and giving back. That is what helps us grow.
How do changes in the economy affect the way you do business?
Jersey Mike's has been around since 1956. We stick with what we know works: we provide an authentic, high-quality sub sandwich and give back to our local communities. It's a winning strategy.
How do you forecast for your business?
We look at trends in our own business, in our own stores. We compare this to what is happening in the sandwich sector, as well as the quick service sector. We do a pretty good job with this most of the time, but when things are different we make adjustments.
What are the best sources of capital for expansion?
Financial institutions and investors.
What are you doing to take care of your employees?
Health insurance and profit sharing for my leaders.
How are you handling rising employee costs (payroll, minimum wage, healthcare, etc.)?
Like everybody else, we are raising our prices to maintain balance. We let our customers know that we want to treat our employees well, which in turn gives them a "Sub Above" experience.
How do you reward/recognize top-performing employees?
We have recognition systems within each store and within the organization. We do provide profit-sharing bonuses.
What kind of exit strategy do you have in place?
I just came on board so don't have an exit strategy right now.
Published: November 30th, 2018
Share this Feature
Recommended Reading:
Comments:
comments powered by

Disqus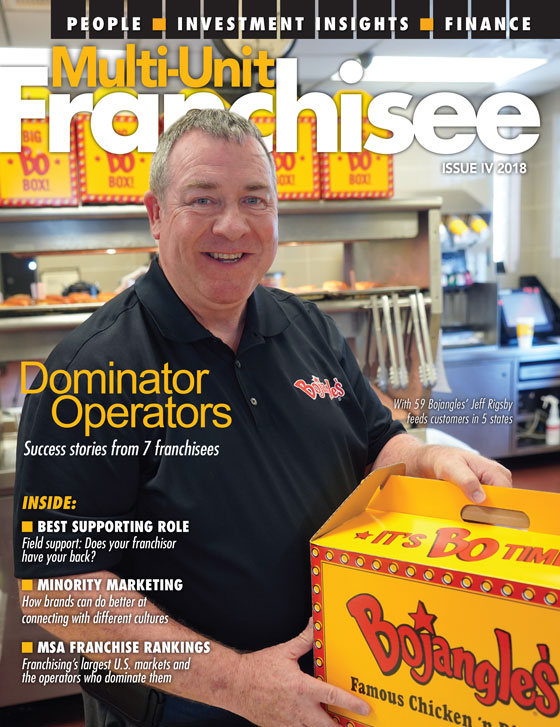 Multi-Unit Franchisee Magazine: Issue 4, 2018
Start your own one of the fastest-growing chicken hot wing franchises. East Coast Wings & Grill is an award-winning wing restaurant franchise...
Cash Required:
$200,000
A one-of-a-kind concept with wood-fired pizza and a self-pour taproom wall serving beer, wine, and mixed cocktails. Great for the semi-absentee...
Cash Required:
$250,000