Understanding Millennials: How Social Media Drives Buying Decisions
Franchisees and franchisors are increasingly aware of social media's influence on buyers. Millennials, those currently aged 22 to 37, are a significant subset of those buyers. The trick is to understand how this demographic responds positively to social media--because while they are heavy social media users, they have distinct opinions on social content and application.
Want to get Millennials motivated to buy from you? First you need to understand them. Arguably, this influential crowd has gotten a bad rap as other generations overgeneralize them as avocado toast noshing, Kardashian idolizing, job-hopping, selfie-snappers. There's more going on beneath the surface of this tech-savvy demographic that has always known the Internet. Consider that Millennials are:
Financially aware. According to a 2016 Ramsey Solutions study, nearly 40 percent of Millennials knew how much money they needed to save for retirement, narrowly beating out Baby Boomers (37 percent) and Gen Xers (36 percent).
In charge of their own lives. Many demand time off, flex schedules, remote working arrangements, and other means of allowing them to get the most out of their day both professionally and personally.
Loyal to employers. That's right; this generation stays with their employers longer than Gen Xers did at the same age. They're more likely to stick around for three to six years.
Millennials online
So while this group may have few reservations about dressing room selfies, they're also more frugal than expected when they shop. (No doubt well-documented student loan debt plays a hand in their judicious buying practices.) And mobile devices, and consequently social media, accompany them on every step of those buying journeys.
Millennials view social as a means of communicating, participating in communities, and knowledge sharing. They don't have the patience for any experience they deem as intrusive though, so pop-up ads and any other in-your-face approach to social marketing will likely fail on the spot. Instead keep the following in mind to activate Millennial buying through social.
They're rarely without social media exposure. There's little need for quoting endless studies about mobile phone usage and Instagram accounts. Their use of social is out there for all of us to see. Look at the Millennial next to you--in the office, on the subway, in the coffee shop, at the store, on the street--and chances are good they're checking through their social accounts. Consider that 50 percent of Millennials and Gen Z buyers use social media while they shop. They're using it to look at product reviews, availability, and cost. Be where they are with your own social presence and active engagement with followers. "Set it and forget it" advertising does not equal engagement.
User-generated content matters a lot. In fact, 84 percent of Millennials say they're influenced by what strangers say about products and services. When it comes to what franchisees are selling, the opinion of the masses is huge. Social listening and responding quickly and appropriately to both good and bad reviews can help you influence that content in your favor.
Brand reputation and sincerity make a difference. Although they are taking in user opinions and storing that knowledge away for their own buying decisions, brands and their franchisees still have a voice. Brands that actively and sincerely engage with followers, including coveted product researchers and buyers, are influencing 62 percent of Millennials, according to a Gartner study.
Value is key. Remember those student loans? With price, consumer ratings, pictures, and user comments at their fingertips, Millennials are adept at finding good deals. When planning your social strategy, ensure you're getting across the value of your franchisee services and competitive rates.
Consider coupons. Adding to the above, social offers and coupons are enticing to Millennials. Nearly 85 percent of them use digital coupons and discount codes when buying online, and 76 percent do so in stores.
Takeaway
The key takeaway for brands and franchisees planning their social strategy is to target Millennials thoughtfully. Respect their desire for community and engagement. Take time to be part of the social conversation with them, and offer them a quick, clear understanding of how your product or service can better their world at a competitive price.
Andrea Brandon is director of marketing at Mindstream Media and has a background in social media marketing, branding, and communications. To learn more, visit mindstreammedia.com or email inquiries@mindstreammedia.com.
Published: October 6th, 2018
Share this Feature
Recommended Reading:
Comments:
comments powered by

Disqus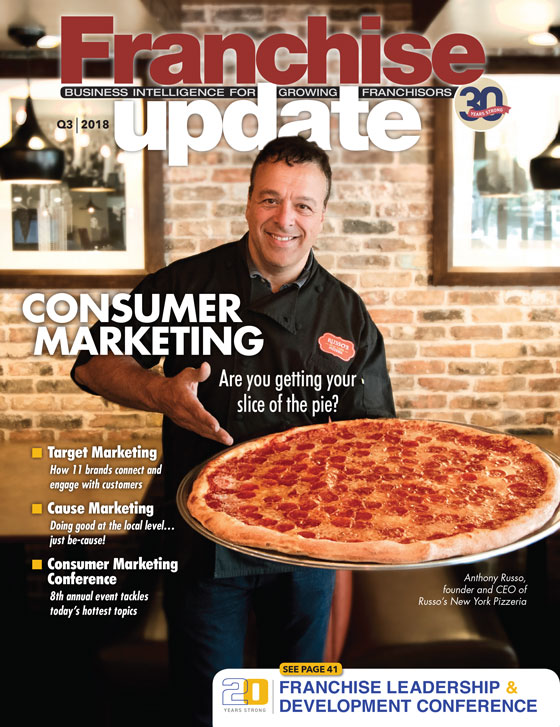 Franchise Update Magazine: Issue 3, 2018
Conferences
InterContinental, Atlanta
OCT 18-20TH, 2023
UMI has over 23 years of experience supporting fast-growing multi-unit brands. From strategic planning to design, execution to analysis, UMI...
The Titus Center for Franchising, one of Palm Beach Atlantic's Centers of Excellence, offers a concentration in franchising to business students.