Unit Economics Rules!: How to Make Lenders Love You in 2010
The way to a man's heart may be through his stomach, but the way to a banker's heart is through strong unit economics.

Entering 2010, the stars are in alignment for strong multi-unit operators seeking expansion opportunities, specifically:
an increase in struggling or failing operators seeking a way out;
franchisors wanting to keep units from going dark; and
bankers looking for low-risk opportunities to lend.
The key to making this alignment work for you can be found in unit economics: the ROI of each unit for the operator, and its contribution to the franchise system as a whole. So if you're a savvy multi-unit operator with profitable units and are seeking capital for expansion, this could be your year… if you have your unit economics house in order.

So what exactly does unit economics mean? "From a business perspective, it is the financial return that is expected from an investment." That's what Darrell Johnson, president and CEO of FRANdata, wrote some months back in this magazine (Issue II, 2008). "Good unit economics is a great risk mitigation tool for lenders," he added. (For his take on expansion opportunities today, through transfers, see page 76 in this issue.)

So while he and others have been advising both franchisees and franchisors to learn to think like a banker or lender, successful multi-unit operators are already doing that, whether they know it or not. As Johnson noted last spring, "What many of us overlook is how similar prospective franchisees and financial institutions are: they both want to evaluate unit economics before coming to a decision." With that in mind, it becomes a matter of presenting financial data in ways that bankers need to satisfy their underwriting requirements.

To learn how best to approach lenders here in early 2010, we asked executives from a franchise finance company and a commercial bank that does SBA lending about the role unit economics plays in today's capital market.
The Finance Company
Mark Challis is president of Directed Equity, a finance company in Parker, Colo. The company provides one-stop financial services that include conventional, SBA, and equipment loans, and 401(k) financing.

"When a franchise system refers franchisees to us, we look at all the options," says Challis, a tax and franchise attorney. "We sell the franchise concept along with the franchisee." It should come as no news, however, that the "sell" to lenders is harder now than it has been in years.

In evaluating the prospects for a borrower, he says the firm looks at two primary areas: 1) unit economics "to ensure the concept is viable"; and 2) various third-party information on SBA loans and their performance. And while the third-party information may not always be 100 percent accurate, he says, "It's the best we have to go on." For example, a failure of a loan or a unit in California may have an impact nationwide on those looking to get financing for that brand.

The demise, or at least retreat, of franchising's traditional lenders is slowing new unit growth, even for experienced operators. "In the past, national lenders were familiar with the concepts. Now we have to convince a new lending source that it's a solid concept they should consider lending money to if that particular borrower fits within their parameters for lending," says Challis.

"We don't have to explain the unit economics any differently. What is different is that we have to educate the new set of players," he says. As a result, "We're having to work very hard to place these loans. We're getting good loans placed every day, but it protracts the process a little."

Unit economics and related performance data are also affecting the pace of expansion nowadays, he says. "Whether it's store number 2 or 10, we're finding a higher level of scrutiny being brought to financials. Debt coverage used to be 1.2 to 1, now it's 1.3 to 1. It's not enough to be cash-flow positive; profitability is compared to debt-service responsibility."

Increased debt coverage requirements can present a significant obstacle, especially for younger franchise organizations. After making a loan for a new unit, some lenders are requiring 12 months at a minimum before they'll finance a second one; some require 24 months.

"This has more to do with when expansion financing can take place than unit economics," he says. Even mature multi-unit operators with a positive cash flow would be wise to take a conservative approach and build in more time for loan approval.

With bankers gun-shy and likely to remain so, one way to speed the process is to arrive at the bank armed with any and all information likely to assuage their fears and overcome their reservations.

"Bank credit reports are very important because there are fewer and fewer national players. Local lenders may be familiar with a brand as a customer, but not on the other side of the register," says Challis.

From a lending perspective, he says, "We're finding that current operators who are profitable and have the debt coverage ratio are accelerating their growth to take advantage of real estate, getting A sites for B and C prices."

Also, he says, "We're finding money for good operators looking to expand. They're getting funding; it's the startup guys who are having a hard time." That's why, he says, "The multi-unit guys should be somewhat encouraged: money is flowing to experienced operators who are cash-flow positive."
The Banker
Gibi George is vice president and a commercial lender at Western Commerce Bank (WCB), a preferred SBA lender in Carlsbad, N.M. "We've been the number-one lender in New Mexico in terms of SBA loans," he says. "We're looking at opportunities and trying to resolve issues so we can go out and lend."

Historically, the bank has been a hotel/motel lender for both franchisees and independents. "We were successful and decided to look at franchising more," he says.

George says the bank doesn't have any bad loans, even in this economy. "They're all up to date, with no slow payments. We monitor them pretty closely, which is one reason we haven't had any losses. And we have a good credit department that understands the hotel/motel business."

Yet despite looking for ways to expand its loan portfolio, the bank is running into obstacles, some internal, some external. "I would love to go into markets like Florida, where there are lots of opportunities to lend. The problem for a smaller bank like us, based out of New Mexico, is how to service these loans," he says.

Another problem: the discontinuation, at least for now, of the SBA's 90 percent loan guarantee, which began last February. Funding for this program under the Economic Recovery Act has not been renewed and the program is winding down. "If the 90 percent guarantee goes away, I don't know what the bank board will say. We could stop lending in other states. This is a very uncertain time," says George. "We're hoping Congress will find some money somewhere. That will help us."

Collateral is another limiting factor. "One of the issues in franchise lending is we don't have any real estate as collateral," he says. Most franchisee loan applicants he sees plan to lease, and in some states (including New Mexico and Texas) there are limits on using the primary residence as collateral.

"Most requests are from startups, and 20 to 30 percent is all they have," he says. There is some value in equipment and leasehold improvements, but in liquidation the bank gets maybe a nickel on a dollar, he says. "Banks have always done asset-based lending. When we team up with the SBA it's a win-win for everybody," he says.

One of the other things lenders look for today is a track record, he says. "If you're a startup franchisee, underwriting will not approve you for a loan." However, he adds, every loan is evaluated on a case-by-case basis, and if a startup has collateral and the loan is self-liquidating, that's a different story.

He also notes that loans for additional units often take longer today. "Some say you have to wait two to three years , but there's no set formula. If you know what you're doing it could be a year. No two loans are the same."
What bankers want
So what does WCB look at when considering a franchise loan application? "We follow the SBA's Franchise Registry. The first thing is to see if they're on it and approved," he says. Second is to look at reports on loan performance from third parties to see failure rates. Sources can include the Coleman Report, RMA's eMentor data tool, bank credit reports from firms like FRANdata, and other independent, third-party reports on loans, performance, and related issues.

"We look at how many franchisees were financed by the SBA and how long the franchisor has been in business. The franchisor is very important," says George. A high loan failure rate at a brand--anywhere in the country--is a potential red flag.

Beyond the information he can gather from the SBA Registry and the third-party reports, for George business is still about people and relationships. "I like to work with franchisors who work with the bank," he says. "I get the FDDs, but if I know the vice president of franchising, there's someone to talk to."

George says the bank doesn't advertise. "All business is referrals and word of mouth. We lend and build relationships, one store, two stores. We have a guy who owns 18 motels who started with one," he says.

"We're very picky. We don't just look at a business plan from the franchisee, we also talk to the franchisor to see how they relate to the franchisee. We don't want a loan where the franchisor just takes anyone with money. I ask the franchisors: What are your criteria to get these guys approved for a franchise?"

So if you're applying for a loan at WCB, be prepared to answer some tough questions. "It's a little bit more than just lending. A franchisee might say, 'It's none of your business.' Yes, it is my business. If you don't get help from your franchisor, a) why do you want to be in business with them, and b) why am I lending?"

Once a loan is made, the bank keeps a careful eye on the performance of the borrower. "We do annual credit reviews. We look at financials on a yearly basis, see where they were, where they are, and you get a good idea," he says. "If we see a change in cash flow, we will talk to them. I won't tell them how to run their business, but I can ask why their revenue is down."

For George, a successful loan must be a win-win-win--for the bank, the franchisor, and the franchisee. "If it fails, it looks bad for the franchisor and the bank takes a hit," he says. "How can a bank help a franchise grow? We have to help each other out."

As the old song says, "Nobody knows you when you're down and out." But a franchising a system rises or falls based on the success of each unit--especially in an era of tight cash and near-instantaneous communication of financial data. "I like to talk to the franchisor to find out how they'll help the franchisees. What are they going to do with a struggling franchisee?" he says.

One franchisor he deals with won points when he told George, "If we have a struggling franchisee, we have a team and a strategic plan in place that will go and help them return." Because, despite careful vetting by both bank and franchisor and the best intentions by franchisees, units do fail. George wants to know: "What will the franchisor do? Take the store and run it? Put an experienced franchisee in?"

So what does George recommend you bring to the lending dance if you want to leave with a partner?

"A business plan is very important. Most applications I get don't have a business plan. You need scenarios, what-ifs," he says. (Let's hope he's talking about first-timers.)

Another plus from this banker's perspective: Don't plan on taking a salary until the business makes a profit. That is, don't plan on living off the cash flow. One favorable sign he's seeing lately is couples applying for a loan who tell him one of them is keeping their full-time job while the other dedicates 100 percent to the new business. "It tells me they won't draw a salary from the business, which won't make a profit for at least the first couple of months."

Lifestyle is another major factor. "When you look at the credit report, you know how this person handles credit. It's not the credit score, but the spend," he says.

"There are a lot of facets; they all have to work. This could be behind our success with hotels and motels," says George. "Lending is high risk. There are no guarantees in life. A loan that is perfect for 10 years may go bad in year 11. You have to monitor them all."
Published: March 15th, 2010
Share this Feature
Recommended Reading:
Comments:
comments powered by

Disqus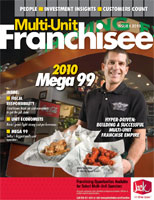 Multi-Unit Franchisee Magazine: Issue 1, 2010
As the personal care movement continues to develop and more people recognize the benefits of a regular self-care routine, the demand for Waxing the...
Cash Required:
$125,000
Founded in 2011 in Tokyo, RAKKAN Ramen specializes in authentic Japanese ramen made with a 100% plant-based broth. With a wide range of conventional...
Cash Required:
$200,000