United puts a new face on check cashing
Keld Alstrup went to Canada in 1968 to see the world outside his native, tiny Denmark. He ended up working for Ford and then Volvo. So things, as he says "worked out."

They certainly have. After a successful 26 years in human resources, finishing as vice president of human resources for Volvo North America, Alstrup got an early retirement offer. It was, he says, a case of not playing company politics well enoughâ€"and he calls that his smartest mistake. He accepted the offer.

"I thought it was my chance to do my own thing," he says. As he searched for what to do next, Alstrup considered franchising. One day, while attending a presentation by FranNet, a franchise brokerage and consulting firm, he realized that he was skilled at presentations. Rather than buying a franchise, he joined FranNet.

But the story doesn't end there. As a broker, he placed several clients with United Financial Services Group, a check-cashing franchise based in Philadelphia that handles nontraditional services for customers who don't have a regular bank.

One day, one of those clients, who owned a single franchise in New York, came to him with a proposition. He wanted to do more and asked Alstrup to become a partner. He agreed and has been a franchisee for about five yearsâ€"while remaining with FranNet, working out of his Vermont home.

The partners' company, United Check Services, now has a lease for two more units in the next year. It is, he says, a lucrative business, because "a lot of people don't have a banking relationship. They live on cash from paycheck to paycheck, so we handle all their banking services except for loans."

The franchise does a lot of money orders, and even sells MasterCard debit cards over the counter. The locations are not like the ordinary check-cashing storefronts that tend to pop up in dying towns or on less-than-savory street corners.

If the business had been that way, Alstrup says, he would not have been interested. "But here it is regulated by the state, so it's almost like a bank branch, and our customers are not used to being treated that way. We are going into the big shopping centers, right next to local banks and so on. It's a different atmosphere."

The franchise draws around 1,500 to 1,800 people a week without doing a lot of advertising, he says. And the stores pretty much run themselves, in part because of the hiring practices the partners follow.

"I believe if I can find strong managers, I can delegate a lot, and let the people around me run the show," says Alstrup. His own role, he says, is to set direction.

The partners find their managers inâ€"naturallyâ€"banks. Banks are not high-paying operations as a rule, so managers with banking experience can be attracted. Alstrup says it is even possible to be fairly choosy.

"The way I look at the manager is that he is like the branch manager of a bank. So we have been looking for people who have that experience in the neighborhood and know how things are done," says Alstrup. As a result, "We have been able to find good people with good track records." And those people have friends in the business who then come to Alstrup.

Alstrup considers himself an absentee manager, since he has yet to spend a full day in the franchise office. Typically, he spends half his time in his home office, and half meeting with clients, doing workshops, and working with his staff on management issues.

As a manager, he considers himself open and fair, but demanding. "I search for and hire the best people, and explain up front what is expected of them. We expect a good work ethic, and will not tolerate dishonesty."

When he finds those people, he treats them fairly, makes the environment an attractive one to work in, and makes the employees feel appreciated.

His biggest mistake, he says, is not joining United Financial Group earlier.

It's a long way from a Danish immigrant working for minimum wage in Canada. But, as he is fond of saying, "Make enough 3-degree turns and you'll end up in a new direction." The new direction apparently agrees with himâ€"he and his partner were franchisees of the year for United Financial.
Published: April 17th, 2007
Share this Feature
Recommended Reading:
Comments:
comments powered by

Disqus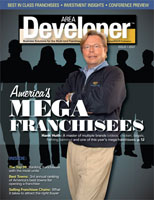 Multi-Unit Franchisee Magazine: Issue 1, 2007
Build a Future with the Computer Service Industry Pioneers. NerdsToGo is paving the way as innovators, entrepreneurs, franchisees, and successful...
Cash Required:
$70,000
Minuteman Press is the world's largest & number 1 rated printing & marketing franchise. Our business model features multiple revenue streams,...
Cash Required:
$30,000