What's Next?: Four Trends In Customer Experience Management
At the recent Multi-Unit Foodservice Operators Conference, Service Management Group (SMG) conducted interviews with executives on how their customer satisfaction efforts are working. These conversations ended with the question, "What's next in customer experience management?" Here are four key trends that emerged from our study.

Trend 1: Executives are looking for more than just scores from their customer satisfaction measurement programs; they want to know how to improve the customer experience.

Multi-unit managers know unit-specific improvement plans are needed. These plans should be based on improving the customer experience where those improvements will have the biggest impact on raising average transaction amount, driving frequency, and stimulating intent to recommend. In other words, improving satisfaction scores is not the real goal; it's a means to an end, which is improving business performance. Your franchisor most likely can provide you with statistically valid service improvement tools for focusing your efforts where they will yield the biggest payoff. Ask!

One especially large improvement opportunity lies in customer service recovery. Mistakes happen--no company can drive mistakes and customer complaints to zero. But losing customers because of mistakes is the real problem, and that can be vastly reduced. With technology today, companies are setting up automatic "alerting" systems based on customer comments. This process drives much faster response to complaints; and a quick, concerned response to an unhappy customer is the key to turning a disappointed customer into a fan of your company.

Takeaway: Multi-unit operators require customer experience information systems that can 1) prescribe the best proactive service improvement plans, and 2) accelerate reaction time to service recovery.

Trend 2: Verbatim customer comments add a qualitative element to customer experience scores, but most executives can't seem to tap into the opportunity.

Customer comments can have a huge impact beyond the numbers because they communicate the customer's emotional response to a positive or negative experience. The most advanced franchise organizations are measuring the sentiment of comments--from very positive to neutral to very negative. These comments are also aggregated into performance categories such as cleanliness, speed, and friendliness. This way, operators can see in real time where positive and negative trends are emerging, then drill down to the verbatim comments by day of week and time of day.

But many leaders are still not applying the available text analytics that are crucial for multi-unit operators as the size of their organization grows. If you don't have access to advanced text analytics yet, ask your franchisor executives about their plans in this area.

Takeaway: By applying text analytics to customer comments, franchise organizations can spot emerging problems in real time and understand the causes quickly.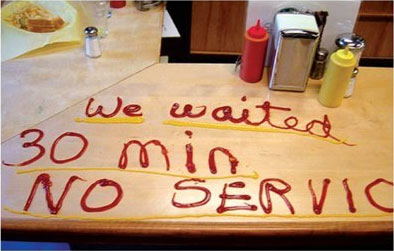 Trend 3: Customers are interacting with brands through social media as well as in physical locations, and they expect to be heard beyond the feedback given in surveys.
Measurement of the "in-store" customer experience remains the most important method of gaining customer feedback. However, executives agree customers also give very candid feedback to their employees in the stores, as well as through a brand's customer contact center and when they post comments on review sites like Yelp! and on Facebook and Twitter.
Proactive firms set up methods to relay all the feedback they hear from customers into a central location. With all the data in one spot, franchisees can see, and quickly act upon, customer satisfaction trends.
Takeaway: To harness the full power of the customer voice, leaders need a dashboard containing all customer experience data in an "at-a-glance" format.
Trend 4: As customer experience measurement becomes more prominent in franchise organizations, franchisees must get data they can believe in.
Nearly half of the executives we talked to believed their employees try to manipulate the results of their customer survey scores. These attempts at "gaming" the system, by employees or even customers, can give a false picture of the customer experience. Organizations with a "zero-tolerance" policy toward cheating let all employees know that gaming is an integrity issue with serious consequences for violators.
All executives we interviewed pointed to the need for data integrity systems that can detect fraudulent data before it is ever reported. Old methods, such as capturing the IP address of a computer used to take a survey, are simply not enough. What's needed is advanced technology, more akin to computer virus protection, that analyzes incoming data in real time and quarantines suspicious data.
Takeaway: Customer experience measurement must have advanced data integrity technology to give executives confidence in the results.
The practice of customer experience measurement is evolving, and so must the attitudes and practices of operators. Multi-unit leaders especially must take their programs to the next level.
SMG Vice President Jack Mackey helps multi-unit operators improve customer loyalty and drive growth. To request "Want Better Insights from Text Analytics? Start by Eliciting Better Comments," contact him at 816-448-4556 or jmackey@smg.com.
Published: May 29th, 2012
Share this Feature
Recommended Reading:
Comments:
comments powered by

Disqus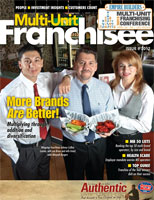 Multi-Unit Franchisee Magazine: Issue 2, 2012
It's time for a fresh start. Join Kona Ice today! We're a low-investment, fast-growing business with over 1,500 franchises in the last 12 years. And...
Cash Required:
$20,000
Discover franchise opportunities with one of the world's largest chains of ice cream specialty shops.
Cash Required:
$100,000