Working the lungs and brain at 6,000 feet
In case you haven't seen yet, we've formalized our name to Franchise Update Media Group. Now that our conferences have grown so much, it seems like a much better description of what we do-publications, conferences, reports, and other ideas and products coming down the pike.

Pike's Peak, in fact, is where our most recent Group meeting happened-in Colorado Springs. This place is up there, and when you arrive you immediately get rushed at with bottles of water, creams, and advice about life up high. For those of us born at sea level, this is a shocker.

But exhilarating. Everyone seemed energized, if occasionally breathless. Called "Growth By Design," and meant principally for multiple-unit/brand franchisees, the conference was, I think, our best to date. Lots of great (immediately useful) ideas at every session.

Some of the material we had all heard before, but, in one of my father's favorite sayings, "I may have told you this before, but it bears repeating." Hearing something in a new context, looked at in a different way, illustrated by a new anecdote makes us more determined to use the advice.

If the conference had a theme beyond the general one of growing, it was how to connect with associates and customers. Most attendees, in sessions and out, stressed how you cannot grow by adding units unless you have the right people on both sides of the counter, and have everyone as part of a culture that supports the business you are in.

And you think you know what business you're in? In Thom Winninger's session Wednesday morning, several panelists stressed that their businesses were not what you thought. Mike Scruggs, who was opening his fifth Little Caesars in Colorado Springs the next day, said, "We're not in the pizza business; we're in the convenience business."

Winninger's example was Enterprise Rent-A-Car, which was not, he said, in the car rental business, but in the getting-to-a-destination-faster business.

So Franchise Update Media Group is not in the publishing business, nor in the conference business, but in the getting-the-most-useful-information-to-you-in-the-most-effective-way business. (I hasten to note that this does not fit very well on a business card).

And about those customers: Bill Fromm of SMG, which tracks customer satisfaction, said that satisfied customers were not loyal, and so you didn't want them. In "Five Things We Learned from Talking to 100 Million People," he touched on the interconnections of customer, consistency, and employees: "Inconsistency is the enemy of loyalty," and "Loyal employees drive outstanding performance."

But how do you get those employees? That got talked about as well.

First, according to keynoter Robert Kriegel, you create a change-ready culture (his trademark)-one that creates change rather than responds to it, and where people are excited and having fun.

Panelist Gloria Plaisted, a long-time Dairy Queen franchisee and head of her own consulting firm, shared a survey she had taken of her young employees. What was most important to them in the job was fun, then recognition (although she had to explain to some what that was), and then pay.

At the final panel, Gloria and hiring expert Mel Kleiman helped everyone understand that fun for employees may not be what you think it is. "You have to ask them," she said.

I do know that I had fun, at least by my definition. (I asked.)
Published: June 19th, 2007
Share this Feature
Recommended Reading:
Comments:
comments powered by

Disqus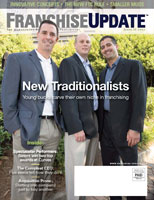 Franchise Update Magazine: Issue 2, 2007
Conferences
InterContinental, Atlanta
OCT 18-21ST, 2021
August 31- Sept. 3, 2021 at Caesar's Palace, Las Vegas. MUFC is the premier annual event for the country's leading Multi-Unit Franchisees. Meet the...
Angelsmith is an award-winning digital advertising agency. Based in Hollywood, CA, we're a rather unusual combination of beauty and brawn.