Wow!: This Mega-Zee Shows How It's Done
A conversation with mega-franchisee Ed Doherty is invariably sprinkled with a lot of "wows." He uses "wow" as an adjective, as in the "wow factor," and he uses it as a noun, as in "that's a wow." But he most often uses it as a verb. "We want to wow our guests every time. We want to wow our employees and our suppliers. And an okay is not a wow," he says.
Doherty, now the 12th largest franchisee in the U.S., jokes that he wishes he'd trademarked his use of "wow," because it was part of his company's mission statement long before it became everyday language.
That passion, partnered with the success of his 97 New York- and New Jersey-based restaurants (five brands, including Applebee's and Panera Bread), garnered Doherty Multi-Unit Franchisee magazine's 2012 MVP Spirit of Franchising Leadership Award. He adds that honor to his company's recent selection as Applebee's Franchisee of the Year (third consecutive year) and Panera Bread's equivalent award, Featured Operator of the Year, for exceptional leadership and growth in operations, sales, profits, people, and communities.
Doherty's roots in the restaurant business trace back to his youth when he worked after school and college to help his mother run a deli. "She worked so hard to provide for me and to put me through college. I got my work ethic and my determination from her," he says.
After college, he went to work for Marriott Corp. where he eventually became vice president and general manager of the Big Boy division. He took a big step himself in 1985, leaving that job to become a Roy Rogers franchisee, buying 19 Connecticut restaurants for $1 million. He turned the losing restaurants around in five years and grew the company to 28 stores.
Doherty and other Roy Rogers franchisees had a rude awakening in 1990 when Hardee's bought the concept from Marriott, he says. "The brand was hurt by Hardee's management, and ultimately all the Roy Rogers were closed down. I had hard conversations with the banks and sold out our leaseholds to Boston Market, McDonald's, and Burger King. One of the hardest things was to tell my managers that there would be no raises or bonuses, but I made them one guarantee: I would never lay them off and would make part of my deals with Boston Market and McDonald's the requirement that they be hired at the same salary. Over the process of three years, not one was laid off. I saw that as a moral obligation."
In 1993, Doherty was able to acquire the franchise rights for Applebee's in New Jersey and has never looked back. Today he has 61 Applebee's, 30 Panera Breads, two Chevys Fresh Mex, and two concepts he developed with his three children--all of whom work at Doherty Enterprises.
In 2007, he assigned his middle child, Shannon Portell, the task of developing a great Irish pub. That concept, Shannon Rose Irish Pubs, is now doing well in three locations. In April, his youngest daughter, Kerry, led the opening of Spuntino Wine Bar & Italian Tapas, a Clifton, N.J., restaurant with a "cool, New York City meat-packing look" and a list of 42 Italian wines sold by the glass and nine Italian beers. His oldest child, Tim, also holds leadership positions within the company and sits on the board of directors with his mother and sisters.
Doherty also sounds like a proud father when he talks about his employees. He's especially passionate about Doherty Enterprises' Wow-A-Friend Foundation, administered by six people who work for the company (no executives). "The idea is that all our employees contribute something on a weekly basis, whether it's 25 cents or a dollar. Anyone who works for us and faces a unique financial crisis can apply for a grant--not a loan--from the foundation to help them get through the crisis," he says.
At first the foundation raised $35,000 to $40,000 a year. Two years ago, Doherty gave the board of directors a challenge. "I said, 'If you can get 3,500 people enrolled and raise $75,000, my wife Joan and I will match it. We can do a lot more with $150,000.' Well, they raised $79,000 that year and we matched it. Last year, we challenged them to increase to 4,500 contributing and to raise $100,000 and we'd match it. They got over 4,500 and raised $125,000 and we matched it. That gave us a pool of $250,000 to help people. Applicants don't even have to contribute to get a grant. This project makes people feel good about working for our company."
An especially poignant example of the foundation's good came when a cook at one of the restaurants went out with his buddies after work to celebrate his last night before his fiancée would give birth to their child. When the young man left the bar, he was murdered. The next day his fiancée went into the hospital to have a C-section. "His GM explained to the company what had happened and asked if Wow-A-Friend could give anything to help her," Doherty says. "She'd never worked for us and they weren't even married, but the foundation made a significant contribution. My wife and I matched it. There are tons of stories like that. Our people have really gotten into helping each other and treating others well. That's how we've grown our business."
In addition, the company, the 100th largest restaurant organization in the country, asks that management and crew volunteer twice a year at community charitable events. "They don't have to do it, but we see it as part of teaching young people to give back to the community and to society," Doherty says. "With all these types of things, you retain people. Our crew turnover for last year was under 75 percent, and for our management it has been around 10 to 12 percent over the past five years, which are great numbers for this business. We've never stopped raises, benefits, or bonuses and we continue to grow."
Most importantly, he adds, "We continue to wow."
Name: Ed Doherty
Title: Chairman and CEO
Company: Doherty Enterprises Inc.
Brands: 61 Applebee's, 30 Panera Bread, 2 Chevys Fresh Mex, 3 Shannon Rose Irish Pub, 1 Spuntino Wine Bar & Italian Tapas
Personal
Age: 65
Family: Wife and three children, all of whom are in the business
Years in franchising: 27
Years in current position: 19
Key accomplishments:
First is my family. My wife and I have been married 36 years and we have three wonderful children. Secondarily, building a company that is the nation's 12th largest franchisee and the 100th largest restaurant organization.
Biggest mistake:
There was never a big, horrible mistake that really hurt us.
Smartest mistake:
My smartest mistake was leaving Marriott Corp. to become a Roy Rogers franchisee. At the time, I was vice president and GM of the Big Boy division with more than 1,000 restaurants across the U.S. But if I hadn't left Marriott to become a franchisee, I wouldn't be where I am today.
How do you spend a typical day?
No day in this business is typical. One day I'll be doing paperwork in the office, another touring restaurants and saying hello to our people and guests. I'm also on Applebee's franchise marketing panel and Panera's Bread Council, so I may be working on this.
Work week:
Basically 24/7 because you're connected all the time. If I'm in town, I work at least six days a week from about 7 a.m. to 8 p.m. On Sundays, I work on email.
Favorite fun activities:
Travel is number one. We've been to many exciting places, including Egypt, Dubai, Israel, Vietnam, Cambodia, and India. Our next trip is to Myanmar. We enjoy learning about other cultures and seeing how the rest of the world lives. We all enjoy good restaurants and the theater.
Exercise/workout:
I used to exercise four or five times a week; now it's more like once or twice.
Favorite tech toy:
iPad
What are you reading?
I just finished The Beautiful and the Damned: Life in the New India by Siddhartha Deb, and the Steve Jobs biography, which was spectacular.
Do you have a favorite quote/advice?
During our training programs with Applebee's, Panera, and our own concepts, we bring our people into the office for a Week of Wow. I address each class as the first speaker. I tell them: "Don't lie and don't steal and treat everybody the way you want to be treated."
Best advice you ever got:
Live every day as if it were your last, and don't waste time worrying about things you can't control.
Formative influences/events:
My mother was the most influential person in my life. She raised me alone and worked very hard at various businesses in her life without ever taking a day off. Her work ethic and her approach to accepting things the way they are greatly influenced me.
How do you balance life and work?
I enjoy what I do, so in my mind work is not a burden. My wife has always been extremely understanding and supportive. She asked that I be around for at least Friday or Saturday night and to try to spend part of Sunday with her, and I've done that. When the kids were younger, to make sure we had the right relationship I coached their sports teams two nights a week and on Saturday.
Management
Business philosophy:
When I restarted my company in 1993, I knew I needed a vision, which was to be the best foodservice company in the Tri-State area. By best, I mean a goal of zero turnover. Of course you never achieve this, but I wanted to develop a company that if someone is crazy enough to want to work in the restaurant business, they'd want to work for Doherty Enterprises. Our mission statement became: "Wow every guest every time."
Are you in the franchising, real estate, or customer service business? Why?
I'm in the people business. It's all about people--the 6,600 people who work for Doherty Enterprises, and the thousands of guests who come into our restaurants every day.
As an operator, what are the two most important things you rely on from your franchisor?
Product development and marketing.
What gets you out of bed in the morning?
The love of the business.
What's your passion in business?
Wowing our guests, our people, and the community.
Management method or style:
I'm passionate about what we do. I want us to be best at what we do, so I try to motivate people to believe in our vision and mission so much that they live it every day.
Greatest challenge:
Keeping all our people focused on what's really important and not getting tied up in the minutiae of the restaurant business.
How close are you to operations?
Very close with all five brands.
Have you changed your marketing strategy in response to the economy? How?
We really haven't. We've been blessed that we've not been hurt by the economy. In the 19 years since I repositioned the business in 1993, we've had only one negative comp sales year and we were nine-tenths of a percentage point down then.
How is social media affecting your business operations?
It's not affecting operations but is changing how we approach marketing. We've hired someone whose primary job is social media, making sure we're on Facebook, Twitter, and foursquare. These are monitored so that if a guest posts a problem we can respond within 24 hours and not let things slide. It creates one-on-one communications.
Personality:
According to the Enneagram personality system, I'm a "challenger," which means that I'm passionate about things, driven, and want to be best at what I do. I worry about failure and am at my best when caring about people.
How do others describe you?
Passionate and driven and caring. At my worst, I get too intense. I'm working with a life coach to make sure I don't overwhelm people with my passion.
How do you hire and fire?
As a company, we hire for attitude first, then we train people. We don't fire people--people fire themselves.
How do you train and retain?
We put a lot of time and effort into training, which is ongoing for as long as you work for our company. Retaining is treating people the way they want to be treated--fairly. We provide benefits for all our full-time people (30 hours or more) if they want them.
How do you deal with problem employees?
Between HR and our training staff, we have 14 people working with our employees. Our employees are reviewed by their supervisors every month for the first year they're here, and after the first year, every three to five months. This way there are no surprises--everybody knows where they stand and if they're not living up to our expectations. If we have to make a difficult decision, I get HR involved to make sure our management team handles things correctly.
Bottom Line
Annual revenue:
$340 million for 2012
2012 goals:
We keep things simple and have the same goals and objectives every year. Every year, our goals including reducing management turnover to below 10 percent and reducing team member turnover to less than 50 percent.
Growth meter: How do you measure your growth?
We look at comp sales, at transaction averages.
Vision meter: Where do you want to be in 5 years? 10 years?
My number one responsibility and my 5- and 10-year goal is to make sure that everybody who works for me doesn't have to worry about losing their job. If they do a good job, they'll have opportunities to grow and get promoted. I'll continue to open restaurants that are profitable at the right level--not just big to be big. As I get older, we'll put our succession plan in place.
How has the most recent economic cycle affected you, your employees, your customers?
I'm a lucky person. I was concerned that there might be a recession, so I went out and refinanced and lowered our interest rates and got a line of credit for future growth in December 2007. When the world fell apart in 2008, we were already set. We've opened multiple new restaurants every year since then and were able to remodel all our restaurants. The economy makes it challenging, but we haven't had to reduce labor or lower prices. Our guests get the same great service in nicer facilities.
Are you experiencing economic growth/recovery in your market?
Yes, there is slow economic growth. The biggest challenge for the restaurant industry today is too many seats for the number of guests. No market is hurting for restaurants. Our overall New York metro area is doing reasonably well.
What did you change or do differently in this economy that you plan to continue doing?
We've continued to grow, remodel, offer salaries, raises and bonuses, and reinvest in training. For a couple of years, we stopped our GM convention, but we reinstituted it last year and took them to Vegas for four days of business and fun.
How do you forecast for your business in this economy?
We always forecast positive sales, and we've always achieved them. We make our budgets as reasonable as possible so our managers make money and get bonuses.
Where do you find capital for expansion?
Since we refinanced in 2007, we have the ability to remodel and build five to eight units a year without going out for funds.
Is capital getting easier to access? Why/why not?
It is for franchisees in tier-one concepts, maybe in tier two. It's more expensive today than four years ago; banks want more these days.
Have you used private equity, local/national banks, other institutions? Why/why not?
I've never used private equity because I like to be the guy who makes the financial decisions. We're too big for local banks, so we use national banks.
What kind of exit strategy do you have in place?
I don't have one in place, but I have a succession plan. In the next year or so, I'm looking forward to having our president become CEO and I'll be chairman. Whether my children have the inclination or ability to run the company, time will tell. They're still young, and they're on our board of directors. My plans will keep the company running whether I'm alive or involved or not.
What are you doing to take care of your employees?
The most important thing I'm doing for my employees is ensuring that they will have their jobs and opportunities to advance if they work hard at wowing our guests every day.
How are you handling rising employee costs (payroll, healthcare, etc.)?
We absorb most of it. We have wellness programs in place to try and create more awareness throughout the organization to help keep insurance costs down long term.
How do you reward/recognize top-performing employees?
Every management employee and every employee in a support staff role in the company is eligible for bonuses. We have a 401(k) program, which I match 50 cents on the dollar.
2012 MVP - Spirit of Franchising Leadership Award
For extraordinary and enduring performance, growth, and community giving
Why do you think you were you selected for the Spirit of Franchising Leadership Award?
It goes back to the goals of a franchisee to be a great operator and a great neighbor to the community. If you do that consistently and develop a connection with your people and your community, you'll be successful.
As a multi-unit franchisee, how have you raised the bar within your company?
Our passion for involvement with our people and our communities is at a significantly higher level than at many other companies. If you always say yes to charitable needs in the communities of 97 restaurants, people are going to recognize that you're a good neighbor and bring you their business. We've built a strong relationship with the U.S. Marines and Toys for Tots over the last 10 years, raising nearly $3 million for needy kids in our communities.
Give us an example of innovations that you have created and used to build your company.
We established a Wow-A-Friend Foundation to which employees contribute and we match funds. This money is used to help employees with special or crisis needs. When you have 6,600 employees, things come up all the time.
What core values do you have that you feel led you to winning the MVP Award?
Our core value is that of wowing our guests every time, wowing our communities every day. We've developed a culture and a passion throughout our organization to live that mission day in and day out. A family eating in one of our Applebee's mentioned to the server that their home had burned down. He not only refused to accept their tip but he pulled $100 out of his pocket and gave it to them to help out. That's the kind of people we have.
Published: August 13th, 2012
Share this Feature
Recommended Reading:
Comments:
comments powered by

Disqus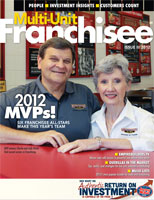 Multi-Unit Franchisee Magazine: Issue 3, 2012
Massage Heights is a passion brand, a lifestyle brand, and a spa franchise brand that truly helps people live their best lives by encouraging them to...
Cash Required:
$175,000
Subway has new and existing franchise opportunities available for experienced multi-unit franchisees. Build your portfolio with a globally recognized...
Cash Required:
$100,000