American Dreamers: Where Education Comes First
When she was 18, Pratiksha Rigley came to study in the U.S. from Zambia, where education was considered a luxury reserved only for the wealthy. Today, known as "Dr. Rigley" to her students and their parents, she considers education a gift she works tirelessly to bestow every day on the families that attend one of the five Primrose Schools she owns with her husband Noel Rigley.
With five Primrose Schools open and three more under construction in the Dallas area, the Rigleys are the 2019 American Dream MVP Award winners for achieving remarkable success in their new country.
"There is so much opportunity in this country if you just work hard, show up, and say yes to opportunities," she says. "We always say yes to opportunities and then figure out how to do it."
As the face of the business, she focuses on daily operations and marketing, while her husband oversees the finance and construction of their growing portfolio of Primrose Schools. She credits their success to a strong work ethic.
"I may not be the smartest person in the room, but I can outwork almost anybody," she says. "My husband Noel is even more disciplined. He has five degrees--four master's and a Ph.D.--and he never stops learning."
The couple met in Weatherford, Oklahoma, where she graduated from pharmacy school at Southwestern Oklahoma State University. She built a career as a retail pharmacist, managing up to 34 stores and honing skills that have served her well as a franchisee.
After the birth of their second daughter, she decided to combine her operational and management experience with her passion for education, and in 2008 they opened their first Primrose School.
As a working mom, she knows firsthand what it's like to drop off kids in the care of others. She strives to make each school feel like a home away from home, with fresh flowers and a welcoming face always up front to open the door for parents. Leadership at each school has funds specifically budgeted to reach out at their discretion--whether providing a care package for someone in need or visiting a mother with a new baby in the hospital and sending a pizza home with the father caring for another child at home.
"We do the little things every day," she says. "The little things have to be just as important as the big things."
Pratiksha and Noel, who was born in India, together have created a culture of caring in their schools. For the past 3 years, the couple has been honored with the Platinum Award from Save the Children, given to their schools for raising the most money for the organization, the brand's primary charitable partner.
The Rigleys are also committed to serving others without fanfare. As part of their commitment to "travel with a purpose," they often contribute in meaningful ways when they visit a place of need. Most recently, after a journey to Southeast Asia, the couple donated money for an additional classroom to be built in a monastery housing orphans of Myanmar violence against the Rohingya.
"It doesn't matter where we travel in the world, the day we land on U.S. soil we are always so glad to be home," she says. "This is such a great nation, and we are both so grateful for the people of the U.S. and just being in this country."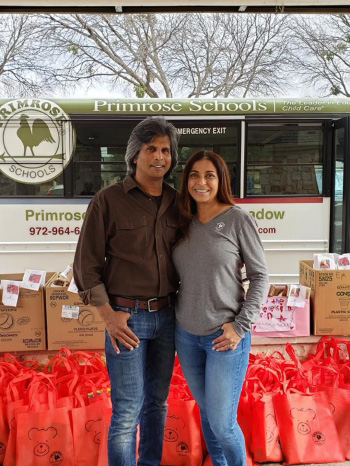 Name: Pratiksha Rigley
Title: Franchisees
No. of units: 5 Primrose Schools, 3 under construction
Age: 51
Family: Husband Noel, daughters Maya and Meira
Years in franchising: 10
Years in current position: 10
Personal
Formative influences/events:
I've been fortunate to have so many strong female role models who have made a tremendous impact on my life. My mother was my earliest influence. She immigrated to Africa from India and is undoubtedly the most resourceful person I know. Even during times of shortages, she would always find creative ways to provide for our family. She encouraged me to be persistent, especially when it came to education. She used to tell me, "Make sure you study. Education will always be with you." That inspired my lifelong love for learning. I see the same determination and discipline that she had in my daughters. I'm blown away by how hard they work. I watch them succeed, and it makes me want to work even harder. Becoming a mom was a life-changing event for me. Never one to compromise in any aspects of my life, I had to find a way to have a meaningful career while remaining present for my family. My previous career in corporate retail came at a cost. If I were to grow in that role, I needed to work longer hours and spend time away from my young daughters. Primrose Schools offered a perfect balance for me. With Primrose, I have the flexibility to prioritize time with my family, while I pursue a career where making a difference in the lives of others is at the core of what I do. I was a mom who needed a safe and trusted place where my children would receive a quality education while I worked. I have great empathy for the moms and dads who entrust our schools with their children because I know exactly how they feel. Even though my daughters are now responsible young women, the parent in me never stops. I am constantly thinking about ways I can be the best mom I can for them, and I know the parents we serve have similar experiences. As parents, we sometimes feel guilty when leaving our children to take care of other needs, but as a Primrose franchise owner, I'm hoping to help ease that guilt and give parents the peace of mind that comes from knowing their children are well taken care of and happy. As I've grown from a Primrose parent to a multi-unit franchise owner, my relationship with Jo Kirchner, CEO of Primrose Schools, continues to bring greater meaning to my life. Specifically, her relentless drive to make a difference in the world by serving organizations like Save the Children continues to inspire me to give back to my own community.
Key accomplishments:
In Zambia, where I grew up, education is a luxury. As an immigrant from Africa, my greatest accomplishment was coming to the U.S. for school. My education set the stage for my entire life and influences everything I do today.
Work week:
A typical work week for me includes spending about 30 percent of my time working in my schools, 20 percent of my time managing our business's finances, 20 percent actively growing my leadership team and staff, and the remaining 30 percent working to improve and create new systems to better run our schools. It is so important to find that work/life balance when owning and operating your own business, which is something that was attractive about Primrose Schools. As a franchisee, I was able to spend more time with my children as they grew and could find the right balance because of the flexibility the franchise provided. In addition to taking family time, I also spend several hours a week focusing on how I can better serve my community. Giving back fuels my soul and is an example I want to instill in my daughters. My motto is "Good, better, best. Never let it rest, until your good is better, and your better is best."
What are you reading?
Michelle Obama's Becoming, but I always have about six to eight books by my nightstand. I'm a voracious reader and love simultaneously reading a variety of books on topics like motivation, early education, business, and travel.
Best advice you ever got:
Be present in the moment. People feel most valued when you're completely focused on them. I intentionally put my phone away when I'm interacting with teachers and staff at my schools or spending time with my family. It's an ongoing effort because I constantly have work to do, but it's very important to me.
Management
Business philosophy:
With everything Noel and I do, we first ask, "Is this decision in the best interest of the children and our staff?" We never make decisions based on the bottom line. It's all about the people and doing the right thing.
Management method or style:
I empower my team and give them room to fail. The safety of the children always comes first; in this area, we must be perfect without exception. In secondary areas, I believe it's okay to make mistakes. This is how we grow and become better. I have very open, trusting relationships with my leadership and staff, and we're able to give each other constructive feedback and know that it comes from a place of genuine care.
Greatest challenge:
Our challenges are twofold. As a multi-unit owner, I have to find ways to be present at my schools without being there all the time. In addition, retention is not only an industry-wide challenge many early education and care providers face, but a national challenge for employers in many industries as the job market becomes even more competitive. Relationship-building is key to reach my team and energize them. I take their feedback seriously and make a point to follow through on recommendations from all team members, so they know they are a greater part of the vision we have for our schools.
How do others describe you?
My team recently said that my strengths include organization, people skills, multi-tasking, and goal-orientated leadership. They say that I am able to visualize a final result and develop a clear path to attain that result. My team also says I'm passionate about developing other people and helping them reach their highest potential.
How do you hire and fire, train and retain?
Culture is a huge part of success in any industry, and we live it out every day. We sat down as an entire team and mapped out our company culture together. My overall strategy is that I'm always recruiting. Everywhere I go, I look for positive people who love children, have certain skill sets, and, most important, share our values and mission of forging a path that leads to a brighter future for all children. Retaining employees is tied directly to management. It's our responsibility to establish a positive and healthy work environment and make our staff feel they belong and are valued, which often makes them stay. All employees are looking for companies that will invest in them and offer a path for them to grow.
bottom line
Annual revenue:
$9 million (approx.).
2019 goals:
Each year I write out my schools' goals for enrollment and retention, but this year is a little different. As we build three new schools, we're mentoring our leadership team and using my "Plus One" philosophy to train employees to be ready to step in when needed. Our overall goal is to maintain the excellence in our existing schools and set up our new schools for the same success.
Growth meter: How do you measure your growth?
You can't build new schools if your existing schools aren't excellent. Our growth meter is not based on the number of schools we hope to open. We are more interested in the quality of our schools and programs, as well as the satisfaction and quality of life for both my staff and the families we serve. We were very intentional with this year's growth and have taken the necessary steps to prepare for the new schools.
Vision meter: Where do you want to be in 5 years? 10 years?
Projecting 10 or even 5 years out is somewhat elusive for me, as I approach my work one day at a time and seek to improve from yesterday. Every year, I want to be better as a business owner, wife, mother, and daughter. I focus on how I can be present for my family and inspire the people who work for me. Two things I know the next few years will hold are the opportunity to continue to watch my daughters grow, and more time for travel and service. The three topics I'm most passionate about are education, children's issues, and the worldwide advancement of women. I want to find more ways to advocate for these causes locally and internationally.
What are you doing to take care of your employees?
I'm easily accessible for all my employees. We host regular leadership meetings and team-building activities, and I try to make every event personal and special. I stay connected with them through team days and celebrations, and I find small, personal ways to make them feel appreciated, whether it's giving them seasonal goody bags throughout the year or giving new moms extra vacation time around the holidays. It's about doing little things all the time to show them how much we care. We also pay for our teachers' continued education and child development diplomas. When we reach our enrollment goals we award bonuses. We also give retention bonuses and celebrate 5-year and 10-year anniversaries with gifts.
What kind of exit strategy do you have in place?
It's not something we're thinking about currently because we're in growth mode. But Noel and I place such an emphasis on recruiting and developing our team that we are confident our schools are operating day-to-day under leaders who share our values. By helping our staff reach their goals, we will eventually be well positioned to take a step back when we are ready to do so.
MVP Questions
Why do you think you were recognized with this award?
We're not only interested in running successful schools, but also in caring for our community and the people who work for us. Primrose Schools is a trusted brand with a great story. They're always making me a better business owner and person through their strong mission and values.
How have you raised the bar in your own company?
We're outside-the-box thinkers. Noel and I have bought older buildings, gutted them, and turned them into thriving schools with excellent reputations. We've built schools in smaller communities in Texas, like Waco and Temple, and inspired other franchise owners to have an open mind to investing in smaller markets. We have had such a positive experience as Primrose franchise owners that we were able to encourage 11 other enterprising and service-focused friends to become franchise owners with the brand. Inside our schools, we go all-out and treat our families like guests. We are never complacent with our programming. If new and better options are available for our students, we are eager to implement them in all our schools.
What innovations have you created and used to build your company?
Our innovation lies within our consistency. We created a team outside of the traditional roles found within a single Primrose school to help us manage and oversee the daily operations of each school. Our team has developed systems that make our work more efficient and streamline our processes. Our trust in this team has helped us manage the day-to-day operations even when we're not around. We ensure consistency across the board, from our daily balanced menus to the quality of our employees. You can walk into any of our schools and have the exact same experience, which is not easy to do.
What core values do you think helped you win this award?
We serve others with passion and integrity and work as a team by being present and supportive.
How important is community involvement to you and your company?
We constantly seek out ways to give back to our community and are proud of the servant leadership culture we've established in our schools. We create opportunities for our leadership, staff, teachers, children, and families to stay actively involved in the community through canned food drives, donation drives, and giving events. Compassion and nurturing a desire to give without expectation are elements that set the Primrose Balanced Learning approach apart from other teaching methods.
What leadership qualities are important to you and your team?
We look at people for who they are. Are they genuine and caring? I can teach any employee skills for a job in early education, but they must have high energy, natural leadership skills, and a standard of excellence that aligns with our culture and values. I need to trust every employee to protect the children we serve and the brand my husband and I love so much.
Published: May 31st, 2019
Share this Feature
Recommended Reading:
Comments:
comments powered by

Disqus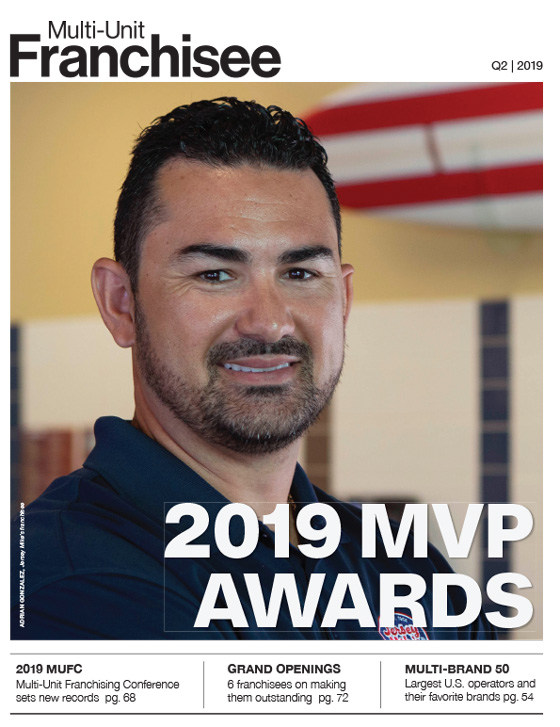 Multi-Unit Franchisee Magazine: Issue 2, 2019
Massage Heights is a passion brand, a lifestyle brand, and a spa franchise brand that truly helps people live their best lives by encouraging them to...
Cash Required:
$175,000
After investing more than 45 years in building the most trusted brand in health and wellness, The Vitamin Shoppe is now franchising with fewer than...
Cash Required:
$200,000