A Passion for Learning: From public school teacher to award-wining franchisee
Name: Lynn Ann Zazzali
Title: Owner
Company: The Learning Experience
Units: 8 (5 open, 3 under construction)
Age: 45
Family: Two children, Daniella 15, Nicholas, 17
Years in franchising: 13
Years in current position: 13
It's easy to see that Lynn Ann Zazzali is passionate about education. She spent the first part of her career as a public school teacher in New Jersey and was on track to become a principal. But things changed when she became a mom and needed childcare for her own two children.
"I visited a handful of childcare centers and felt more and more nervous during each tour," she says. "I kept thinking about leaving my children with people I didn't know. I had the same fears that most parents experience. What if they are sad? Will they be loved? Safe? Will they be happy?"
When she spoke with her parents about her feelings they suggested she open her own childcare center. She says her initial response was, "No way. How could I own a business?" But the more she thought about it, the more intrigued she became. So she researched childcare franchises, visited websites, made phone calls, and set up in-person meetings. She says that when she met Michael Weissman, founder of The Learning Experience, she knew it was the right fit. The brand is geared to early education for children 6 weeks to 6 years old.
She signed on with The Learning Experience and thought what better way to kick things off than to enroll her own two children at her town's location. Two years later, in 2008, she opened her first location in Waldwick, N.J.
Today she operates five locations of the brand (Waldwick and Hoboken, N.J., New Rochelle and Dobbs Ferry, N.Y., and Stamford, Conn.), has three more under construction (White Plains and Briarcliff Manor, N.Y., and Summit, N.J.).
Zazzali has excelled as a multi-unit operator. Each of her centers has received the Center of Excellence Award every year since opening, and she has earned major awards from The Learning Experience, including its Leadership Award and its highest honor for its top-performing center nationwide, the Chairman's Award.
"Being a mom, a former teacher, and a multi-unit franchisee with The Learning Experience, I know firsthand the importance of providing our children with a nurturing and responsive environment to support their learning and development and prepare them for future academic success," she says. "I'm thrilled to be bringing my passion and experience in providing great childcare and an exceptional early learning curriculum to children and families in our communities."
PERSONAL
First job: Dance teacher.
Formative influences/events: My father has always been my biggest advocate, encouraging me to be the best version of myself. He planted the seed about opening my own childcare center and encouraged me to take a leap of faith and start my own business. My parents' love and support have been the strong foundation I needed to pursue success and start a business from scratch.
Key accomplishments: My biggest accomplishment is being the mom of two amazing children. In my professional career, I have been honored to earn prestigious awards year over year at The Learning Experience's national convention. These awards include the Chairman's Award, Center of Excellence, Center of Excellence Elite, and Leadership Award. In addition, I've been on ABC news to showcase our relationship with the Make-A-Wish Foundation and featured on 1010 WINS (a NYC all-news radio station) as one of their weekly Difference Makers.
Biggest current challenge: This is an easy answer. I never imagined living in today's world. No one ever anticipated Covid-19. I had to dig deep to get through this time with the mindset to come out of it stronger than when I went in, nothing less. These are unprecedented times, a time where there is no previous year to compare it to. As a multi-unit business owner, this uncertain time has afforded me the opportunity to strengthen my leadership skills and realign my team to share in our vision and core values.
Next big goal: My goal is to successfully open the next three centers currently under development (White Plains and Briarcliff Manor N.Y., and Summit, N.J.) and operate every center at the prestigious "Center of Excellence Elite" status level. I hope to create a home away from home with the best possible early childhood program for each community we serve.
First turning point in your career: Acquiring my second location in Hoboken shifted my mindset from one center toward growth. I quickly learned that anything is possible. This was the turning point in my career. Making the decision to open my second center was life-changing and allowed me to see life outside the four walls of one location. I discovered strengths I never knew I had and a passion I never knew existed.
Best business decision: Committing to the importance of building lifelong relationships with every member of our TLE family, no matter how big or small. I value people. When making decisions my team and I always put the best interest of the children first. Our little learners mean the world to us and we pride ourselves in providing the best possible care for our families, a home away from home. We treat every child as if they were our own. After all, we are one TLE family.
Hardest lesson learned: Trust with skepticism. Giving others the benefit of the doubt, seeing the good in others, and having a positive attitude has always been my strength. Over the years I've learned to keep that positive mindset, but make sure I keep my boundaries as a way to protect myself from disappointment. I've learned to appreciate things for what they are and have gratitude for everything and everyone in my life.
Workweek: I am available 24/7 and pride myself on being a hands-on owner. Being present and visible is paramount in the early childhood field and something I value deeply.
Exercise/workout: I work out every morning, seven days a week, and haven't missed a day in six months. Living a healthy lifestyle decreases the amount of stress in my life, giving me an outlet. During a challenging workout my mind is focused on the present rather than the minute aspects of the day, week, or year. Meditation has given me an open mindset to focus on the positive and set myself up for success. Even just 10 minutes goes a long way.
Best advice you ever got: The most valuable advice I've received is to continuously strive to be the best version of myself, always learning and growing professionally and personally. I've always loved this quote attributed to Benjamin Mays, "The tragedy of life is not found in failure but complacency. Not in you doing too much, but doing too little. Not in you living above your means, but below your capacity. It's not failure, but aiming too low that is life's greatest tragedy."
What's your passion in business? I am passionate about my field of early childhood. I've been an educator for more than 25 years, and in those years I have looked forward to going to work every day. I breathe, eat, and sleep education. Luckily, I was pleasantly surprised to learn a new personal passion: I am driven by the growth of my centers, month over month and year over year. How lucky am I? I have the opportunity to live my passion for education on a daily basis by shaping the lives of our students while growing each individual center, as well as acquiring new locations. I am able to foster my love of business as much as my passion for education.
How do you balance life and work? My children and loved ones are my priority, the reason behind my success. Being a mom means the world to me. In doing so, everything else falls into place. My children see how passionate and diligent I am about my profession and they support me as much as I support them. In my world, one can't exist without the other. Not only am I blessed to have two supportive children, but the undeniable support of my significant other, my soulmate.
Guilty pleasure: I am obsessed with all things water. I am a total beach girl and could spend an entire day in the ocean. And, if I may have two guilty pleasures, I eat ice cream every night.
Favorite book: The Giving Tree by Shel Silverstein.
Favorite movie: "The Notebook."
What do most people not know about you? I decided to pursue my master's degree in reading because I struggled in school with reading for as long as I can remember. I remember dreading when the teacher went around the room and made us read aloud from our textbook. I used to count out the paragraphs so I could practice mine before it was my turn. My heart would start racing. My palms would get sweaty. I'd practice and practice until it was my turn. There was one major problem. I was so busy practicing for my turn that I didn't learn one thing. At an early age, I learned the importance of building confidence in children and making sure children learn at their level. I made a personal promise to ignite a passion for reading and learning, not fear of it.
Pet peeve: Dishonesty is the worst! My dad taught me at an early age to always tell the truth because it's so much easier. I never have to remember what to say!
What did you want to be when you grew up? I've always wanted to be a teacher for as long as I can remember.
Last vacation: Because of quarantining restrictions, Montauk Beach, with my better half!
Person I'd most like to have lunch with: I'd love to have lunch with my children, family, and the love of my life!
MANAGEMENT
Business philosophy: "Success is not the key to happiness. Happiness is the key to success. If you love what you are doing, you will be successful." (Albert Schweitzer)
Management method or style: With an empathetic mindset, I lead by example. I try to understand where my team is coming from, see the world through their eyes, and value each person's worth. What I give out is what I get back.
Greatest challenge: I have a big heart and have to be mindful of not giving too much of myself.
How do others describe you? I've been told I am driven, focused on the needs of each member of The Learning Experience family, and an amazing mom to my two children. It's not easy to say "good things" about myself, but I am often told that I have a huge heart. I am a clear communicator of expectations and goals. I encourage others to be the best version of themselves and continuously strive for improvement. I'm dedicated to my team and vested in their success.
One thing I'm looking to do better: I continuously look for ways to improve both professionally and personally.
How I give my team room to innovate and experiment: Over the years I've learned not to micromanage my team. It was hard for me to let go of being the "face" of each center I opened. Waldwick was my very first location. I was there open to close, from 6:30 a.m. to 6:30 p.m. every day. It was my baby. I knew that if I wanted to keep going, growing into multiple locations, I had to have faith in my team and strengthen my leadership skills. As a result, my support helped them to grow into successful leaders. My leadership team is my rock. I clearly articulate their roles, set reasonable KPIs, and hold them accountable. I give them the expected outcome and they develop the strategy to get there. I am committed to helping them grow creatively and with optimum innovation.
How close are you to operations? I am close to the operations of my centers.
What are the two most important things you rely on from your franchisor? I am lucky to have an amazing franchisor that is as committed to my centers' success as much as I am. The two most important things I rely on them for are innovative ideas in early childhood, and support to help my business continuously grow year over year.
What I need from vendors: Our vendors are our long-term partners in business and contribute greatly to our success. Dependability, consistency, and quality are hard to find, but valued.
Have you changed your marketing strategy in response to the economy? How? Yes! We shifted our spending from digital to social campaigns and have seen a significant ROI.
How is social media affecting your business? It's been impressive. Social posts show potential families our health and safety focus in action with real-life examples. We've also been able to share our proprietary curriculum and everything we have to offer our little learners and their families. Social media allows potential leads and current TLE families the opportunity to virtually experience the happiness that takes place within our four walls.
How do you hire and fire? We invest in our people. Each candidate is carefully screened and interviewed to ensure they are aligned with TLE's core values. Hiring is a process that we carefully and artfully implement to ensure we have the best team. With this philosophy we minimize the need for employment terminations.
How do you train and retain? Each team member is invited to become a member of our proprietary Bubbles Institute of Learning where they can earn professional development hours based on cutting-edge early childhood pedagogy. In addition, our onboarding process is comprehensive. Every new team member is matched to a mentor, an experienced and stellar teacher committed to their success, assisting and supporting them as a new TLE teacher. Also, our director of curriculum provides each new team member with on-site training and support. Team members participate in a 90-day initial training period, and we firmly believe their success is ours.
How do you deal with problem employees? Open communication and transparency are essential to us. Team members undergo two unannounced classroom observations conducted by our director of curriculum. Teachers are given areas for improvement with strategies to help them make progress. We discuss their strengths and encourage them to develop self-created areas for improvement. As a team, we are committed to every team member's success.
Fastest way into my doghouse: Every decision we make has the best interest of children in mind. When decisions are made outside of this notion, it goes against our philosophy.
COVID-19
What are the biggest impacts of Covid-19 on your business? The biggest impact is our inability to allow parents into our center. We take great pride in our open-door policy. These are challenging times for many families with job loss, working from home, and keeping everyone healthy. Not being able to walk their child to their classroom, speak face-to-face with a teacher, or kiss their child goodbye in the classroom is a huge challenge. Parents have loved walking through our doors, seeing so many smiling faces, and feeling like they are at their home away from home. At this time, for everyone's health, we had to put it on hold.
How have you responded? By being available for our families and supporting them during this unprecedented time. We offer FaceTime and Zoom calls with our moms and dads so they can have peace of mind that their little ones are smiling, learning, and thriving at The Learning Experience. Each parent has access to TLE's proprietary app, a heartwarming tool for moms and dads, especially in today's world. Pictures are sent through the app so parents can see all of the learning and love that takes place during the day. In addition, information such as meals, sleep, and potty times are accessible as well. Even though it's not face-to-face, it's the next best thing and provides peace of mind for all of us.
BOTTOM LINE
2021 goals: Continuing on a steady growth trajectory. We have experienced 35% or more growth with new centers year over year and anticipate that to continue. Of course, there is still uncertainty surrounding Covid. However, we have been able to successfully mitigate the risks and challenges associated with the pandemic and will continue to do so.
Growth meter: How do you measure your growth? Year-over-year revenue increase with at least a 3% or more increase for mature centers. Also, family retention with minimum drops other than aging out shows me a positive growth trajectory.
Vision meter: Where do you want to be in 5 years? 10 years? In 5 to 10 years, my goal is for each center to be at or above 85% capacity with a favorable profit margin. If an opportunity for additional locations presents itself, I am open to the idea of acquiring new locations if they make sense for my team in regard to demographics and geography.
How is the economy in your regions affecting you, your employees, your customers? There certainly is no individual or organization that has not been affected by the Covid-19 pandemic. Thankfully, however, through our efforts to serve the families of essential workers, adjust and communicate our health and safety protocols to our parents, and support families affected by government-mandated closures with tools and resources for learning and development, my team has been able to successfully navigate this unprecedented time. We continue to pride ourselves on our strict health and safety protocols.
Are you experiencing economic growth in your markets? Again, we are in unprecedented times and meeting the challenges as they arise. With the systems and protocols now in place, we have been able to successfully navigate the challenges the pandemic has presented to my team and continue to serve our communities. We know that childcare continues to be essential in getting our economy up and running again and our families back to work.
How do changes in the economy affect the way you do business? Employment for parents in our community has affected the need for childcare. As states go to the next phase of opening, our enrollment has increased.
How do you forecast for your business? We forecast based on our lead tours and registrations for each month. Each new family registration gives a projected start date, and based on those we can forecast where we will be in each future month. Historical data from previous years is also used to gauge KPIs for each center. Our center leaders use this data to establish reachable goals each month and each year.
What are the best sources for capital expansion? Up until recently, I have not used sources for capital expansion other than personal capital. With the rate I am expanding, I have recently researched lending options.
Experience with private equity, local banks, national banks, other institutions? Why/why not? Based on my recent experience in switching banks, I've learned that the number-one thing to look for is personalized service. The ability to speak with the same live person is extremely important. You want a bank that provides a boutique feel, even if you are one of many clients. So find a bank that values your service and offers incentives like low-interest rates, a line of credit, and money markets.
What are you doing to take care of your employees? Our team of dedicated educators is incredibly important to us. Together, we are a family. Families celebrate each other's success, support each other in times of need, and help one another grow to reach their highest potential. Our team earns bonuses based on KPIs, and engages in monthly evaluations and formal yearly reviews. Communication is open and our staff know what is expected of them, what they need to work on, and where they are excelling. Stellar performance is rewarded. During this trying time, we continue to uphold the highest levels of respect for our team members and go above and beyond to show them how much we appreciate them. It's the smallest gestures that matter the most—like a kind note, center lunch or breakfast, celebrating birthdays, engagements, anniversaries, and so much more that create the positive culture most of us hope to experience in the workplace. There's that saying, "It's not where you work but who you work for."
How are you handling rising employee costs (payroll, minimum wage, healthcare, etc.)? We are not doing much differently. We continue to drive enrollment and reach high enrollment by offering the best possible care for children. We are keeping our payroll costs down by effectively scheduling our staff and also by converting leads to enrollment. Keeping our enrollment up is offsetting any additional costs.
What laws and regulations are affecting your business and how are you dealing with this? Right now our centers are affected by regulations limiting the number of children allowed in each classroom. We are limiting classroom sizes and opening new classes when needed.
How do you reward/recognize top-performing employees? Every year we hold an annual End of Year Awards Dinner. Our top-performing teachers are acknowledged: Teacher of the Year, Leadership Award, Shining Stars, and Rising Stars. Each month we recognize a teacher who goes above and beyond with the coveted Teacher of the Month Award. This creates so much excitement and anticipation. Most of all, it is heartwarming to see the winners cheered on by their colleagues. Likewise, we recognize our top-performing directors quarterly with a bonus structure based on enrollment and payroll expense. Again, KPIs and open communication regarding our success is continuous and consistent.
Published: February 7th, 2021
Share this Feature
Recommended Reading:
Comments:
comments powered by

Disqus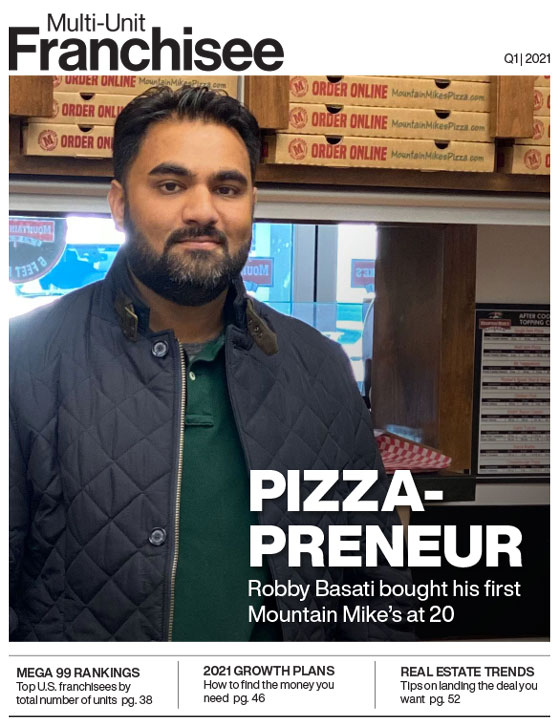 Multi-Unit Franchisee Magazine: Issue 1, 2021
The hottest new franchise is here (literally 150°). Perspire has developed, formulated and tested the most superior infrared sauna studio model...
One of the fastest growing franchises in the U.S., Jimmy John's has been making fresh, fast, tasty sandwiches since 1983 - and seeking...
Cash Required:
$200,000