A Schlotzsky's Family: From busboy to 18-unit franchisee
JJ Ramsey remembers being a 14-year-old teenager in the mid-1990s when his parents bought their first Schlotzsky's. "I was a busboy," he recalls. "The job really taught me how to be successful regardless of what you choose to do in life." Working in the family business, he says, taught him basic life skills, the importance of hard work, and a general sense of responsibility. Now more than two decades later, life has come full circle as Ramsey's own teenage son is working for him in one of his Schlotzsky's.
Ramsey's Lotz of Bunz & DMFH Restaurant Enterprises LLCs operate 18 Schlotzsky's in Texas, Arkansas, Missouri, and Kansas. His journey from working at his parents' Schlotzsky's to building his own portfolio is filled with wisdom and insights that many family franchisees can learn from as they map out their growth plans and someday prepare the business for sale.
The Ramsey family was a close clan where mom, dad, and all five kids worked in the business. That works out well if the family is close, says Ramsey. "We had the chance to grow together professionally and work together on a daily basis. That's something I really miss at this point in my career. It was always nice to see my mom and dad at the office or to work alongside my siblings."
In the Ramsey family business, division of labor was simple: jobs were doled out by age. "I was the youngest, so I started as the operations guy and worked my way up to the area manager over all eight units in Tulsa and Oklahoma City," he says. As his older brothers' roles changed, Ramsey often would be next in line to fill those positions. Along with age, he says their individual interests also were taken into consideration. For example, after college his sister started managing the administrative aspects of the business, but her passion was HR so she took over that department.
The business didn't create any tension within the family, says Ramsey. "We grew up with my dad talking business at the dinner table. For us, it was normal to be exposed to conversations about work and business on a daily basis. So overall, there wasn't much stress and conflict on that front—just the normal sibling dynamics at times!"
The family was actively involved in decision-making for the business. For example, says Ramsey, after the great success of the first three locations his parents wanted to continue growing. They all loved the brand and what it offered and recognized it was important to build locations in cities they knew well. "We spent a lot of time making sure we picked the right locations. I can even remember going out with my mom and counting traffic in key areas to help determine the right location for a new restaurant," he says.
As the years went by, discussion inevitably turned to what was next for the family business. Ramsey says there were lots of conversations, especially between him and his brother, but they weren't in a place to buy the entire company. "Dad wanted to sell as a package versus just selling the individual units, so it wasn't the right time for us," he recalls. In 2011 a suitor came along and purchased all eight units. "Focus Brands was looking to build up their portfolio of Schlotzsky's restaurants, and we had eight attractive locations, all performing well with good leadership and all driving strong revenue," he says.
"At the time, I was scared as to what my next move would be, but looking back it was the best thing that ever happened." That's because Schlotzsky's then-president hired him as a consultant. "I credit my time as a consultant for helping me really learn the business side of running a restaurant," he says. "I was able to build even more relationships during this time, which helped me prepare to own my own restaurants."
During his consultant years he met Jim Barnes, a franchisee in Arkansas. He worked closely with Barnes to help improve his store. Eventually, they began to talk business. In 2015, Ramsey secured his first location. Now, 5 years later, he has 18 stores and is in "extreme growth mode."
Ramsey knows one day it will be time for his business to change hands. He says he'll look to his kids first, but won't apply any pressure. In fact, he's shared this advice with his 16-year-old son and will tell his younger children the same: "Do exactly what makes you happy. You have no obligation to go into the family business. Try different things."
It's important, he says, to encourage your family, especially your children, to "do their own thing, so they do what they find most rewarding."
Ramsey's advice for other multi-unit operators planning for the future? Be engaged and present every day. The restaurant business is not just an investment where you can take a back seat. "You have to be engaged with your staff and restaurant leadership, whether that is virtually or in person. You need to share everything—the company vision, mission statement, financials. I want everyone to be aligned and on the same page."
He says if an employee does the same thing day after day but doesn't know the business, they will never feel part of the team or take ownership for their work. "I think it's important to teach my GMs that you want people to want your job, and that it's your job to teach and mentor them. It's not something to feel threatened by. It also gives them a chance to grow in their career."
After just 5 years as a multi-unit operator, Ramsey knows his own succession plan is important, but for now, he says, "I have lofty goals and want to keep going."
Published: June 26th, 2021
Share this Feature
Recommended Reading:
Comments:
comments powered by

Disqus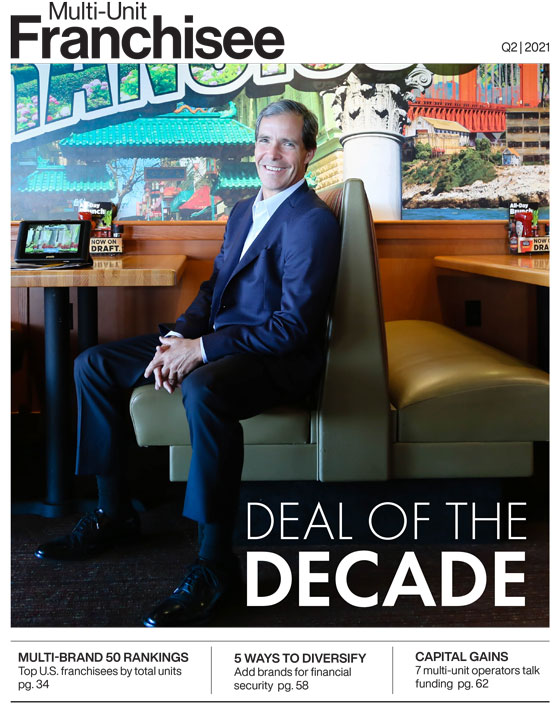 Multi-Unit Franchisee Magazine: Issue 2, 2021
Grab Hold of the Bold with the legacy brand that is backed by 50+ years of experience, a fresh look and feel, and outstanding menu innovation, all...
Cash Required:
$500,000
Boring breakfast food? Never heard of it. Bring the savory flavors and colorful personality of the South to your neighborhood with the Biscuit Belly...
Cash Required:
$500,000