Adding New Brands: Successful Franchisees Tell How They Do It
So you want to build your business by adding another brand? Maybe two? While the ROI must make sense, seasoned multi-brand franchisees say the key to franchise happiness begins with finding the right fit, from values and culture to matching personal and financial goals with the brand's.
"I think you have to find brands you can be passionate about, brands you love. Not every brand is right for every place," says Michael Solomon, who operates three Capriotti's Sandwich Shops in Las Vegas with two more on the way, along with two Great American Cookies in Kentucky and another in Tennessee. The entrepreneur even launched his own brand, Wingtime, late last year.
Dallas-based multi-brand franchisee Eric Werner agrees that making the right choice of both brand and market is more important than ever, particularly in the restaurant business. "The QSR landscape today is significantly different than 10 or 15 years ago. There are a ton more franchises out there and it is more competitive," says Werner, who owns seven different brands, including 48 Subway restaurants in Texas. He says an extensive market and competitive analysis is a critical element of a franchise buyer's due diligence.
The ability of todays' prospective investors to find and evaluate data on franchise systems has been a game changer. Would-be franchisees can investigate brands in print and online to explore different industries, gain valuable insights into the franchise world, and create a short list of brands to pursue. And FDDs provide invaluable information about litigation, franchisee obligations, turnover rate, financial performance, and more.
Just ask Solomon, who purchased his first franchise in 1994. "The difference in the amount of information you can get yourself and from the franchisor from 1994 to 2017 is like a joke," he says. "There is the ability for you to get anything you ever wanted to know about a franchise. But the important thing is you have to know what you are looking for. You can get lost in all the information."
Start with yourself
Uncovering the right answers to the right questions begins with a little self-evaluation. What kind of franchise do you want to operate? Do you have the infrastructure in place to add new brands, or must you add overhead? What skill sets do you bring to the table? How much income do you need? How will that new brand fit in with or affect your current operation? Can you afford it today, or is it better to wait another year? Whatever the question, in addition to the financial aspects of adding a new brand, before investing first establish your personal and quality-of-life goals.
"It is very important to know how you want to be," says Wine & Design multi-unit franchisee Amanda Owens. "If you want to buy into a franchise where you can be an invisible owner, that's great. If you want to buy into something that you need to be involved in day-to-day, you need to be prepared to make those sacrifices."
With two small children, Owens was looking to step away from the grind and demands of corporate life. She launched her franchise search with a mission to bring a brand with entertainment value to her hometown of Clayton, N.C., a small town undergoing a downtown revitalization and planned development not far away. Owens opted for Wine & Design, based in nearby Raleigh, and opened her first franchise in 2013.
"The Internet was my main go-to tool," she says. "From a personal perspective, I reached out through social media to gauge interest in our market and the experiences of those who had attended an event of a paint-and-sip franchise. I was able to research other models' FDDs and compare." And of course before signing, she had her business attorney review the brand's FDD.
Owens, who now operates three Wine & Design territories in North Carolina, was drawn to the concept, the initial training, and the franchisor's focus on continued support. The network operated more "like a family of franchisees and expressed a hunger to evolve and keep innovating," she says. "Day-to-day expectations to create a cohesive experience across all units was equally important. I also knew that Wine & Design was a fairly young model, and that there would be potential for growth outside of our initial studio."
How bad do you want it?
When Todd Fetter began looking to buy into his first franchise brand, the Ohio entrepreneur and father of five was certain of two things: "We loved sports and we loved wings," says Fetter, who now owns seven Buffalo Wings & Rings, with three more slated to open this year.
No stranger to weighing the risks and rewards of an investment, Fetter's ventures include mortgaging everything, even a lawnmower and his wife's van, to buy his first company. While money remains the bottom line in any deal, Fetter's initial move into franchising was out of his comfort zone.
"I'm not that guy to find something you love to do and make money," says Fetter, who signed with Buffalo Wings & Rings in 2009 and spent the next four years looking for the perfect site. "I'm the guy who buys something to make money and then love it. This was me stepping out of my norm."
Fetter narrowed his list after discovering Buffalo Rings & Wings during an online search. He found territories available in his own backyard, and a franchisor with a home base just two hours away in Cincinnati. Along with financials, Fetter checked out the competition and what customers were saying about the brand on Facebook, Yelp, and TripAdvisor. And, before even attending a discovery day, Fetter and his wife spent plenty of time eating the food. "You've got to do your reconnaissance," he says.
Evaluating the brand
Werner recommends would-be franchise investors look for innovative brands with consistent results. Along with his 48 Subways, his portfolio includes Wingstop, Little Caesars Pizza, The Catch, LA Sunset Tan, and Beverly Hills Rejuvenation Center (his most successful franchise investment to date). When Werner evaluates a new brand, he considers current trends and whether the concept is growing within its sector. Then there's the question of established versus emerging brands.
"There are two ways to look at it: the high risk of getting in at the very beginning on a newer concept, or the low risk of proven concepts," says Werner. "There are pros and cons to both." Newer concepts, he says, provide opportunities to dictate better franchise agreement terms for future growth and territories if the brand takes off. Established brands may mean growth is more limited, but they offer a track record of proven success and name recognition when entering new markets.
Once Werner locks in on a specific franchisor, he conducts a kind of SWOT analysis, evaluating the strengths and weaknesses of the potential investment, competitive threats, if a brand must do a lot of volume to make money, and the percentage and number of multi-unit franchisees in the system. "If that is high, it means they are so successful that people want more," he says.
When assessing a brand, due diligence doesn't stop with the franchisor. A franchisor's strength (or weakness) can be found in the happiness and financial health of its franchisees. Speaking with as many franchisees as you can is a critical, yet much neglected step in the evaluation process. Meeting franchisees face-to-face provides invaluable insights into the day-to-day life of a brand.
"They are in the same boat you are, they see the same things, and 90 percent of you are having the same experience," says Solomon. Existing franchisees can share the pros and cons of the business, including how long it took to reach profitability, if costs are in line with expectations, training, marketing, support, and how a franchisor resolves conflicts with its franchisees.
"The first thing I do is go through the franchisee list. My favorite people to call—if you can get hold of them—are the people who left the system," says Solomon "You have to take what they say based on perspective, but they will tell you the good, the bad, and the ugly. You have to read between the lines and talk to enough people so you feel like you have a good feeling for the system."
Culture counts
Doing your homework before signing on also includes ensuring that the brand's values and culture are a good fit with your own. This includes the corporate office and its relationship with franchisees, as well as the company's social and charitable activities. In the end, says Owens, who sits on Wine & Design's franchise advisory counsel, finding the right fit means more than financial success.
"Make sure a franchise brand fits into your lifestyle and your beliefs," she says. "Also, that it fits into the community or market you want to bring it into. If you bring something into a market where it is needed, but it doesn't align with how you feel and you are not 100 percent engaged, you aren't going to get the full benefit of owning a business."
What if it breaks?
Existing franchisees also can help you better understand many of the critical details involved in running the business. Common questions to ask include: Are you making money? What is your view on leasing versus owning? How hard or easy is it to attract good employees in your market? Can you share a bad scenario and tell me how you and corporate resolved the issue?
"Everything is great when it is good," says Fetter. "The bottled beer cooler doesn't break Monday through Friday—it always breaks on the weekend. In those situations, who do you call?"
These days, Fetter, whose business is a family affair, is happy to say good things about the brand to any prospect. He's learned a lot since opening his first Buffalo Wings & Rings in March 2013, when he was optimistic but realistically cautious as he embarked on his brand new venture.
"I was still unsure. What if we had the one store in the history of the earth that we open and no one comes? You have a big loan and a lot on the line and I had never been in the restaurant business," he says. "I learned it was pretty much like any other business in that you have to watch your labor and costs."
His conservative approach gave the first-time franchisee a chance to test the waters of his franchisor's ongoing support before adding another unit—a key element potential investors should investigate, he says. "Do they really support you, or is that just a sales pitch? If they hadn't been there for me and supported me when I had questions, sending people in and helping me along the way, I never would have done a second one, much less seven or 10."
What if things go south?
There will be times when a deal doesn't work out as expected, despite all the best intentions and due diligence both sides invested. Whether it's internal factors, external ones, or both, it's wise to have a Plan B. Before he invests, says Werner, he makes certain he has an exit strategy. "If I get in, how am I going to get out?"
Werner also has developed a strategy to increase his odds of success: he has transitioned from the traditional multi-unit franchisee model to an 80/20 concept, in which he provides 20 percent ownership and a guaranteed salary to a managing owner.
"I try to recruit high-caliber talent or someone who has been with me for years," he says. "The brand runs better because I can't focus on everything by myself—and I don't have to worry about it because I know someone else is worrying about it for me."
Solomon looks for commonalities among brands to build operational efficiencies with expansion. Yet, no matter which brands they choose, prospects must approach any investment with open eyes and realistic expectations about the franchisee-franchisor relationship.
"There are a lot of misconceptions about what a franchisor does and doesn't do," he says. "A franchisor is kind of like a consultant—kind of there and kind of not. You have to understand what your franchisor is willing to do for you. Your franchisor can't balance your books for you, and they can't tell you whether to hire or fire. The franchisor is someone who gives you guidelines, but they can't run your business for you."
Published: June 29th, 2017
Share this Feature
Recommended Reading:
Comments:
comments powered by

Disqus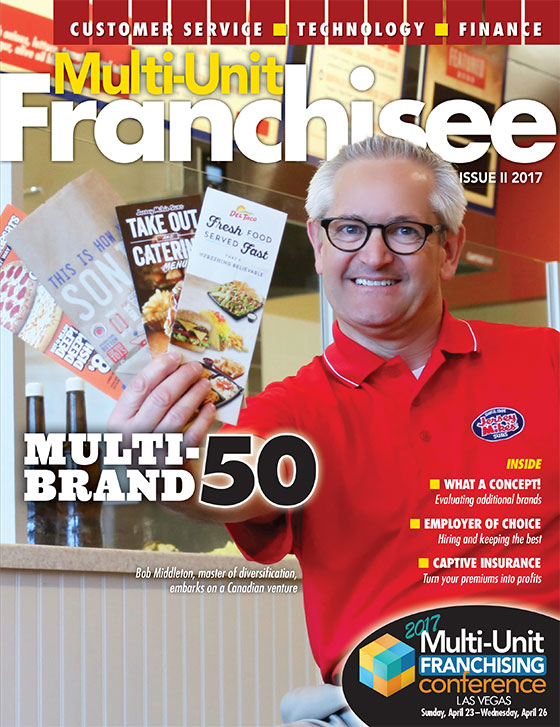 Multi-Unit Franchisee Magazine: Issue 2, 2017
Owning your own Pancheros restaurant is a chance to start a business without starting from scratch.
Cash Required:
$250,000
The Habit Burger Grill comes equipped with its unique flavor created by chargrilling over an open flame and a diversified menu which appeals to a...