All Signs Point To Continued Growth In Multi-Concept Franchising
It's no surprise that multi-concept franchising continues to soar. So much so, that for a second consecutive year, we have devoted an issue of Multi-Unit Franchisee to covering it in detail.

This high-flying approach to expansion is growing in popularity for a multitude of reasons. As a growth strategy it offers more units, brands, territory, and income--while spreading risk across the different concepts in a franchisee company's portfolio.

Multi-concept operators typically have a solid infrastructure in place that, among other things, allows them to hire and retain talented individuals by providing growth paths within the organization. And of course there's the leverage of economies of scale in this type of operation.

Franchisors, too, are catching on to the strengths of this new breed of operator. When sizing up a candidate, franchisors like to see a track record of success. What could be better than a seasoned franchisee whose portfolio includes not only multiple units, but multiple brands as well... and a healthy bank account behind it?

Despite the current slump, many of these multi-brand franchisees have the resources to take on another brand--perhaps several--and are pushing ahead. But who are these players, and what makes them tick? We tracked down eight multi-concept operators and asked them to explain what keeps them growing.
Big-thinking entrepreneurs like Guillermo Perales are the epitome of how multi-concept franchising can operate. This Dallas-based franchisee, whom we first interviewed a little over a year ago, has grown his operation to 142 units--and as he tells us, he's nowhere near finished.
Likewise, we revisited John Metz, who has built a successful multi-concept organization by acquiring distressed franchise units and real estate. Last December he bought his own franchise brand--Hurricane Grill & Wings--and as a newly minted franchisor plans to treat his franchisees right.
At the modest age of 24, Gurvinder Singh is actively growing his Gold's Gym and two hotel brands--and not just domestically, but overseas--and learning more about management and leadership every day.
Down in South Texas, Charles Loflin is building a wings and bagels dynasty. The 40-year-old multi-brand franchisee, who's been in the food and beverage industry since he was 15, has 30 Wingstops and has begun to roll out the first of 7 Einstein Bros Bagels restaurants.
Then there's Dennis Hitzeman, who has three brands and more than 60 locations. He credits a large part of his success to being mentored by Ray Kroc, Bill Parcells, and Gen. Norman Schwarzkopf, Jr. Tough to argue with that.
Donna Wade and her husband Jim, who grew up working in their respective family businesses, show how teamwork in multi-concept franchising can pay off. They've been married and working together in their own family business for more than 20 years.
Jett Mehta grew up in the franchise business, and it shows in how he continues to expand and manage his company. Today he oversees more than 30 franchise units across three different brands (Ponderosa, Dunkin' Donuts, and Microtel), mostly in his backyard of Rochester, N.Y.
And finally, there's Joe Drury, a franchise veteran who's been on both sides of the franchise fence. This former Bojangles' CEO, who also worked under Dave Thomas at Wendy's, is a multi-unit, multi-brand franchisee these days with more than 40 units (Donatos Pizza, Just Fresh Kitchen Bistros, Cordoba Mexican Grill) across the Carolinas--and more on the way.

While each of these franchisees has a unique story, all share a passion to grow their business, serve their customers, and provide jobs and opportunities to the people who work for them.

To put some numbers on the multi-concept franchising phenomenon, we called on our friends at FRANdata to "run the data" to help shed light on this growing trend. For a second year, they've provided us with a list of the top 100 multi-unit, multi-brand franchisees in the country. Restaurant operators continue to dominate, with some of the most popular brands including Burger King, Pizza Hut, Wendy's, Subway, Hardee's, A&W, Taco Bell, and Popeyes. It's an interesting list… definitely food for thought.
Published: March 17th, 2009
Share this Feature
Recommended Reading:
Comments:
comments powered by

Disqus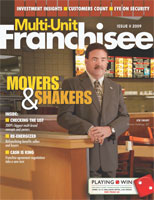 Multi-Unit Franchisee Magazine: Issue 2, 2009
Owning your own Pancheros restaurant is a chance to start a business without starting from scratch.
Cash Required:
$250,000
Unlock success with Payroll Vault! A proven franchise offering top-tier software-based payroll & HR services. Your opportunity to lead in the...
Cash Required:
$100,000