Area Developer 50: 2nd Annual Multi-Unit Survey
Multi-unit franchising continues to expand in 2006. And the "Area Developer 50" continues to track the industry's transition from its early decades of single-unit owners to today's multi-unit owners and area developers. 2006 marks the third year of what might be called "The Shift": more franchising units controlled by multiple unit franchisees than by single-unit owners, according to statistics compiled by FRANdata, which puts the number at 52 percent.

Area Developer magazine again asked the experts at FRANdata to dig into their industry database to create a list of 50 franchise systems with significant concentrations of multi-unit operators. In fact, they provided several "slices" of data, two of which Area Developer has chosen to demonstrate the rise of the multi-unit model in dramatically different ways. Only 12 systems appear on both lists.

(Note: The Area Developer 50 is not a traditional "Top 50" listing. Rather, it is designed to provide insights into the state of franchising and the range of companies using a multi-unit model for growth.)

The first table ranks 50 systems by the highest percentage of units controlled by multi-unit franchisees. The first eight brands on this list have 100 percent of their units in the hands of multi-unit operators--but their total number of units is not very high, ranging from 69 to 260. Factors such as cost, complexity of operation, and relative youth are factors in this listing, but for these 50 brands, the focus clearly is on expansion through a multi-unit model. (Only four of the top 10 are food.)

The second table ranks 50 systems based on their total number of multi-unit franchisees. Subway's 3,638 multi-unit owners are more than four times as many as the next brand, Dunkin' Donuts (852). The systems in this ranking show a predominance toward easier operation, as well as generally being older and more established; and of course they have a greater number of units, ranging from 757 to 8,205. (Eight of the top 10 here are food.)

The percentage of multi-unit owners vs. single-unit owners is one way to evaluate a franchisor's strategy. It's also useful to look at how many actual units are controlled by multi-unit owners. For example, in Subway's case, 44.3 percent of its franchisees are multiple-unit owners, but they control 74.8 percent of its units.
Four ways to franchise
Multiple unit and area development models represent the future of franchising. They offer 1) tremendous business opportunities for owners and investors, and 2) an efficient, rapid way for franchisors to expand. But they're not for everyone, nor are they exclusive for a given brand; most systems offer several ways for franchisees to buy in.

Four basic models exist in franchising today, says Darrell Johnson, president of FRANdata. The simplest can be said to represent the past 50 years, and the more complex models indicate the direction the industry is headed. All four are necessary, and all are appropriate for different concepts at different stages of development. Johnson describes them as follows:
A: Single-unit franchisee. Your basic franchising model. One franchisee owns and operates one unit. The owner-operator. Buy yourself a job. How McDonald's grew.
B: Single-unit franchisee with "branches." The lone franchisee, who began with one unit, succeeded, and added more units, one at a time, over several years. Additional units are more like "branches," says Johnson. Ownership at this stage is still hands-on.
A prime example, says Johnson, is a franchisor he knew who owned half a dozen Dunkin' Donuts stores. This owner began his day at his original store, then visited all his other units on a regular schedule each day. His rounds complete, the owner returned to his home office to wrap up his day. This owner was in control, but 100 percent hands-on. Still going it alone, this type of franchisee is more like a cloned single-unit operator than a multi-unit owner managing a business.
C: Multi-unit franchisee. The "true" multiple unit franchisee is born when the owner can no longer handle all the units alone and hires somebody to help manage the business. This point arrives at different times for different concepts. It comes sooner for a hotel than a sandwich shop. Geography also can play a role. The key change occurs when a "lieutenant" is hired, a layer of management added. An infrastructure is born.
No matter when it comes, there is a point, says Johnson, at which the owner cannot add another unit without hiring someone, an operating manager type, to provide support across all the units. Often, this means losing money in the short term. For example, the cost of adding a person to expand from four to five units may be greater than the increased revenue generated by that additional unit--a cost that will not be made up until unit six or seven is added. But this is the only way to grow.
Most important, this stage marks a different state of mind. The "true" multi-unit franchisee is a business owner running units from an office, with an infrastructure in place--not someone running around all day from store to store, run by the business, still a sole proprietor. Some owners evolve into this role, having started with a single unit; others enter the business with this in mind from the start.
D: Multi-unit owner/area developer: At this stage, the "level of difficulty" increases. The business becomes more complex, and more experienced owners and groups enter the picture, including investors who hire operating partners. The company is a substantial business, with not only many units, but often multiple brands, and in different cities or regions. For many franchisees, this occurs between the three- and 10-unit stage, and prepares for growth toward 20, 30, 50, or more.

"That's when it's a true corporate business: the business of owning units," says Johnson.
Published: October 3rd, 2006
Share this Feature
Recommended Reading:
Comments:
comments powered by

Disqus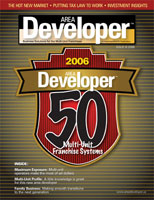 Multi-Unit Franchisee Magazine: Issue 3, 2006
Charleys Philly Steaks is the #1 Cheesesteak Franchise in The World. We offer delicious, made-to-order food that is affordable without sacrificing...
Cash Required:
$175,000
If you are looking for a business that is meaningful and fulfilling, you should take a closer look at Bruster's® Real Ice Cream Franchise!
Cash Required:
$125,000