Area Developer 50: Panera
Quality Rises to the Top
Panera, phenomenally successful today, had an uncertain start. In 1993, Boston-based Au Bon Pain acquired the Saint Louis Bread Company and its 20 stores. From 1993 to 1997, the company "re-staged" the Saint Louis brand, increasing unit volumes by 75 percent. Somewhere en route, with visions of national expansion dancing in their heads, managment changed the concept's name to Panera Bread.

In 1999, with two brands in two regions competing for limited corporate resources, the company spun off Au Bon Pain to pursue a national expansion strategy as the Panera Bread Company. Ron Shaich, who founded Au Bon Pain in Boston in 1981 and had acquired Saint Louis Bread for $24 million, became Panera's CEO, and remains so today.

When the company began pinning its hopes on Panera 10 years ago, there wasn't enough cash to match its ambitions, and management turned to a multi-unit franchising model to expand the brand.

"That was one of the things we decided in '96. We wanted to avoid franchising or development by 'hobbyists,'" says Mike Kupstas, senior vice president and chief franchise officer at Panera. All we do is look to multi-unit franchise development.

When Kupstas joined the company in operations in early 1996, there were 43 bakery-cafes. Today the company has 900 and will soon reach 1,000. "Analysts say we could easily be 3,000 to 3,500," he says.

Panera created area developer agreements seeking to attract "the elite of the elite in the franchising world," he says. These developers would be successful in business, restaurants, and franchising—"seasoned executives who have a very high probability of success" and would help the brand achieve its strategy of getting to market quickly.

"Single-unit doesn't come into play for us. That's not where the action is for us. We focus on people who have been successful in multi-unit operations and see that as their mission," says Kupstas. "We love it when they have existing infrastructure that can be leveraged."

Today Panera is public, debt-free, and annualizing at about $2 billion in sales for 2006, but is still franchising. As the company continues racing to preempt the competition, speed to market must be balanced against quality to avoid the danger of expanding too fast. "A lot of people have publicly stated they're targeting us and would like to tape a nip out of our heels," he says.

"We're committed to growing 17 percent year over year," says Kupstas. While growth is good, "The worst thing we can do is grow so fast we lose the quality of the operations. We have made a point of operating at the highest level. That's first."

To minimize the risk to quality, Panera maintains strong support in the field (marketing, real estate, construction), with strict ratios based on the number of units or territories. As the company grows, it's maintaining those ratios. "The hope is the organization doesn't feel the stress of growth," says Kupstas.

One core concept at Panera is that the most effective franchisees live in their market. "We'd rather see a base of bakery-cafes built in one area and then concentrate in adjacent areas before agreeing to let franchisees open elsewhere," says Kupstas. "The closer the owners are to the business and staying involved in it, the closer we are to great operations."

Panera's management actively seeks input from its top-performing franchisees. "Expert" committees meet three to four times a year to discuss common issues such as brand, point of sale, IT/IS, supply chain, etc. and to share best practices with the entire organization. "They've demonstrated incredible results to date and we ask them for their opinions," says Kupstas.

Current franchisees are the best source for expansion, either opening new units themselves or referring people they know. "If they've developed six to seven cafes, they should be able to open more—two, three, or four a year—with predictable results." Today, says Kupstas, the total number of franchise groups is only about 45; they average 12 bakery-cafes open with 5 to 6 more to build.

"It takes longer than you could ever imagine to really know people," he says. Standards are high when looking to connect legally with someone for 20 years. "Our relationships as franchisor with franchisees last longer than many marriages. We're not willing to make a decision overnight."

Currently, 65 percent of its bakery-cafes are franchised and 35 percent are corporate. Within a few percentage points, there's usually a two-to-one ratio of franchised to corporate stores. "Everything's built on that," says Kupstas.

"Above everything we value great operators. Our mission is one great Panera—where a customer can walk into any Panera and believe the quality will be top-notch"—whether a company or a franchise store.

Lee Howley doesn't consider himself a typical Panera franchisee. "I am probably a little unusual because I was not in the food or franchise business," he says.

However, he brought enough to the table to satisfy the folks at Panera, who consider themselves extremely selective about who they sign on as a franchisee (see above). Howley has proven himself quite typical in racking up continued success as a Panera area developer building out his territory.

When he signed with Panera in late 1999, Howley agreed to build 20 units. He has 17 open today, and has upped his agreement to 28, building out at about five a year.

Howley already was a successful businessman in the Cleveland area, where he'd won the franchise right to build cable system for the City of Cleveland. He also was a real estate developer, mostly in he medical field.

It was his brother Tom, working for Panera as vice president of construction and design, who encouraged him to consider the concept. After studying the brand and meeting with the executives at Panera, Lee Howley decided to go for it.

Ron Shaich, CEO, and Mike Kupstas, senior vice president and chief franchise officer, also were part of the reason he chose to invest. "I sit on three corporate boards, and I really appreciate good leadership," says Howley.

The area open to him was the eastern two thirds of Connecticut, southern Massachusetts, and Rhode Island. "I'm a big sailor, so it's a great territory," he says.

Then there's the challenge of making it work. "We had a good concept. If you have a good concept, much of the risk has been taken out of the business venture. The question was, 'Could we build a team and execute the concept well?'"

With a territory in the Northeast and offices in the Midwest, Howley formed a new team in his territory. Operations—including the company's COO, district managers, director of training, and director of baking—is based in Rhode Island. Brother Tom, who lives in Boston, assists with the real estate. The more general functions—accounting, payroll, human resources, and construction—are managed from Howley's Westlake, Ohio office.

"We have two typical corporate structures," says Howley. "We communicate every day. With today's technology, it doesn't matter if you're down the street or across the country. We could be on another floor of the same building," he says. In fact, he sees advantage in having different geographic perspectives.

Still, he says, "We try to get our people out there as much as possible"—including himself. "It's part of my discipline. I need to get there every three to four weeks. There really is no substitute for being in your own cafes, seeing how customers and employees react. I make lists every visit."

He may add another concept someday. "We'd like to, because we have the talent in place." But for now, Panera is plenty: his build schedule for 11 more Panera units goes out two years.

His organization is built for growth. "We do not see any dramatic difference in increasing in size from an infrastructure or structural standpoint. We always emphasized investing in the infrastructure first, before you build the business," says Howley. In fact, Panera provided the opportunity not only to keep his previous team in place, but also to give them an opportunity to grow.

If his past is an indicator, look for future growth. "I very much enjoy building new businesses from scratch, building the right infrastructure and putting the right people together—even tremendous long shots, like cable TV or real estate development," he says.

"Probably less exciting is the pure day-to-day running of an existing successful business," he says. "Once you get it going, it's fun to watch."
Lee Howley: Up Close
Memorable first job: In my senior year in high school I told my dad I wanted a "real" job. I'd already started work at an amusement park for the summer. He sort of smiled, and said "Okay." The next week I started at a factory making trucks, in a paint shop, working 6 days a week, 10 hours a day. I did that with no air conditioning and one of the hotter summers on record.
Professional tip: The most important thing to my success has been finding good people. I try to never stop finding good people to work with me and trying put them in the right job.
Key education: I got a serious education at a very young age when I spent seven years trying to get a franchise for a cable system in the City of Cleveland. I learned the world is not fair, and there are a lot of people out there who will undermine your efforts. It probably gave me toughness and people savvy that I needed. There's nothing like a good, tough business experience early in your career to help you later on, even if you fail.
Role model(s): My father, because I thought he gave me a tremendous sense of people and common sense. Those are two ingredients you can go a long way with in terms of success.
Currently reading: I'm rereading a book for the first time in my life: The World Is Flat, by Thomas Friedman; also, The Weather Makers, by Tim Flannery; and Differentiate or Die, by Jack Trout
Others say you are: Probably, laid back, to a point
Business news sources you regularly read: New York Times, Wall Street Journal, Restaurant News, and local papers. I'm a voracious news reader, from whatever source I can find.
Favorite web sites (besides your own): Mostly news-oriented: New York Times daily, and the Yahoos for instant information
Franchise systems (besides your own) that are creative: I've always admired Starbucks [not a franchise]. They execute so well, they understand their concept, they're true to it. Who would have ever thought you could sell coffee in 10,000 locations worldwide and grow at double digits annually, and execute it almost perfectly every time you go in? I'm a great admirer of the company and their leadership, and they've done it as good corporate citizens.
Favorite quote: I'm in the service business: Do unto others as you would have them do unto you. I tell our people, How would you like to be treated?
Best advice anyone ever gave you: Sleep on it. Don't rush into this. You think you're right and want to move forward.
Best advice you ever gave anyone: Mostly to young people, because I'm involved with an educational institution. Do what you like to do. Do what gets you excited to get up in the morning. People who do it because they're supposed to or it's expected are not the most successful or the happiest.
Biggest project for the year: Open up a lot more stores successfully, continue to maintain a high level of service in all our cafes so we can be one of the top Panera franchisees in terms of average sales and customer satisfaction. I have some personal goals to help some volunteer and nonprofit organizations improve themselves.*
What you do to unwind: I try to give back; I wish I had Buffet's money. I sail, hunt a little bit, and spend a lot of time with my family.

*Howley has an extensive background in civic and community affairs. Past: co-chair of the Rock and Roll Hall of Fame, chair of the Convention & Visitors Bureau of Greater Cleveland, president of the Cleveland Public Library Board, president of local Arthritis Foundation, and U.S. Representative to the United Nations in 1995. He currently is president of Lake Ridge Academy, a private school (K-12) outside of Cleveland.
Published: November 7th, 2006
Share this Feature
Recommended Reading:
Comments:
comments powered by

Disqus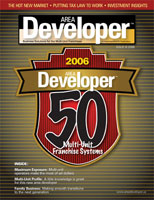 Multi-Unit Franchisee Magazine: Issue 3, 2006
With more than 300 active locations in 30 states and dozens more in development, American Family Care is America's #1 Urgent Care Franchise.
Cash Required:
$550,000
Brain Balance has 80 centers nationwide and continues to grow with global expansion on the horizon. Brain Balance offers a drug-free program designed...
Cash Required:
$125,000