Best in Brand: Recognizing Franchisee Of The Year Winners
Franchisors recognize the best performers in their system with a Franchisee of the Year award (or equivalent). For the winning franchisees, outstanding financial performance, adherence to system and operational standards, and a passion for their business, their brand, and their people are a given. What elevates them is their community involvement, their contributions to the system, and, for the more experienced operators, their desire to mentor their younger counterparts, just as they were mentored early in their own careers as franchisees.
Steven Keys
U.S. Lawns
Sharp as a Blade
In October 1998, Steven Keys converted his residential lawn care business to a U.S. Lawns franchise. He was 25 and had a child on the way. "I wanted to have a sustainable business, be out in the field, and know that if something happened to me the business would go on," he says. Today he operates eight U.S. Lawns franchises: seven in South Carolina, and one in Augusta, Ga.
Keys is the 2011 winner of the company's President's Award, given to an owner-operator who not only "consistently meets or exceeds all U.S. Lawns standards for customer satisfaction and revenue," but who also spends time "mentoring and leading other franchisees in the system to success." Keys also is a U.S. Lawns Hall of Fame member, sits on the company's Franchise Advisory Council, and is a member of the brand's Million Dollar Club.
"The reason I believe we've done so well is that while we basically cut grass for a living (that's how the outside world looks at it), for us in the service industry we're basically problem-solvers for people who don't have the time." There's also the small matter of getting your name out there and grabbing market share from the competition--skills Keys had to learn when he started as a franchisee.
"While there are many tools to help you sell, there's nothing more important than the cold call, in asking somebody for their business," he says. "While it can be the most uncomfortable way to sell because of rejection and time consumption, somebody's got to do it. You can send emails, flyers, etc., which works, but nothing is as valuable as a cold call, sales-wise. That's how I got to where I am now."
That's a far cry from when he started. "When I bought the U.S. Lawns franchise, I was not comfortable with sales. A U.S. Lawns guy came here, we went over the spiel during breakfast, and as soon as we were done, we went on a cold call, my first. I sold it and they're still a customer." Today, he says, "It's hard to go anywhere for dinner and not ask the manager who does their lawns."
When he began, however, in many ways he was flying blind. "When I joined U.S. Lawns, I knew nothing. I didn't know what a P&L was, or a balance sheet," he says. "One of the older franchisees, Mike Carlo, made himself available to me." Today Keys is the older (as in veteran) franchisee, thankful for the advice he received on the way up--and glad to dispense tips to the newer kids on the block.
His path toward becoming a U.S. Lawns franchisee started after he came home from college and worked a couple of years for a franchisee in the lawn spray business. "The owner of that franchise wanted to start cutting residential grass and asked me if I was willing to do that. He provided the up-front equipment." The partnership--and business--grew, and Keys took it over as a sole proprietorship.
"Another franchise owner I looked up to owned Taco Bells. While I was doing residential lawns I worked for him," says Keys. "I found out about U.S. Lawns, got my franchise circular, and took it to him to read over it. At the time, I think U.S. Lawns would finance all but $5,000. He said, 'Five thousand dollars is not a whole lot of money. You might not understand that right now.'"
It's hardly been a one-way street for Keys. "There's no way I'm where I am today without the help of other U.S. Lawns owners," he says. "While the franchisor is very important, what you learn from the other owners is even more important." Beyond learning how to run the business and understand and manage his financials, Keys received plenty of advice from franchisees, including some you might not find in a manual--such as the time, early in his career, when a fellow U.S. Lawns franchisee told him, "You're an owner, you need to dress like an owner."
Says Keys, "That's what's great about the group of people at U.S. Lawns. They'll let you know what you need to be doing, give you a push in the right direction."
It's his time to return the largesse he's benefited from over the years--and he's eager to step into that role even more than he already has. "Now I do that, especially in South Carolina. I've gone through a lot of the trials and tribulations younger franchisees have not. That's my passion. I like helping other guys out." In fact, "We're always on the phone together and take vacations together," he says.
"The award is a validation that you're doing something the right way," he says. "Other franchisees notice that. You're succeeding so they trust you. It's the same thing I did: I watched Mike Carlo win awards. I was lucky he picked up the phone because he's a very busy person. Now I try to do the same thing. There's no way I would be here without the people who've helped me out."
Kevin Hatton
Firehouse Subs
Making a Difference
"Who would have thought a pickle bucket could save someone's life?" That's a question Kevin Hatton, Firehouse Subs' Franchisee of the Year, has been asking since late 2009. That's when the Mount Pleasant (S.C.) Fire Department used a piece of equipment donated by the Firehouse Subs Public Safety Foundation to save the life of Francisco Tuttle. Tuttle, only 47 at the time, was at work as an MRI technician when he collapsed from Sudden Cardiac Arrest (SCA).
According to the Heart Rhythm Foundation, SCA is a leading cause of death in the U.S., accounting for about 325,000 deaths each year (nearly 1,000 a day!)--and is not a heart attack, but rather an "electrical problem" resulting from a heart rhythm disorder (ventricular fibrillation) that causes the heart to abruptly and unexpectedly stop functioning (cardiac arrest). Without emergency help, SCA leads to death within minutes. An estimated 95 percent of victims of cardiac arrest die before they reach a hospital or other source of emergency help. Tuttle is among the 5 percent who lived, thanks to that piece of donated equipment--and some luck.
The money to buy the equipment comes from a combination of sources: sales of pickle buckets and donations from customers, vendors, and the brand's owners. Each month, the sub shops sell thousands of the five-gallon buckets for $2 apiece. "Otherwise they'd be in a landfill," says Hatton, who operates five Firehouse Sub units in the Charleston, S.C., area. "And for $2 it comes with a nice lid," he quips.
To date, the Foundation has donated more than $3.5 million worth of equipment to 335 different communities in 22 different states. "Who knows how many lives we have touched through those contributions?" says Hatton. "How many Francisco Tuttles are out there?"
Choosing Firehouse was a "no-brainer for me," says Hatton. His father was one of the brand's early franchisees, and Hatton, who came on board to help him run his store in 1998, was already a GM working his way up. "I didn't have to investigate another concept," he says.
Also, he says, "By being an EMT and firefighter I could relate to the founders, Chris and Robin--the same work ethic, the desire to please people and give them an exceptional experience they're not expecting. They may have had a bad day, you don't know," he says. "They don't expect someone to deliver their food and take their empty basket. They're not expecting it, so when they leave they end up thanking us."
For Hatton, now a former EMT and firefighter, the Foundation is just part of what he calls the "DNA" of Firehouse Subs. "We have a lot of great franchisees in the Firehouse community, and all of them are handpicked by the founding brothers and their team. Any one of them could be in my seat right now," he says. "It's a lot of really great people who make Firehouse what it is and create that special DNA we have."
So why was he selected as Franchisee of the Year? "I think it's mostly my dedication to growing my business financially and, just as important, growing it within the community as well," he says. One way he combines the two is through a local store marketing program that has boosted sales for the past 3 years at his five stores. "We go out every week and hit 100 businesses face to face, deliver goodie bags--a cookie, chips, a menu, a little magnet with the store's phone number and information about ordering, all in a brown bag we leave behind. We make a relationship with those businesses, with the receptionists behind the desk, and that builds just as much as radio spots," he says. This also provides him with another chance to talk to people about the Foundation.
"I've been doing it for 3 years religiously every Tuesday," says Hatton. "There's a science to why I do it Tuesdays: Mondays are too hectic, Wednesdays people are getting over the hump, Thursdays they're thinking about the weekend, and Friday they're checked out." There's even a science to what time the team goes out (between 9:30 and 10 a.m.), he says. "It gives people time to get into their office, go through their email, and settle in. We hit them before lunch, give them a goodie bag, and talk about how easy it is to order." This now includes the ability to order--and pay--online.
Hatton says he started this practice out of necessity. "The economy was tanking, business was down. I kind of brainstormed with other franchisees and we developed this little plan. It grew from 20 or 30 businesses, and now has ballooned to maybe 100 a week. I got my GMs in on it. Each week we do an area around a different store. All it takes is your time and your effort and $30, $40, $50 worth of product."
He says it's a lot cheaper than radio or TV, but it takes dedication. "I firmly believe in it. We turned a negative sales trend into a double-digit positive trend," he says. "It has to be ongoing process, not an overnight success, and you've got to make the time to do it."
If you want to try this yourself, here's a tip from Hatton: "Make it brief. You don't want to take up a lot of their time, but you also want to deliver your message. The leave-behinds also create a good feeling. You're there at 10 a.m. intentionally. You want to be there when they're making their decision where to eat, and not after they've eaten or decided." And it's a technique that doesn't wear out over time. "We will rotate through the stores and areas. After a while you think you've blanketed the whole area, but the people who work there change," he says.
Tammy Iuso
FirstLight HomeCare
People Are Better!
After 35 years of serving clients' corporate computer needs, Tammy Iuso (pronounced yu-zo) decided she likes serving people better. Don't get her wrong: she doesn't dislike computers, she just likes people more. The love shows: in her first year as a FirstLight HomeCare franchisee, she was named Franchisee of the Year.
The award recognizes Iuso for her "ability to exemplify FirstLight's Culture of Care and its service-oriented operating system, maintain highest measurements of client satisfaction, and achieve highest revenues for the last 12-month period; single territory owner." Iuso, based in Lake Mary, Fla., signed on for that single territory in July 2010 and opened for business in January 2011. She says the change has been huge--and wonderful.
"When I left the computer world I was a project manager professional. I traveled a lot and interfaced with the clients, but we talked software and computers. It's absolutely refreshing to speak with clients now," she says. "It's an extremely rewarding environment, much more than software."
Iuso says she got into her new line of work because of family issues. "I got tired of hearing about the lack of quality caregivers. Coming out of a corporate environment, I knew I could measure the level of quality. So I looked for a franchise that provided the technology platform, infrastructure, and methodology, as well as the experience to meet my needs."
And, in February, as a testament to her commitment to quality, Iuso received the Best of Home Care award from Home Care Pulse, an independent third-party organization that measures client and caregiver satisfaction for home care agencies.
The level of personal attention Iuso provides is a key contributor to her first-year success. "I meet all my clients, particularly the first time," she says. "I'm very, very close to most of my clients. They know they can call me and talk to me." Once they're on board, she says, "I make it a point to visit them once or twice a month, free of charge."
Iuso also spends time with the approximately 35 caregivers she employs to provide her clients with companion and personal care. This allows her to build solid relationships with the providers and to get to know them as people. "I make it a point to put somebody in each home who matches the client. Not everybody's going to mingle with everybody," she says. She also takes the extra step of introducing the caregiver or case coordinator to the client, and has an R.N. visit the home, primarily for an assessment.
Iuso appreciates the recognition from FirstLight. She also knows there's more to success than any franchisor can provide. "They give me great support. One of the reasons you buy into a franchise is branding, but they're not building a brand name for you," she says. "A franchisor is only going to give you the information they have. It's up to you make it happen."
That means marketing. "One thing I've noticed is that even though they had the readymade book for Marketing 101 and guide you in what to say and what not to say, you have to find the marketing methodology and referral sources that work best for you," she says. What works for Iuso is showing up in her marketplace--but in a focused way, and after doing extensive research. "You have to know your market--who's out there," she says. For example, when she started with FirstLight, she "went out to the masses." That didn't work very well. "There's no way it's effective for me to go to a gazillion places a week and get one referral."
Instead, she stays focused on what's going on in the industry, educating herself on the market, and understanding the demographics in her territory. Should she focus on long-term care? Seniors? Disabled adults? "There are a lot of knee surgeries going on, so I looked there," she says. To help her achieve her goals, she's now hired a marketing person.
"The most important thing for me is just putting myself out there and really enjoying what I do," she says. "If you're going to get into a franchise, you have to love what you're going to do." And, she adds, "Get people who love what they're doing under you."
Smashburger
SunWest Burgers
Staying Ahead of the Game
Smashburger is the newest venture for a restaurant group with origins tracing back 50 years to a Yreka, Calif., family franchising Sambo's restaurants. And it's a big venture: 30 Smashburgers in 7 years in the Maricopa County/Greater Phoenix area.
When the agreement was announced in January 2009, SunWest was Smashburger's fourth franchisee, which earned them membership in the brand's "Founders Club" (reserved for the brand's first five large franchisees). In two years, the group has opened eight units: the first in October 2009, the eighth this past February.
The franchisee, Sunwest Burgers, is a subsidiary of Phoenix-based SunWest Restaurant Concepts, and has three partners: David Doty (managing partner), Robin Yoshimura, and Chuck Riske. At the parent company, Doty is CEO, Yoshimura president, and Riske vice president of operations.
The parent company operates two other brands in the western U.S.: Jerry's Restaurants, which peaked at 40 locations, but now is down to about half a dozen; and the Black Bear Diner, started in 1995 in Mt. Shasta, Calif. Altogether, the organization operates 23 restaurants.
"We've been shutting down the Jerry's, keeping the profitable ones and converting others to Black Bears," says Kurt Riske, brand manager for the new venture (and son of Chuck Riske, who joined SunWest in 1986). Previously, he was the GM of three different Black Bear diners before being promoted to do training and local marketing. In essence, says the younger Riske, "I'm operations."
According to Smashburger, the award "identifies the franchise group that exemplifies excellence in all areas, demonstrating a drive for success, passion for the brand, extraordinary customer service, and attention to detail." Says Riske, "We're shooting for perfection every day, or close to it."
One big difference that sets his Smashburger group apart, says Riske, is the quality of the people he's hired to operate the restaurants. "Our guys are just so passionate about what they're doing. It separates us from the managers who collect their paycheck and go home. They breathe Smashburger daily," he says.
One interesting twist: he's hired longtime friends to operate the restaurants. "There are plenty of people you can interview, but once you get them started, they might turn out to be lazy, or not have the management style you're looking for," he says. "When you're hiring your friends, you know who they are."
In fact, Riske has hired three of his five "best friends in the world" who, he says, are motivated and doing a great job. "Several I've known for 15 years. I know their work ethic," he says. "The people I have working for me really go above and beyond to make sure the product's right and the customers are taken care of. They have the same attitude as I do."
In some ways, Riske says working with his best friends is great fun. However, he says, they have it tougher than some of the other managers. "I let them know when they hired on that they were jumping in front of people, and that I would write them up if they're not performing. They haven't let me down so far."
The value--and importance--of teamwork is big for Riske, who played baseball in college and in Europe. "I'm very team-oriented. That's how I run my business." He sent all his GMs to all the other restaurants, before starting in their own, to see the differences at each--and be able to pitch in at other units if needed. "We're a complete team," he says.
Riske says he pays his managers more than other QSR businesses in the area. Managers also can earn a monthly bonus of up to $750, depending on secret shops, cost of labor, sales projections, ticket times, safety audits, etc. Most come close to the full bonus amount each month, he says.
He also likes his GMs to manage, not to perform the jobs of the people they're supposed to be managing. "I'm thinking three, four, five pitches ahead," he says, and expects his managers to do the same. In early 2010, he says, "I was frustrated with my team. Managers were running around getting food, not staying ahead of the game."
So he created a guide for them and called it "Staying Ahead of the Game"--his response to the nagging question he'd been asking himself: "How can they know what I know so they don't make the same rookie mistakes I made when I was a manager?" Once he'd learned the ropes, says Riske, "I never walked into a restaurant without a plan. The day will always throw you a curveball--something is likely to hit you that day, someone calling in..." His goal is to have managers complete their morning tasks by 9:30 a.m., leaving them 30 to 45 minutes to help with prep if needed (the restaurants open at 10 a.m.)
Community involvement, of course, also is a big part of winning the award. "I think it's very important," says Riske. That involvement includes golf tournaments, schools, charity nights, and "Percentage Days" where he works with local organizations who receive 25 percent of that day's sales. And he's still involved with the group's two other brands in community fundraising and marketing, though he's shifting away from that as the group's Smashburger count rises. "People want to spend their money where it's helping the community,"
Published: June 8th, 2012
Share this Feature
Recommended Reading:
Comments:
comments powered by

Disqus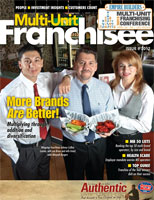 Multi-Unit Franchisee Magazine: Issue 2, 2012
Freshslice Pizza has been carving out a name for itself with 0% Royalty Fees and 0% Advertising Fees. This and a low investment cost helps Make...
Cash Required:
$60,000
Brain Balance has 80 centers nationwide and continues to grow with global expansion on the horizon. Brain Balance offers a drug-free program designed...
Cash Required:
$125,000