Sports Master: Retired Baseball Pro Pays It Forward as a Franchisee
Derek Tate has been involved with sports as far back as he can remember. "I've played sports, coached in sports, and now at Soccer Shots I get to help a new generation fall in love with sports," says the 38-year-old former minor league baseball player and multi-unit Soccer Shots franchisee in Santa Barbara, California.
Tate was talented enough to make it as a pitcher in college at the University of San Francisco. In 2004, he was drafted by the Toronto Blue Jays in the MLB draft. He was with the organization from 2004 to 2006, where the lefty was primarily a relief pitcher. He then transitioned into coaching and has worked in sports at the collegiate, secondary, and youth levels. Perhaps one of his most famous coaching assignments was when he was a pitching coach at Florida Gulf Coast University. He spent one season working directly with Chris Sale, who went on to become a star pitcher with the Chicago White Sox and the Boston Red Sox. Tate's efforts at helping the young pitcher fine-tune his craft were documented by ESPN The Magazine and the Boston Globe in 2017.
When playing turned to coaching, he found he had a real passion for working with kids in youth sports. He discovered Soccer Shots, the children's soccer franchise that focuses on character development, and opened his own Soccer Shots Santa Barbara in the fall of 2019. Today he has 8 sites where he carries out the brand's mission.
"What's great about the franchising model is it gives me the chance to scale a business without having to build it from scratch," he says. "We just had our best month yet and we're focused on executing our plan each and every day."
There are similarities between playing baseball and being a business owner, says Tate. "In baseball, you have to be willing to put in the work to become better," he says. "I brought that mentality from sports into the business world." A strong work ethic and confidence in yourself, he says, will breed success both on and off the field.
The entrepreneur sees himself as a "big-picture guy" who has a vision for where he wants his business to go. He says his management style is "hands-off," and he hires the best people he can find, shares his expectations, and gives them the tools they need to do the job.
In 2020, Tate says he'll be looking to grow and expand Soccer Shots beyond his Santa Barbara base and be on the lookout for new partnerships and other ways he can help establish the brand on a wider scale.
Name: Derek Tate
Title: Owner
Company: Soccer Shots Santa Barbara
No. of units: 8 sites
Age: 38
Family: My amazing wife Candice and beautiful baby boy and girl twins, Johnny and Isla. No family is complete without their dog, and we are no exception with our dog Cooper.
Years in franchising: 1
Years in current position: 1
Personal
First job:
Professional starting/relief pitcher for the Toronto Blue Jays.
Formative influences/events:
The biggest influences in my life are my wife, parents, grandfather, college coach, and my former boss.
Key accomplishments:
I would say some of my key accomplishments were getting drafted to play professionally, earning Baseball America's recognition as Newcomer of the Year, and earning recognition from ESPN The Magazine and the Boston Globe for my work coaching Chris Sale.
Biggest current challenge:
Hiring and leading a team to implement Soccer Shot's great service to Santa Barbara County. I'm working with some great individuals, namely Omid Eibagi and Troy Mathew, who are doing a wonderful job building our team, developing our culture, and creating partnerships with our local community. I'm working to find the best ways to be most effective while balancing how to support them to do their best.
Next big goal:
I want to maximize the potential that Soccer Shots has in Santa Barbara and Central California. Our team has expanded with a variety of community partners, and our goal is to continue making inroads with key partnerships and establishing the brand on a wider scale.
Best business decision:
Becoming a franchisee. The support our franchisor provides and the greater Soccer Shots network has been incredible in helping us get started. I've been an entrepreneur for 5 years, but this is the first time I've felt this much support, and it's really starting to show. We just had our best month yet! Moving forward, we've set some high goals, and we're focused on executing our plan every day.
Hardest lesson learned:
You can't take everything and everyone with you. There have been some great opportunities and people I've worked with, but you can't always move someone forward who doesn't want to keep going. As an entrepreneur, I'm always ready to go a little further, but you need to surround yourself with people who will build that mentality up with support.
What's your passion in business?
I love sports and helping kids. Soccer Shots allows me to combine both and focus on getting kids active in sports, while also developing character-building skills.
How do you balance life and work?
My wife! She is amazing! We just had twin babies, and we own and operate three different businesses. The work/life balance is always a challenge. Communication is the key. Having set times to sit down and go through the schedule, plans, and all the moving parts is critical. There are some things that we are still figuring out. But we are a team and working together to balance it as best as we can.
Guilty pleasure:
I watch way too many San Antonio Spurs games.
Favorite book:
Jamberry, by Bruce Degen. It's a children's book my wife and I are currently reading/singing to our kids.
Favorite movie:
"Major League."
What do most people not know about you?
That I cook from scratch five to six nights a week.
Pet peeve:
Loud breathing. (I know, I'm working on my patience.)
What did you want to be when you grew up?
Baseball player.
Last vacation:
Seville, Spain. Candice and I spent 10 days there, and I highly recommend it to anyone who is into architecture, tapas, jamon, history, and flamenco dancing!
The person I'd most like to have lunch with:
I'm anxious for my kids to be big enough to sit in a high chair and ask me to make them pancakes.
Management
Business philosophy:
To hire great motivated people.
Management method or style:
Solution-oriented. I'm a big picture guy. I'll be the one to paint the outline, but I trust the amazing people I've hired to fill it in. I've learned through Soccer Shot's training the need for a visionary/integrator leadership team. I heavily skew toward visionary.
Greatest challenge:
Probably the same as any small-business owner: working capital.
How do others describe you?
My team would describe me as achieving the right amount of "hands-off" managing. I do have high expectations, but I give my team the tools to meet those expectations. Even though I have a hands-off style, I am comfortable jumping in when needed.
One thing I'm looking to do better:
I'm currently working toward becoming a better communicator. More candid, clearer messaging, and laying out a clearer plan for each quarter.
How I give my team room to innovate and experiment:
Each leadership team member is asked to create their own plan and goals. Each week we go through our internal operating meeting and lay out our responsibilities. Each team member is accountable for their department and their goals. The innovation comes from the necessity to solve problems, problems we all identify and solve together.
How close are you to operations?
It's almost daily. We go through a formal weekly reporting process, but Troy, Omid, and I are in communication almost every day.
What are the two most important things you rely on from your franchisor?
Soccer Shots does an amazing job supporting their franchisees. Of the variety of things they do to support us, two areas stand out to me. One is the internal operating system, which is extremely impressive. They have strong existing processes and systems that help our team management process. Our workers are able to stay organized, set goals, and stay on track with their tasks. The other is the community built at Soccer Shots. I can easily connect with other franchise partners who have been where I am now and have solutions for problems I am facing. The other franchise partners are a resource, and that is a credit to the success and culture of Soccer Shots.
Sports & Business
What skills/experience from sports have carried over to operating a business?
I've never lost my work ethic. When I was playing baseball, I was always willing to put in the work to become better. That mentality has followed me into the business world. In baseball, I had to have faith in myself. It's not enough to just go out there and put the work in, you need to be confident in your ability. I've found that to be a huge help in the business world as well.
Which do you find more competitive, sports or business?
They are both equally competitive in terms of effort. The competition isn't external, it's internal. You are competing against yourself. My coach once told me that you are always competing against your daily routine. Each time that you beat the routine, you are better for it.
Why did you choose franchising as an investment option?
Franchising was the best of both worlds. It offered the chance to scale a business, but it doesn't force you to build it from scratch. I met with the Soccer Shots leadership team and they had clearly built a great service for kids and a great culture.
How did you transition from sports to franchising?
Technically, I've never left sports. Since I was a little kid chasing a baseball, I've been involved in sports. I've played them, coached them, and now I get to give a new generation a chance to fall in love with sports.
What was your greatest achievement in sports, and what has been your biggest accomplishment as a franchisee?
As much as sports are a huge part of my life, it is easier to determine my greatest achievement in my playing career because those days are over. I'd say my biggest achievement was playing professionally. I was never sure if I would make it to the pros, and by doing so I've exceeded expectations. It's much harder to say that I've reached my greatest achievement in franchising. I'm just getting started and am looking forward to surpassing any goals that I set.
Bottom Line
Annual revenue:
N/A.
2020 goals:
For 2020, we're going to continue to grow and expand toward the north of Santa Barbara and beyond. We want to secure 20 new partnerships and as well as achieve an equal number of public programs to private programs. By leveling our public-to-private ratio, we can help a greater number of kids from a larger diversity of backgrounds.
Growth meter: How do you measure your growth?
Through the number of children we have helped in the area. As that number continues to rise and we can help more and more children fall in love with sports and build their character, that is the foundation of our growth.
How do you forecast for your business?
We've been able to grow successfully in the area and are ready to begin moving further and further out. With how well our price points have merged into the various communities, we can see our growth potential continuing to improve.
Published: March 31st, 2020
Share this Feature
Recommended Reading:
Comments:
comments powered by

Disqus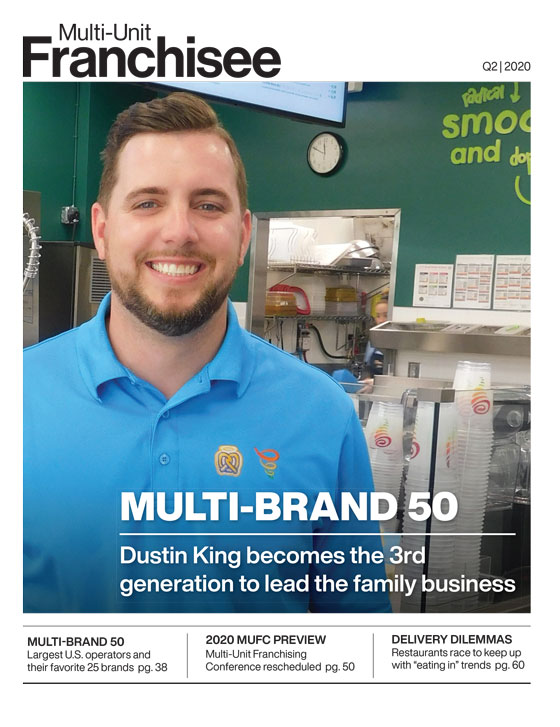 Multi-Unit Franchisee Magazine: Issue 2, 2020
Anytime Fitness makes wellness approachable for millions of members and gives franchisees the opportunity to be a part of a worldwide family of...
Cash Required:
$225,000
Cicis is an iconic, modernized restaurant that pushes the limits of the regular family dining experience. With unlimited opportunities for revenue,...
Cash Required:
$250,000