Brand Champion!: Pizza Patrón Franchisee Buys the Whole System
Charles Loflin first met Antonio Swad in 1997. Swad is the entrepreneur's entrepreneur, the founder of Wingstop and Pizza Patrón. The two men hit it off and began communicating about the possibility of Loflin opening some Wingstops in his home state of Texas. Within a year, he had opened his first, in San Antonio. Since then he has built an empire of 70 Wingstops in Texas, New Mexico, and Arizona. But it was the move Loflin quietly made late last year that has turned heads.
Loflin and Swad remained close over the years. Loflin had added Pizza Patrón stores to his portfolio and last December decided to go big: he purchased the entire 92-unit Pizza Patrón system from Swad. Eleven of the brand's units are company-owned and Loflin operates 33 himself, with locations in Dallas, San Antonio, and Phoenix.
"I am committed to both brands and their growth," he says. "Purchasing the Phoenix area Pizza Patróns made great sense to me and my company because we were already growing the Wingstop brand in Phoenix." In addition to owning the brand outright, Loflin also owns the development rights for the state of Arizona where he currently has 15 locations in Phoenix, 5 in Tucson, and 1 in Yuma. "I built a 3,200-square foot office for my team in Phoenix last summer and have an office person and a marketing person in the office full-time," he says.
Loflin believes his organization is the right partner to run these stores andto operate the brand as franchisor. "The infrastructure and the knowledge are there. We just have to execute like we always have," he says.
When we last profiled Loflin in Q4 2013, he had just entered the Phoenix market with the Wingstop brand. He was the first franchisee to take Wingstop outside the Dallas market and was keeping all 35 of his units humming along. He's now doubled his number of Wingstops to 70, while operating 33 Pizza Patróns in addition owning the brand.
A native Texan, Loflin is familiar with the Hispanic consumer and culture. "It's a dynamic and growing demographic and I understand their love of the Pizza Patrón brand," he says. And while he has no plans for major changes to the product line, he hopes to add some technology improvements to enhance the efficiency of the business. For example, he'd like to add online ordering and an app for the brand's pizza-loving customers.
Nearly tripling in size during the last four years and becoming a franchisor to boot, there's no telling what lies ahead for Loflin. The multi-brand franchisee and franchisor never sits still: when we spoke he was in the middle of opening another six Wingstops.
Name: Charles M. Loflin
Title: CEO
Company: Pizza Patrón and San Antonio Wings
No. of units: 70 Wingstops, 33 Pizza Patróns (and the entire 92-unit brand)
Age: 48
Family: Wife of 25 years and 2 children, daughter 14 and son 11
Years in franchising: 20
Years in current position: 20
Personal
First job:
Washing dishes at a full-service restaurant. This is where the love of the food business started for me. I loved washing dishes. There was a task and a beginning shift and an ending. I could get instant gratification washing dishes and knew when I did a great job.
Formative influences/events:
Antonio Swad, founder of Pizza Patrón and Wingstop. My mother who raised me and my sister.
Key accomplishments:
My wife and my two children.
Biggest current challenge:
Spending quality time with my family.
Next big goal:
To grow the Pizza Patrón brand into something special.
First turning point in your career:
After I built my third Wingstop.
Best business decision:
To buy into Wingstop and then Pizza Patrón.
Hardest lesson learned:
Learning to trust and rely on others.
Work week:
50 hours.
Exercise/workout:
I need to get back into a routine. My son plays competitive basketball and I help coach, so that helps a little.
Best advice you ever got:
One was to look people in the eye and shake their hand. Another was to listen and treat people how you wanted to be treated. I try to treat people as equals and encourage working as a team. It has made me very successful for the last 20 years.
What's your passion in business?
The quality of our food and service. Developing the younger generation into hard-working people.
How do you balance life and work?
It is tough, but I do not work weekends and try to be home by 5 or 6 most nights.
Guilty pleasure:
Cars and our lake house.
Favorite book:
Don't have one at the moment.
Favorite movie:
"The Hunt for Red October."
What do most people not know about you?
I like to have fun. If I am not working I am with my family. I love the Dallas Cowboys and the San Antonio Spurs.
Pet peeve:
Not telling the truth and not trying in life. We are all here for a short time and we need to make the most out of what we were given. I do not mean by building an empire. Figure out your passion in life and fight to keep that fire burning for it.
What did you want to be when you grew up?
After I washed my first dish and I smelled the back of the house I knew I would always be in the restaurant business in some capacity. I have worked hard and smart to get where I am today, but I had a lot of smart and caring people along the way guiding me and having the faith in me to join me on this ride.
Last vacation:
Germany, Switzerland, and France.
Person I'd most like to have lunch with:
It still would be my grandfather!
Management
Business philosophy:
Work hard and smart. Do not have lazy tendencies and treat people fair. Know that you need your guests, vendors, and employees to get to the finish line. You cannot have one without the other.
Management method or style:
Give people the tools they need. Tell them when they are doing good or bad and guide them when needed. I am not one who hides my feelings too easily. I'm always working on getting better but it is probably my biggest personal challenge.
What are the two most important things you rely on from your franchisor?
Honesty and integrity.
What I need from vendors:
Same as above.
Have you changed your marketing strategy in response to the economy? How?
Yes, we live in a digital age and the Millennials want everything fast and online or on their smartphone.
How is social media affecting your business?
Greatly through online ordering.
How do you hire and fire?
Hire slow and fire fast. I am not in that position any longer where I do the day-to-day hiring and firing but sometimes you still get involved. I hate letting someone go but it is part of life when they are not meeting their potential.
How do you train and retain?
We have programs in place and keeping hard-working, honest employees engaged and communicating openly has helped us greatly. We still have a lot of work to do.
How do you deal with problem employees?
Communicate first their weaknesses and remind them why we are here in our company. Explain to them our goals and determine whether they want to be on our planet. If they do not, we will work together to get them on their planet.
Fastest way into my doghouse:
Lying, treating a guest poorly, dishonesty, or messing with our food. These have always been non-negotiable in my life.
Bottom Line
Annual revenue:
NA.
2017 goals:
Rebrand Pizza Patrón and grow a healthy franchise business model. Continue to develop Wingstops in the markets I am in. We have 6 under some sort of construction at this time.
Growth meter: How do you measure your growth?
By people and their success within our organization.
Vision meter: Where do you want to be in 5 years? 10 years?
In 5 years, have 400 Pizza Patrón franchises and 100 Wingstops. In 10 years, have over 1,000 Pizza Patróns.
How is the economy in your regions affecting you, your employees, and your customers?
It's great in the states and markets we are in (Texas, New Mexico, and Arizona). I do not get caught up in the economy much. If you have a great product and a reasonable price your guests will come.
Are you experiencing economic growth in your markets?
Absolutely.
How do changes in the economy affect the way you do business?
If it changes you just make sure that you're on the right track to take care of your guests' needs.
How do you forecast for your business?
We do not forecast at the present time. We work on the fundamentals and feel the rest will take care of itself.
What are the best sources for capital expansion?
I have a great lender who saw the vision in both brands and believes in me and my growth over the years. He is in a unique position in the restaurant industry. We have also become friends over the years, which was nice for me. You can never have too many!
Experience with private equity, local banks, national banks, other institutions?
I have not.
What are you doing to take care of your employees?
All of the standard things like vacations, a 401(k), meals, and so on. We promote and train from within when we can, plus we have a great incentive program for all employees, including cooks and cashiers. When the stores' sales are good we all share in the success. I have done this forever and truly think it is a huge part of our success.
How are you handling rising employee costs (payroll, minimum wage, healthcare, etc.)?
It is difficult and unfortunately, with rising costs you have rising menu prices. We try to keep the prices down but at times you must raise them.
What laws and regulations are affecting your business and how are you dealing with it?
None at this moment.
How do you reward/recognize top-performing employees?
The normal way, with bonuses and raises at times. I have been known to buy a trip or two over the years. I think a big part for people is just knowing they work for someone with honesty and integrity and knowing the vision.
What kind of exit strategy do you have in place?
I do not have an exit strategy at this time. I would like to work for a while but my wife and I love to travel, so as soon as my youngest is off to college I would like to work a little less. I have 6 years until that happens.
Published: June 2nd, 2017
Share this Feature
Recommended Reading:
Comments:
comments powered by

Disqus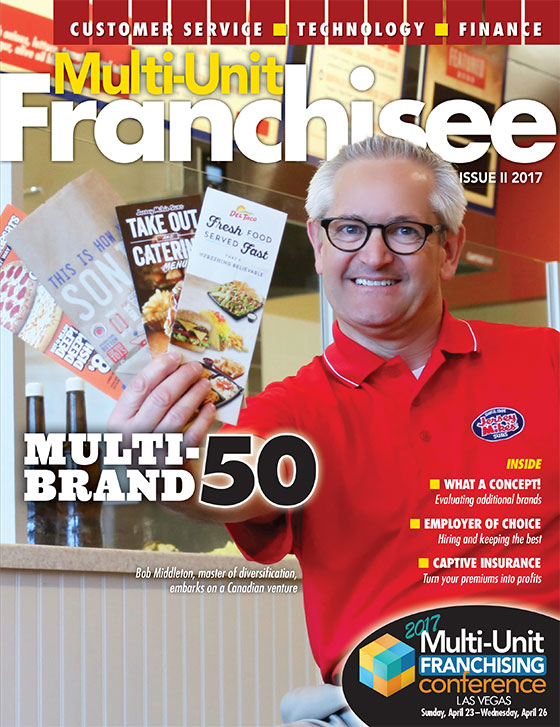 Multi-Unit Franchisee Magazine: Issue 2, 2017
Own a franchise that takes you to the "Bayou" every morning and gets you home for dinner every night! Operating Hours 7 AM – 3 PM!
Cash Required:
$350,000
Salata is a 90-plus unit, built-to-order salad and wrap kitchen providing quick, healthy meal options. Known for excellent customer service, the...
Cash Required:
$300,000