Capital Alternatives: Understanding Your Options
Financing and capitalization alternatives for established franchisees have become more varied and complicated over the past several years. Traditional capital using straight senior financing and embedded equity or external equity capital has evolved to become only one of many alternatives for companies looking to grow.
Before considering alternatives, owners should have a firm understanding of their business's goals and growth strategies, including generic growth plans, remodeling projects (required and elective), and opportunities to expand through acquisitions.
Understanding the differences between the various types of lenders and capital providers can help borrowers pinpoint which alternatives might be best for their business. It is also important for borrowers to perform their own due diligence on prospective lenders and capital providers. Industry experience, franchisor recommendations, and fellow operator references are all critical when evaluating funding sources.
Regulated senior lenders are still the most common type of capital provider among tier-one franchisees and established brands. While pricing is attractive, underwriting standards are tight with minimal flexibility on pro forma adjustments outside of the normal course of business. Lease adjusted leverage (LAL) is the primary financial indicator used to measure borrowers, and clients must tightly manage covenant compliance. The maximum LAL is typically set at 6x leverage for accredited borrowers, with tighter requirements as size and credit risk change. Underwriting conditions also can change based on portfolio stress within the bank. This can cause lenders to tighten their underwriting standards, which leads to more onerous diligence requests and extended timetables for approvals and amendments. Amortization with a regulated senior lender can range anywhere from 7 to 20 years depending on the mix of owned and leased real estate assets. Most traditional senior loan facilities also include a development line of credit typically used to access capital for remodeling and new development. A hedging instrument, such as an interest rate swap, is also generally required to fix part of the rate for variable rate loans. A regulated senior credit facility may be the right choice for franchisees with modest leverage and growth plans and no major anticipated changes in the business.
Unitranche lenders can provide some attractive features such as limited amortization and a larger advance rate, but at a cost. From a leverage perspective, borrowers are generally measured on straight leverage basis (debt/EBITDA) rather than an LAL, and advance rates on EBITDA are between a half and one turn higher. As mentioned, pricing is significantly higher in comparison with senior lenders, but given the lower amortization total debt service in most cases approximates regulated senior debt. Unitranche lenders are typically most appropriate for franchisees in a rapid growth mode, are experiencing challenges in their business, or who are having trouble maintaining compliance with their existing senior lender. Unitranche debt is significantly less expensive than equity and can provide a great bridge for companies with a higher leverage profile.
Mezzanine debt lenders can fill a gap if there is a difference between the level of equity and the level of debt a senior lender is willing to advance. Typically, mezzanine lenders have a minimum loan requirement of $10 million and expect a low to mid double-digit return. Warrants are also sometimes included. Mezzanine facilities have become less relevant as unitranche lenders can typically provide a less expensive and simpler alternative by combining senior and mezzanine facilities.
Real estate alternatives. The sale/leaseback market is another financing alternative for franchisees in need of short-term liquidity. In the long run, most franchisees would be better off owning their real estate to hedge against changing business conditions, but the sale/leaseback market can be an effective tool if needed. Companies should, however, be cautious about selling all their real estate on the sale/leaseback market. It is generally best to look at this as part of a capitalization strategy, not a sole solution. Over time, burdening the operating business with escalated rents can put pressure on covenants like LAL with regulated senior lenders, especially with a brand downturn. Also, lenders will also provide better credit terms when real estate is included in the collateral package.
Family offices and private equity. High-growth opportunities, acquisitions, and new brands often require additional equity to strengthen the balance sheet. The two primary equity sources supporting franchising are family offices and PE firms. Generally, the primary difference between family offices and PE groups is their investment horizons. Family offices typically invest in businesses for the long run, whereas PE firms generally have a more limited timeframe of 5 to 7 years. For this reason, franchisors typically favor family office investors as they provide more stability over a longer period than their PE counterparts.
While franchisors may prefer family offices over PE firms, PE investors are still the most prevalent equity investor in both independent brands and large franchisee businesses. It is important to note that PE firms come in all shapes and sizes. Companies should look for PE firms that invest in people and businesses and are not just out for short-term financial returns. There are more PE firms looking for franchise opportunities than ever before. Do your homework and make sure an equity firm is a good fit before bringing them on.
Conclusion
Choosing a capital structure can be as important as choosing the right brand. It is often helpful to engage with a knowledgeable third party to help wade through the options and secure the capital your business needs.
Carty Davis is a partner with C Squared Advisors, a boutique investment bank that has completed hundreds of transactions in the multi-unit franchise and restaurant space. Since 2004 he's been an area developer for Sport Clips in North Carolina with more than 70 units. Contact him at 910-528-1931 or carty@c2advisorygroup.com.
Published: October 23rd, 2019
Share this Feature
Recommended Reading:
Comments:
comments powered by

Disqus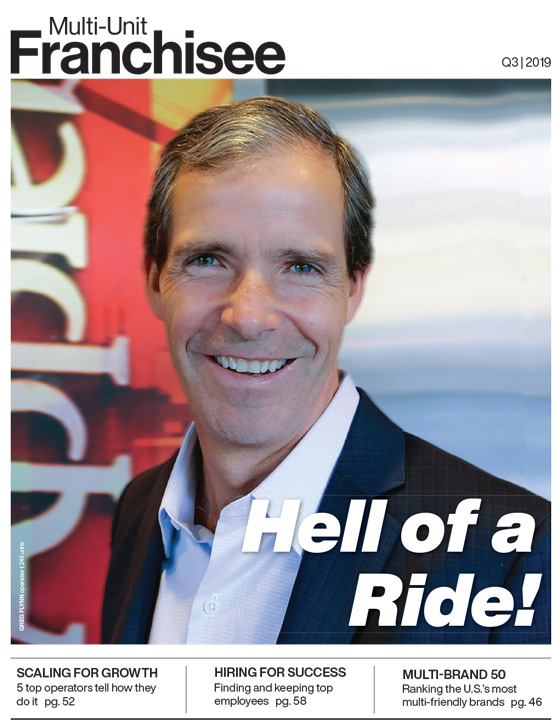 Multi-Unit Franchisee Magazine: Issue 3, 2019
Join the growing $811 Billion grocery industry. Save A Lot is the nation's leading independent grocery chain. Our proven licensed model provides the...
Cash Required:
$300,000
Senior Care Authority® is a leader in senior care options, eldercare franchises, and advocacy services. Contact us to start your senior care...