Cash Flow: The time to manage better is now
Check your business for these 20 danger signals!
To most financial advisors, convincing their clients of the absolute necessity of maintaining a sound financial system and cash controls—and the need to consistently review, evaluate, and plan—is about as easy as selling first aid. Everyone knows it's there, but we can always "do it later." Besides, "It won't happen to me." Or, "So what? I don't have any control over all that stuff."
You're right, you don't. However, what does this mean for individual businesses? The loud and clear message here is "manage better." When there's less room for error, you must do a better job.
As business owners, we have faced the ups and downs of economic cycles—and probably always will. In addition, technology and social changes have drastically affected many individual industries, not to mention both foreign and domestic competition. The devastating impact of the Great Recession is just the most recent example.
In a positive, expanding economy, the primary focus is on sales as an easy indicator of success or failure. Business owners and managers devote relatively little time to efficiency and control, and virtually no effort is made to manage the balance sheet. Then, when the economy changes (as it always does!), or competition enters the scene –or both—profits are squeezed and volume declines. Prices are lowered in an effort to bolster sagging volume. Lower prices translates to lower margins—lose a little on each sale and make it up on volume. High leverage makes debt harder to service and increases interest expense. Suddenly, the areas of control and management become key focal points. In a recessionary or changing economy, survival becomes the key issue and cash flow is king. Emphasis switches from profits to cash flow and the highly leveraged, inefficient firms become statistics.
If you've ever attended a Profit Mastery session live or watched our online videos, you know that our primary message focuses on the importance of establishing, maintaining, and using financial controls. In times of rapid growth, I don't get many calls for articles on "cash control." As I said, the emphasis is on sales. When the economy turns or the competition gets tough, I get lots of calls, but there's a problem: for many businesses, it's too late. Inefficiency on the way up has severely drained cash flow and many possible courses of action have been eliminated. Enter a whole new chapter: Chapter 11.
Again, it means the same to you as a business owner: manage better. Run the company lean and mean. Many of you know that I am very partial to the concept of "cause and effect." The cash crisis that we're talking about here is simply the effect of a poor control system, inattention, and/or lack of discipline. We need to answer the question, "Where does the cash go?" For many years, I've used a simple "pitfalls" checklist to identify early warning signals that the cash flow train is vulnerable to derailment.
As ye sow…
In business, owners often get trapped because they don't heed the messages their business sends and don't pay attention to basic principles. The accompanying checklist represents a clear set of danger signals—situations and issues—that have a clear and negative effect on cash flow. Take a few minutes under the harsh, cold light of reality to ask yourself how many of the following danger signals exist in your business, and then evaluate carefully their implications.
Cash Flow Checklist

An excess of unsold inventory
Customers not paying their bills on time
Tax obligations generally late, and getting later
Writing business checks for personal expenses
Bank loan overdue
Paying suppliers late, and getting later
Paying bills too early
Poor controls, presenting the opportunity for theft
Showing profits, but having no cash
Seasonal slump (or boom) creating cash shortage

Buying lots of fixed assets (like trucks)
Bank statement reconciled only once a year
Missing most supplier discounts
Excessive interest expense from high loans
Expenses rising dramatically from past years
Financial reports only prepared once a year
Bad debts increasing
High-moving items always out of stock, always a "crisis"
Payroll checks written late
No lawyer or accountant
Perhaps the greatest dangers of all: not having adequate records and/or financial skills to be able to answer all of these questions—or worse, not having any questions to ask! Do you know where your employees and customers are at this very minute? Without adequate controls, they're stealing you out of house and home.
The danger signals listed here can creep up on you, even in the good times. The only successful strategy I know is a combination of planning, control, and attention. Successful business owners practice discipline every day so they're always prepared.
Remember this: good times don't last, but neither do the bad ones. When things change, you need to be like a good Boy Scout: prepared. So we know planning is the vital element, especially when we're talking about cash flow. Danger signals are just that: signals. The longer you wait, the fewer options you will have. Now is the time to gain control and keep it. By using the cash flow checklist, you'll take positive steps toward being a survivor, not a statistic.
Protect your cash flow lifeline and your business will survive and prosper. Remember this: you pay taxes on net profits, but you eat on cash flow.
Steve LeFever is the founder and chair of Business Resource Services, Inc. (BRS), a Seattle-based consulting firm that provides financial management education, network benchmarking, performance group facilitation, and bookkeeping services for closely held businesses under its Profit Mastery brand. Learn more at www.profitmastery.net. or contact him at 800-488-3520 x14 or lefever@brs-seattle.com.
Published: January 6th, 2014
Share this Feature
Recommended Reading:
Comments:
comments powered by

Disqus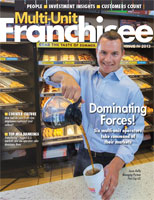 Multi-Unit Franchisee Magazine: Issue 4, 2013
Genghis Grill, the nation's leading create-your-own bowl concept, offers guests broad appeal and caters to various flavor preferences and...
Cash Required:
$750,000
A business-to-business franchise opportunity for executive entrepreneurs! AlphaGraphics is now celebrating 52 years of history, and is recognized...
Cash Required:
$125,000