Challenge the Pros: Measuring the ROI from your Annual Franchise Recruitment Budget
How do you measure the ROI from your annual franchise recruitment budget?
Scott Mortier
President
The Franchise Whales
To measure the ROI, you have to really know what you're looking for. At Franchise Whales, instead of focusing on cost per lead, which is the standard among most franchise development executives, we focus on the cost per closed sale. Leads are great, but your cost per lead really isn't always directly reflective of any return.
The higher the quality of the lead, the better. I would much rather pay $100 per lead and convert 30 percent than pay $10 per lead and convert only 5 percent. The time and money associated with following up leads that don't convert isn't included in your budget, but it can be a significant drain.
A good rule of thumb is to have your franchise fee set about five times the cost per sale. From personal experience, we average a slightly higher return because, through decades of experience, we've been able to put the most effective marketing components in place. Without the right processes in place it can be easy to lose track of where your leads are coming from.
To understand how much you're spending to capture leads, it's important to break down your marketing components. With the franchise brands I work with, I tend to break recruitment budgets into three verticals: franchise portals, digital marketing, and public relations. Each category receives about a third of my overall sales budget.
Franchise portals are pretty self-explanatory and easy to follow in terms of lead spend. With digital marketing, we've seen the highest return on investment and it is the easiest to track. We've experienced incredible success using Franchise PPC by Conversion Whale and its franchise-specific brand of pay-per-click marketing. Its online dashboard allows us to know where leads come from and how much we're paying for each.
The third vertical, public relations, is the hardest to track because it is very difficult to know what article or news segment made a prospect want to learn about your brand. That's where your digital marketing efforts come in. If your PR efforts have led potential leads directly to your website, your content-rich franchise opportunity page will be what helps educate them about your brand and gives them the motivation to reach out and talk to you.
Your recruitment spend is an investment in your brand.
David Leonardo
Senior VP for Franchising
Pet Supplies Plus
At Pet Supplies Plus we look at a number of options to help us measure the ROI on our annual franchise recruitment budget, but primarily we look at two factors. The first is the cost per close. Second is the lead-to-close ratio.
Cost per close is a metric we take from the total marketing dollars spent in a specific channel and calculate how many deals we close from that channel. This is a pretty self-explanatory concept, not as complex as the second item we like to focus on. In this instance, it's very straightforward: we are measuring how many deals we are able to close by spending "X" amount of dollars in a given market.
Regarding the very important lead-to-close ratio, many people focus solely on simply generating leads. While this may be effective for driving lead numbers, it may not always be the best strategy for positive conversion rates. For example, we can pay for leads every day, but if we aren't getting quality leads, it won't do us any good.
Granted, the size of our investment also can determine what criteria we look at. Given our investment level, lead numbers are not as important as the quality of the lead. If we were with a less expensive brand, we might be more focused on the number of leads because more people could potentially qualify.
The quality of the lead is what really matters to us. If we see a channel that has a high lead-to-close ratio, we will spend more money and time in that channel to continue to close deals and expand.
To generate these quality leads, we've used several different outlets, including radio advertising and editorial spots, trade shows with multi-unit operators, and a strong network of national brokers who filter through qualified candidates before sending them over to us. What has not worked for us in generating quality leads are the online portals that farm out their leads to a number of franchisors before doing their homework up front to see if a particular candidate is interested in and qualified for a brand.
Although it can be difficult at times to measure the return on your franchise recruitment budget, this is a system that works for us, and we'll continue to monitor our returns through our cost-per-close metric and lead-to-close ratio into the foreseeable future.
Published: December 8th, 2016
Share this Feature
Recommended Reading:
Comments:
comments powered by

Disqus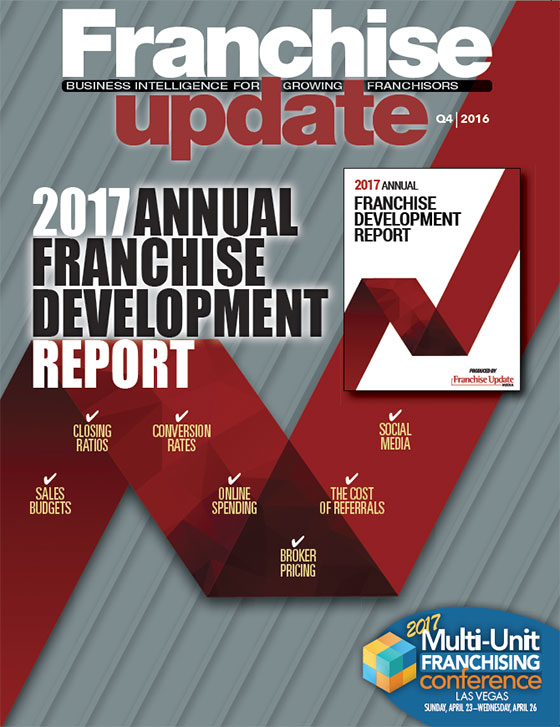 Franchise Update Magazine: Issue 4, 2016
Oct. 18-20, Atlanta, GA. An exclusive event for franchisor CEOs, Presidents, COOs, CDOs and Franchise Development Executives.
In 2022 Empower Brands emerged when Lynx Franchising and Outdoor Living Brands united. Empower consists of JAN-PRO, Intelligent Office, FRSTeam,...