Challenge the Pros: The Importance of Franchisee Validation as a Sales and Development Tool
Discuss the importance of franchisee validation and how you use it as a sales and development tool.
Michael Powers
Managing Director
Painting with a Twist
Unit franchise growth is the fuel that supplies life and sustainability to every franchisor's existence. Without significant annual unit growth, your brand and market share will eventually erode away while your growing competitors will gladly capture the excess and continue to grow their own brands. Simply put, you are either growing or dying. And in today's competitive franchise environment, the latter is not an option for any franchise organization.
Franchisee validation can heavily influence your development success, whether you're an emerging franchisor or a large established one. Conversely, a franchisor may employ alternative temporary strategies if they are not receiving positive validations from their franchisees. In any case, and with the proper relationship, getting franchisees to validate should be a willful act of genuine satisfaction with the franchisor and the brand they invested in. Most candidates weigh franchisee validation as heavier and more valuable than the home office pitch and presentation.
In my experience, a franchisor's preparation and intent to create positive validations has been the key to getting them. To earn honest and frequent validations, a franchisor must be properly aligned with its franchisees, must hear and resolve challenges that franchisees face, and have a constant focus on improving unit financial performance. The benefits of franchisee validation to the franchisor and the system go well beyond the validation itself.
Even if franchisee feedback is less than favorable for the franchisor, the act of encouraging conversations between candidates and franchisees exemplifies an openness and transparency between the franchisor and candidate at the onset of the process. Important constructive criticism will most likely be fleshed out in the process, and the franchisor then has the opportunity to rectify issues it may not have been aware of. With proper support and home office collaboration, a franchisor's worst critic can change their tune and become the system's best validator.
The purest lead conversion will come by way of franchisee validation. Strong validations also will instill more confidence in new franchisees during the early stages of opening and will set positive expectations from day one. The most valuable validations are not solicited or incentivized by franchisors--they are earned and deserved.
Cameron Cummins
Vice President Franchise Development
Marco's Pizza
One of the first things we tell our potential franchisees is that we do not sell a franchise. Rather, we present a business opportunity and let prospects see if our opportunity and our culture are a match for them. The word "sales" does not appear anywhere in our Marco's vocabulary for the simple fact that we are not selling a franchise. We view franchisee validation not as a sales process, but as an exploration process.
The key to franchise development is that it's all about the validation. Prospects need to fully understand what they are deciding to get into. They should be investigating and doing their own research on the business model, the franchisor/franchisee relationship, and specific roles and responsibilities. This is too important a decision to be "sold" to someone. Both sides have to do their own research to be comfortable that this partnership is the right fit, one in which both parties are going to prosper together.
The natural first step is to go to the franchisor for top-line information, but the vital information comes from those actually living out the role that prospects are interested in signing up for. The linchpin of deciding whether or not the role of a franchisee is the right fit is best answered at the franchisee level. Prospects expect corporate representatives to speak positively about the brand. What they need to be doing is speaking with the people they will be working with side-by-side and borrowing cheese from. This way they get the answers they need.
Franchisee validation becomes extremely important as a franchise development tool because it is a peer-to-peer discussion with the field team that is executing business on a day-to-day basis. It is our job to facilitate this learning process.
First, we ensure that they understand the FDD, have them fill out the application, and then move on to the next step, which is making sure they speak with someone outside the corporate office. During our discovery days we encourage prospects to speak with as many franchisees as possible--single-unit, multi-unit, new, veterans, etc.--and we work with them, based on their criteria, to identify and connect them with various owners and guide them with the hard-hitting business questions they should be asking.
Prospects are encouraged to learn from their own explorations so that when they do have meetings with stakeholders they can articulate what it is they are getting into and why. This education better prepares them for future success in growing their business.
Published: February 11th, 2016
Share this Feature
Recommended Reading:
Comments:
comments powered by

Disqus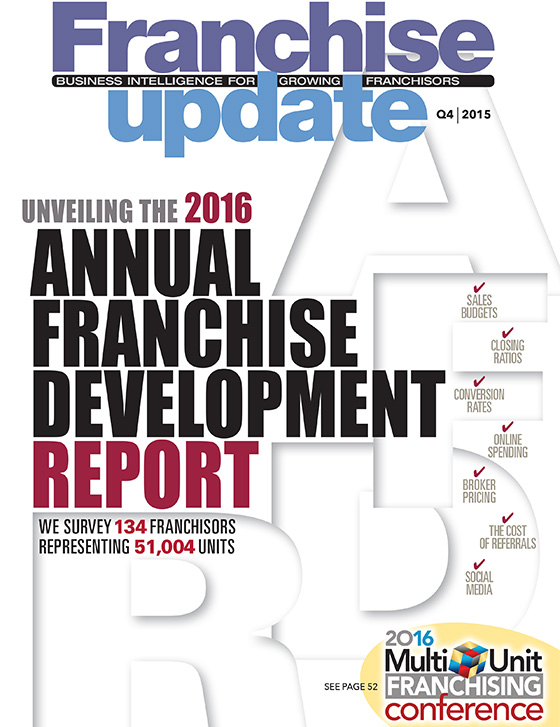 Franchise Update Magazine: Issue 4, 2015
Find the support you need to find success with your small to mid-sized business. Explore the PEO services offered by Integrity Employee Leasing.
ApplePie Capital provides a fresh new approach to franchise financing that is focused on your growth and success.