Connecting with Social Media: How to Identify and Target Your Customers Online
In April 2010, McDonald's helped cement the realization that if franchises want to continue succeeding in this consumer-driven world, they must get involved in social media.
According to Advertising Age, the hamburger giant ramped up its efforts by naming a director of social media, its first. The new director is tasked with using social media to build the business, manage customer problems, and beef up outreach to their target groups. This is exactly what every franchisee can--and should--be using social media to do.
Today your customers are online. They are connecting with their friends on Facebook, chatting up brands on Twitter, and spending quality time with companies through videos on YouTube. They are writing and reading blogs, listening to and participating in podcasts, and connecting on LinkedIn. If you want to reach them, you need to be there as well.
Where to start
Social media can seem overwhelming. But by taking the time to do your research, you can choose the networks that are right for you and your audience. The first place to start is to learn the difference between the different types of channels.
Social sharing sites. Think YouTube, Vimeo, and Flickr. Users share information of all forms on these types of sites, including written reviews, videos, photos, and more. You should know what's being shared about your franchise, and also jump in and start spreading this type of content about your location. YouTube is the second most popular search engine for a reason: your customers want this kind of information. So go ahead, give them what they want.
Social networking sites. Think Facebook, Twitter, LinkedIn, and MySpace. Basically, these sites build communities of users that share a common interest, hobbies, high school, favorite brands, you name it. They serve as a means for people to meet new people and to stay connected with friends, families, their favorite brands, and others. They also allow businesses to connect with other businesses or individuals. Communication is a huge part of social networking sites and includes tools such as email, instant messaging, and real-time posts on an individual's profile. Social networking sites are really where you get to connect with your customers.
Social news sites. Think Digg, Technorati, and Reddit. These sites allow users to share newsworthy information with other users. People submit photos, videos, news articles, blog posts, and more for others to view. Often, other users can vote on which pieces of newsworthy information they like most. The submissions with the most votes will usually appear on the social news site's front page, increasing the chances others will see it. So do you have a press release or a news article about your brand or a specific franchise unit you want to share? These are the places to do it.
Social bookmarking sites. Think Delicious, Diigo, BlinkList, and Simpy. These sites allow users to organize, search, and manage their favorite web pages online. Users can make their bookmarks public or choose to share them with just a few specific individuals or groups. Why not bookmark your website and social profiles?
Social review sites. Think Epinions, Viewpoints, Yelp, Omgili, and Buzzillions. These sites give consumers a platform to be heard. Users can submit reviews on specific products and companies, including advice, testimonials, and personal recommendations. It's important for you to monitor what is being said about your franchise on this site, and respond when appropriate. Don't worry, it's often good stuff. And when did it ever hurt to hear a little good news?
Find your target audience
The whole point of brands getting involved in social media is to connect with their target audience. Do you know where your target audience is? If you are a daycare franchisee and looking for potential new clients, take the time to research where busy moms and others are connecting online. Are you trying to drive people into your stores to try your new sub sandwich? Before you can effectively market to them through social media you must learn where those sub lovers are connecting online. Some great places to find demographics include Quantcast and Oneupweb's Pretty Good Scenario Survival Guide: Social Media, available at oneupweb.com.
Set up a strategy
One of the things many companies get entirely wrong about social media is that it's easy to set up and free to use, something your 14-year-old daughter can help you with. Please, don't make that mistake. Effective social media campaigns require a clearly defined strategy. You must determine what your goals are, consider the time and resources you have available to help you reach those goals, and understand how the social media campaign will be integrated into all of your other marketing tactics. And don't forget, you also need to determine how you will measure success. And remember, it's okay to ask for help.
Lisa Wehr is CEO and founder of Oneupweb, a digital marketing agency. To contact her, email info@oneupweb.com, or send her a tweet @LisaWehr.
Published: June 28th, 2010
Share this Feature
Recommended Reading:
Comments:
comments powered by

Disqus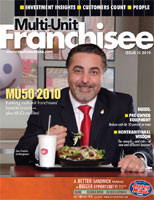 Multi-Unit Franchisee Magazine: Issue 3, 2010
Heyday is a fast-growing skincare company on a mission to provide expert skincare that empowers everyone to be their best self. Heyday is reframing...
Cash Required:
$350,000
Start your own one of the fastest-growing chicken hot wing franchises. East Coast Wings & Grill is an award-winning wing restaurant franchise...
Cash Required:
$200,000