Deals on Wheels: Mobile Food Trucks are Delivering The Goods
The roach coach has hit the road, Jack.
Those sanitarily questionable movable feasts that have rolled through America's cities for decades are being replaced. Filling the void come this year's models: clean, efficient, state-of-the-art mobile food trucks with kitchens, griddles, stoves, and all the refrigerated machinery a small restaurant could possibly need. A new day has arrived for mobile food trucks, and a dynamic market shift is under way.
Major U.S. cities have experienced an increase in mobile food trucks during the past few years. Often, they are mom-and-pop operators who rove industrial parks and office complexes in search of hungry customers. In some cities, mobile food parks with a dozen or more trucks and trailers representing all types of mobile food vendors have set up camp, offering everything from subs, sandwiches, and ethnic specialties to espresso, desserts, and more.
The trend has been driven by a more cost-conscious and mobile public in search of convenience, variety, and value. For example, industrial workers may not be able to leave their jobsite for lunch, or office park workers may not have the time to fight traffic and crowds at restaurants. Herein lies the beauty of the mobile food truck operator model, which can provide a simple fix for customers by delivering the goods hot, fresh, onsite, and right on time. Some mobile food truck operators remain on the go all day and communicate their next stops to their fans on Facebook and Twitter.
Franchises hit the road
Franchise brands are beginning to take notice of the mobile food truck trend. Some are still kicking the tires while others have already outfitted franchisees who are rolling down the road to revenue. Franchisors have been exploring the mobile food truck model for many reasons:
To test and research markets. If there's demand in certain areas (especially where there are limited brick-and-mortar sites available) mobile food trucks can help identify a new market for permanent franchise locations.
Cost. Mobile trucks also can be significantly less expensive to start up and operate than a standard location, providing individuals interested in franchising with another (and usually less expensive) entry point.
Branding. Some have been using mobile trucks as a corporate branding/marketing tool, a kind of moving billboard. The trucks also can be stocked with culinary goodies and driven to public and promotional events and hired to cater private gatherings.
One of the biggest question franchisors are now asking is, "Are we everywhere we need to be?" Mobile food trucks may help answer that question.
There's no denying that the mobile food truck trend is one to be reckoned with. We caught up with three franchisees who have been up and rolling for at least a few months who provided assessments of their markets, strategies, customer base, and the future.
Tasti truck delights
Aaron Webster is the Tasti D-Lite area developer for the Houston market. He operates three brick-and-mortar stores and launched his first mobile truck in the summer of 2010. Webster first spotted a Tasti D-Lite truck on the streets of New York City where it was mostly being used to promote brand awareness.

"I thought I could adapt what they were doing with the truck in New York to my market in Houston," he says. Webster pitched his idea to corporate and purchased the bubble-gum-pink truck for about $100,000. He saw the value in the truck because he could expand his business without incurring the build-out costs and ongoing rent of a new store. He's the first (and so far the only) Tasti D-Lite franchisee with a truck.

On board the truck, he's ready to roll with a small refrigerator, freezer, sinks, countertop, soft-serve machine, toppings bar, and power generator. The bright pink exterior features the brand's logo and website address

.

Webster has mostly used the truck to cater events throughout Houston, such as Christmas and holiday parties, private events including fundraisers and church get-togethers, and local fairs and sporting events. He says he can offer up to 90 percent of his physical store menu from the truck.

Another plus: "Customers can go to our website and reserve the truck online for their events," he says. "One of the added bonuses is that every time the truck is headed to an event we're getting the effects of a giant mobile billboard." He's even considered hiring someone to drive the truck around on days when it's not needed for catering.

So far, his truck is still a relatively minor revenue generator for his growing franchise operation. Webster says he typically uses it at two to three events a week--and he can staff it by himself or with one other employee for larger events.

Webster is pleased with his investment and says the marketing benefit the mobile truck provides has been incredible for him. "The truck is a high-impact tool that provides another sales point and good margins for my business," he says. And the potential for expanded use is huge. "I can definitely see us going beyond the catering events and testing the waters of food parks and office complexes."
Subs on the roll
Tom Jones has been a Cousins Subs franchisee since 2006. He operates four restaurants in Milwaukee County and runs two mobile trucks, which he parks strategically outside various businesses and offices. He says the customers are built in because there are no restaurants near the offices where they work.
"Our trucks provide more opportunity for additional business for us," he says. In addition to working the business lunch crowd Monday through Friday, he often takes the trucks to festivals and similar events on weekends.
Jones says acquiring his first truck was almost accidental: it came with the purchase of one of his brick-and-mortar locations. "I had the idea to fix it up and make it feasible for delivering our sandwiches," he says. He has since purchased a second truck (at a cost of about $35,000) to build his fleet--and his bottom line.
"It's a simple operation. We prepare and prepackage the sandwiches in advance and are happy to take special orders from our customers if they call the morning before we head out," he says. The trucks have all the necessary refrigerated storage space. He keeps seven of his most popular sandwich offerings on the trucks and makes room for any special advance orders. Depending on the day and demand, he says, each of his trucks can sell anywhere from 40 to 150 sandwiches every day.
The key to delivering food to customers, says Jones, is to be there on time. "We treat our food trucks just like a regular brick-and-mortar store. We are where we say we are going to be on time every day. Those customers are depending on us."
Jones says he believes that having a recognizable brand benefits him as a mobile food provider. "The franchise brand name helps us sell sandwiches because people know they can depend on the quality and safety of Cousins Subs." Additionally, he says, corporate Cousins Subs marketing teams help him by promoting not only the brand in his market, but also his trucks.
Jones says he can run each of his trucks with a single dedicated and fully trained employee. When they return from the lunch run they can simply finish off their hours at the store.
"The trucks have been a great tool for us," he says. "They offer an additional way to generate more sales, increase profits, and build our market share."
Site selection on wheels
Randy Wolken is a pioneer in Dallas. He's the first to bring Gandolfo's New York Delicatessen franchise to the Dallas market--and the master franchisee is doing it exclusively through the brand's mobile truck units. Wolken has also signed on to develop sister brand Petro's Chili & Chips in the Dallas market during the next year (both are brands of Pool's Restaurant Group).
Originally, Wolken had planned to open traditional brick-and-mortar stores, but the mobile trucks offered him a way to get into the Gandolfo's brand for about a third of the cost of a physical location, healthy revenue numbers, lower overhead, and the opportunity to identify strong market areas that might support a standalone location later.
"I know my market, and the truck helps me gauge different parts of town while building awareness of the brand," he says. "One of the things I'm looking to identify is can the Dallas market support the Gandolfo's brand?" He's essentially using his truck as a market analysis and site selection tool. And, of course, his truck is a mobile billboard to introduce the Gandolfo's brand to the Dallas market.
Wolken loves the flexibility of the mobile truck model and says he plans to add more trucks soon--at least one more by year's end. He likes that the truck gives him the ability to search for better sites while also reducing his operating costs. "It takes fewer employees to run the truck," he says. And did we mention it also eliminates the costs of building and maintaining a restaurant? (The average initial investment to open a Gandolfo's restaurant ranges from $259,300 to $399,200.)
For now the truck model suits him just fine. Dallas law requires Wolken to lease space in a central commissary where he cooks and prepares food each morning before loading up the truck and heading out on his runs. He has used Google Earth to identify promising high-rise and office building areas. He then looks for private property owners nearby that will allow him to park. "I've discovered that you can't jump around all the time. You have to identify good spots and then show up regularly," he says.
Wolken serves up his goods Monday through Friday while still managing to clean the truck and see to administrative tasks. He often takes the truck out on weekends to events and festivals.
Although he is glad to be associated with a franchise brand, Wolken says most of his customers see him just like a "mom and pop" operator, and he uses that to his advantage. "I look to create a very personal relationship with my customers," he says. "We are not an impersonal cookie-cutter mega brand."
Wolken says there's even a kind of kinship among fellow mobile truck operators. "We can actually work together. Right now I'm considering teaming up with a shaved ice truck: I offer the lunch and he offers the dessert, all in one stop."
The general public is in love with the idea of mobile food trucks right now, says Wolken. "As a franchisee, trucks provide an affordable and scaleable way to grow your business. It's been a profitable decision for me."
Research on the Go
Kevin Higar, senior manager at Technomic, a foodservice industry research firm, spent several months earlier this year in nine different cities visiting (and of course, sampling the culinary cuisine of) more than 100 independent mobile food truck operators. His on-the-ground research produced one of the first major mobile food research reports (see "Keep on Truckin'" sidebar), detailing how these operators think and work, and the strategies they employ. We asked him to offer some insights on this emerging market for franchise brands.
What are brick-and-mortar franchisors asking you about mobile trucks? Primarily about the applicability of also using food trucks as part of their overall business strategy. My response has been that: 1) they provide a relatively inexpensive opportunity to check out new potential sites, talk to potential customers in that area, look at their behavior patterns during different day-parts and days, and observe competitors in the area; and 2) on a more permanent basis, there may be occasions where a food truck really is the sort of non-traditional business model for a particular area (residential or urban areas that don't have restaurants, and the future potential for them in that area is not that feasible).
What kinds of franchise brands could benefit most from mobile trucks, and which ones couldn't? If you are a brand known for a few "signature" items, then that fits the success model pretty well. Food trucks can't really be too expansive with their menus; there just isn't room to do that. You may be working off one flat top and perhaps a fryer or two (or in some cases other specialized culinary equipment). The successful trucks must be able to operate and execute a menu within those constraints. Otherwise, the time to complete an order could be too long.
Are food trucks a good way to launch a franchise brand? They can be. There are certainly food truck operators that started with a mobile format and then expanded to a brick-and-mortar format. From a cost perspective, it can also be less expensive to become operational, so that provides the potential to get more presence in an area more quickly (provided municipalities allow for the spots you would like to locate).
Are food trucks just the latest fad or do you see them as here to stay? Consumers tell us they are here to stay. From my own observational perspective, they are filling a few foodservice basic needs. They are providing unique taste profile foods and beverages, and, even more important, they are able to integrate into consumers' lifestyles. By their very format, they can be where people want them, when they want them there, and typically with a straightforward menu that makes the food selection decision process very straightforward.
What do you see ahead for the mobile food truck model in franchising? Much of the future success is going to depend ultimately on how municipalities end up treating the balance between brick-and-mortar shops and these new food trucks. Where do they let the food truck folks set up shop on a longer-term basis?
Pizza Delivery 2.0
Wisconsin-based Toppers Pizza launched its first "mobile pizza store" in July. The brand is one of several testing the waters of mobile food delivery vehicles. Executives hope it's a move that will help them gain market share in the highly competitive pizza sector.
"Thus far we are only using the truck within the delivery area boundaries of a corporate-owned market," says Scott Iversen, director of marketing at Toppers. We want to determine the best ways to use the truck to capture additional sales from a current trade area before suggesting to franchisees to make an investment in one for their areas."
Iverson sees several potential advantages to the mobile model. First, he believes the trucks will help capture more "impulse sales" opportunities than a traditional brick-and-mortar location could. "On average, our franchises already produce very high average unit sales ($941,000 a year)," he says. "But if we could build on those high averages with a model that produced even more revenue from the same-sized trade area, that would be an attractive investment for our franchisees."
He also says the truck could be great for convincing customers to give the brand a try. "In a mobile store we can offer our same products in smaller, trial-sized portions for a lot less, and they're ready without having to wait to be delivered or picked up," he says. And the truck serves as a constant visual reminder that there is a Toppers store in the neighborhood.
Iverson says the first truck was built for about $160,000, but he thinks it could be done for less. Compare that with the $400,000 it typically takes to build a store; and the truck features much of the same equipment found in their stores. "We can produce over 100 full pizzas per hour in the truck with capacity to triple the product volume by adding two more ovens if we need to do so," he says. "The big advantage the truck has over a regular store is that many of the fixed costs are one-time expenses (building and equipping it) rather than ongoing expenses (rent, utilities, etc.)."
And since fixed costs are lower, the truck offers a much higher profit margin. "Our current brick-and-mortar stores average $161,000, or around 17 percent profit," says Iverson. "Profit margin in the truck can approach 30 to 40 percent on the best days." He notes that it still comes down to maximizing the same three important variables as in any restaurant: top-line sales, food cost, and labor cost.
Iverson believes social media will play a critical role in the mobile truck plans at Toppers. "Social media is today's word of mouth. It is where people are having conversations with their friends and family," he says. "If we want to be a relevant part of people's everyday conversations, we have to be present in the space where they have those conversations. Social media is the vehicle we use to tell people where we are going to be and when."
NRA Food Truck Study
"Food trucks are one of the hottest trends in the restaurant industry right now, and consumers are showing increasing interest in mobile foodservice." That's the conclusion of the National Restaurant Association after surveying 1,004 American adults about mobile food trucks from August 25 to 27. Some numbers from the survey:
Nearly 6 out of 10 (59 percent) would be likely to visit a food truck if their favorite restaurant offered one, up from 47 percent one year ago.
Nearly one-fifth (18 percent) saw a food truck in their community this summer
More than one-quarter (28 percent) of those who saw a food truck this summer made a mobile foodservice purchase.
Consumers living in the West (29 percent) and Northeast (24 percent) were much more likely than those in the South (15 percent) and the Midwest (9 percent) to see a food truck parked in their community this summer.
Adults with children (70 percent) were more likely than those without children (52 percent) to say they would patronize a food truck if it were offered by their favorite restaurant.
A solid majority of younger consumers said they would be likely to visit a food truck if offered by their favorite restaurant: more than two-thirds of those age 18 to 44, compared with 38 percent of those 65 or older.
Keep on Truckin'
Trends in mobile food truck business
Technomic, a foodservice industry consulting and research firm based in Chicago, recently completed a study of mobile food vehicles (MFVs) involving more than 100 independent mobile food truck operators 9 different cities. Here are some of the key findings:
Consumers
MFVs are still somewhat unknown: 1 in 5 consumers said they are not aware of them or have not seen one.
One-third of individuals aware of MFVs have not purchased from them.
Although MFV customers tend to skew younger, 34 percent of food truck users aged 51 to 60 reported visiting once a week or more.
Location and convenience are key consumer purchase drivers.
Six reasons operators became MFV entrepreneurs:
Lost job/unemployment
Be their own boss
Promote and introduce existing brick-and-mortar business
Test concept feasibility before investing in traditional outlet
Capitalize on artisan skill set
Lower start-up costs than traditional restaurants
10 top places for mobile food trucks
Food trailer parks
Near office complexes
Along busy roads
Downtown urban areas
Retail-centric locales
Recreation destinations
Farmer's markets
Private catering events
College campuses
Public events
What the truckers say
Choose locations wisely
Know your competition and marketplace
Keep the menu simple
Cook/assemble quickly
Prep ingredients in large batches and hold for service
Charge competitive prices
Know the codes
Use social media
Offer an experience
Product and/or personality matter
Budget for bad weather (sales can fall 40 percent or more)
Cater business meetings and social events
Be open to potential retail opportunities
Think beyond the truck
The future
The vast majority of MFV customers were satisfied with their experience across all day parts and mobile food vehicle types.
91 percent of consumers familiar with MFVs say they will have staying power and are not just a passing fad.
Only 7 percent of consumers who use MFVs expect their visit frequency to decrease over the next year.
The key to long-term success for MFV operators is to bring current non-users into the fold (70 percent of non-users said they are not likely to try an MFV).
Location (cited by 42 percent) is the biggest barrier to non-user patronage. If more municipalities create or amend their regulations in a manner that is favorable for MFVs, this barrier will be minimized.
Source: Technomic
Published: December 5th, 2011
Share this Feature
Recommended Reading:
Comments:
comments powered by

Disqus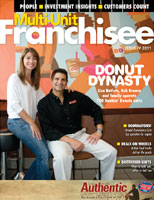 Multi-Unit Franchisee Magazine: Issue 4, 2011
Premier Martial Arts is excited to help entrepreneurs with a passion for martial arts become a meaningful part of their community.
Cash Required:
$100,000
Bad Ass Coffee of Hawaii brings an unforgettable brand, premium coffee products, and a proven business model to a booming coffee scene. We want...
Cash Required:
$100,000