Dear Landlord: This May Be The Best Time In Years To Be A Tenant
It's hard to ignore the negative press about the economy, and it's almost impossible not to cringe at the mention of credit rates and loans. But (and there's always a but) the glass remains half full--or possibly even overflowing--for those lucky enough to be tenants in today's real estate market.

To gain some perspective on being a tenant in this economy, I interviewed one of the largest landlords in the country; a large Washington, D.C.,-based landlord; and a family that owns a few neighborhood shopping centers. To my surprise, I received a very candid response from each. All three confirmed that this is a terrible time to be a landlord, but a great time to be a tenant--and each told me ways they would be pushing the negotiation envelope in this market if they were tenants. Here are some tactics they recommend:
Ask for 25 percent less rent and settle for 10 to 20 percent.
Offer no personal guarantees. If the landlord is giving nothing, guarantee nothing. If you must, guarantee the unamortized portions of the tenant improvement allowances the landlord is giving you.
Insist your rent go down proportionately to any vacancy rates in the center after you open your business. If you're in a 100,000-sq. ft. grocery-anchored center and a 50,000-sq. ft. grocer goes out of business, your rent should be reduced 50 percent or you should have the right to vacate the space.
Be very careful about how you are getting your tenant improvement (TI) allowances. Many landlords right now are trying to dump their real estate and may offer attractive TI allowances to entice you to sign a lease. One insurance policy would be to insist that your contractor agree to take final payment for the project's costs from the TI allowances and indemnify you against that amount. That way, if your landlord doesn't pay the contractor and your contractor can't pay the subcontractors, your project isn't exposed.
Refuse to pay key money.
Ask landlords for marketing money. I had never heard of this before in the past 15 years, but it actually makes perfect sense. Since tenants pay rents and CAM (common area maintenance) fees, you should be asking for marketing money from the landlord and the CAM dollars. This will cost the landlord nothing; he will just add it to everyone's CAMs the following year.
Take over existing tenants that have option periods. Now is the best and only time you can renegotiate those option period rents. Ask for abated or lower rents during those periods.
Ask for rent rollbacks. If your rent is currently $10,000 a month, offer your landlord a lower rent in exchange for a longer term, or offer to pay less rent now and add to later years' rents.
Use your bargaining strength! Get your financing in place to show your landlord you are a quick solution to their problems, without contingencies. This will help you stand the best chance of getting the deal you want.
Some tips of my own
Convert existing restaurant space. Many tired concepts have great real estate, and at one time had the volume to cherry-pick prime markets and locations. Unfortunately, over time they fell out of favor with customer tastes--bad for them, good for you. This creates a perfect opportunity for a fresh new concept to leverage a tremendous location and existing infrastructure, opening for a fraction of the cost of a regular build-out.
Pay your broker. Brokers typically earn commissions from landlords for leasing new or listed space. If you want your broker to help you find conversions, communicate clearly what you are looking for and how you will determine their commission. For example, a typical commission to a tenant broker for a Zpizza is about $20,000. If you want your broker to help you find conversions, but the landlord isn't willing to pay and the seller isn't willing or able to pay, you should make up the shortfall. If you can save $150,000 per unit, as we did with our 5 Guys concept, paying $20,000 per unit is a great investment.
Do your research! Land prime real estate in three steps:
Market analysis. Determine potential trade areas that meet your requirements.
Site analysis. Decide exactly where you want to be within each trade area, making a list of tenants in desirable locations.
Call! Talk to landlords and tenants in the spaces you want to see if there is an opportunity to take over those locations.

You deserve to know the positive side of the current situation. Everything goes in cycles. Soon enough it will be a landlord's market once again. Until then, take full advantage of the opportunity to be a tenant on your own terms.

Dan Rowe, founder and CEO of Fransmart, has led the development of more than a dozen different franchised restaurant chains and sold thousands of units for chains such as 5 Guys Burgers and Fries and Zpizza. He is a franchisee, master franchisee, franchisor, consultant, strategist, private equity investor, and has written articles and spoken at many restaurant and franchise industry conferences.
Published: April 27th, 2009
Share this Feature
Recommended Reading:
Comments:
comments powered by

Disqus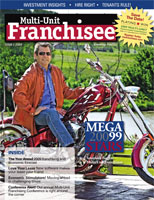 Multi-Unit Franchisee Magazine: Issue 1, 2009
Minuteman Press is the world's largest & number 1 rated printing & marketing franchise. Our business model features multiple revenue streams,...
Cash Required:
$30,000
If you are looking for a business that is meaningful and fulfilling, you should take a closer look at Bruster's® Real Ice Cream Franchise!
Cash Required:
$125,000