Dominator Diversifies: Eric Werner Adds La Sunset Tan--And Movie-Making--To His Subway Empire
What does one of the most successful Subway multi-unit operators, and now multi-unit operator and area developer for LA Sunset Tan, do for his next trick? Make a horror movie, of course.

That's just what Fort Worth, Tex.-based Eric Werner has been up to since we last spoke with him just over a year ago.

"The horror movie industry is incredibly profitable if the movies are done right," says the 44-year-old Werner. A chance meeting with a Hollywood casting director sparked the celluloid partnership. The first flick was called "The Dead Don't Scream," and he says there are two more moving pictures in the works.

But he knows his real bread and butter is the franchise industry. That's where he's fresh off inking a deal with the up-and-coming LA Sunset Tan franchise. Werner is one of the first franchisees and an area developer for the Dallas area. It's the same North Texas area where he operates more than 60 Subways.

"I have an agreement to open 35 units in the Dallas area over the next 5 years," he says. "My plan is to have my first one open by the end of this year." He's already in negotiations for two sites. In the meantime, he will also be looking for qualified franchisees to open LA Sunset Tans throughout his territory.

It's all part of the growth strategy of this North Texas operator who is unequivocally dominating his market.

"There's a saturation point you reach when you're in one market with one brand," says Werner. "I'd been looking at dozens and dozens of other brands over the past couple of years and I liked what I saw with LA Sunset Tan." By diversifying, Werner says he can stay in the market he knows and leverage a different brand and industry. "I've seen it and heard it in other places: when you have diverse brands, even if one is in a downturn chances are your others are doing just fine."

At LA Sunset Tan, Werner liked the management, the simple operations style, and the hot growth segment. "Tanning is big business, and here in the United States we're really just on the cusp of the growth curve. That's where I want to be," he says. He must be on to something because he hadn't even advertised yet in the Dallas market and received a half dozen calls from interested franchise prospects.

"It will be somewhat of a challenge for me as an area developer because my experience is with hiring employees, not finding franchisees," he says. Werner knows it's critical to pick the right franchisee operators. "I know how important this is to our overall success."

From an operations standpoint, Werner is busy setting up a separate company to oversee the LA Sunset Tan stores. He expects operations to be streamlined much as his infrastructure at Texas Subs is for his Subway locations.

"I know I'll have to wear different hats and dedicate part of my time to Texas Subs and the other part to DFW Tanning," says Werner, "but I can't wait to do it. I have the same passion for LA Sunset Tan that I have for Subway."

Name: Eric Werner
Title: CEO
Company: Texas Subs (Subway); DFW Tanning (LA Sunset Tan)
No. of units (by brand): 60-plus Subways throughout North Texas; under a newly signed deal, 35 LA Sunset Tans opened over the next 5 years, with the first open by year-end in Flower Mound, Texas
PERSONAL
Age: 44
Family: Married 8 years, with 8 children. The most recent family addition, Bryce, was born just this summer.
Years in current position: CEO of Texas Subs since 1997.

Years in franchising: Started with Precision Tune in 1987, moved to Subway in 1991.

Key accomplishments: We have made the Inc. 5000 list for the fastest-growing companies in America two years in a row now. We recently won the Subway contest for the fastest sandwich maker in the world, the third time in the last four years we won this worldwide contest.

Biggest mistake: One time I created a promotion for a 99-cent sandwich with the purchase of chips and a drink. It was a bad marketing idea and cost me $20,000 in one month.

How do you spend a day, typically? Reading and responding to lots of email! I probably get 200 emails a day. Even banks now send loan apps through email. It's amazing how technology has changed the way we work. Meeting with upper management staff on major issues to include strategy. Being the face of the company.

Work week: A typical week is filled with all kinds of activities that pertain to plotting, planning, and strategizing. I meet with my COO and other department heads weekly. It's my job to meet with landlords and banks. And it's likely there will be a board meeting in there somewhere. It could be the local Subway FAF, the Subway Strategic Planning Board, and now meetings with LA Sunset Tan.

Favorite activity: Bowling, chess, working out, swimming, taking the yacht out on the lake.

Exercise: Working out is really an important part of my life. I do free weights three times a week for 45 minutes to an hour. It serves as a great stress reliever from work pressure, but it also just makes me feel good to be doing something for my body.

What do you do for fun? I really love spending time with my family. I travel quite a bit and usually try to mix the business travel with pleasure. I go to Vegas about six times a year. But I also have a typical life so you'll find me at Chuck E. Cheese's or going to a movie with the kids.

Books/magazines recently read/recommended: Just finished reading the LA Sunset Tan FDD. Business pubs like Inc. and even entertainment magazines for fun.
MANAGEMENT
Management method or style: One of empowerment. It's important to set the vision and then let the employees achieve the goals. But it does require follow-up. I think some people are good at delegating but fail at following up.

How close are you to operations? There's no way I can be in our stores regularly, but my weekly meetings with my COO or director of operations give a good sense of what's going on.

Greatest challenge: I know everybody says this, but it's good and qualified people. Finding them and developing them. If you can't do this you can't be successful.

Personality: I'd say I'm relatively outgoing. I like to have fun. I think I'm very direct and I expect a lot. I think I know when to be serious and when to have fun.

How do you hire and fire? My people handle this, unless it's a key top position in my company. I can't do everything or I'd go crazy.

Find good people? We have a window sticker in all of our Subway stores that reads, '10 Reasons to Work for Texas Subs.' So we look to our customer base. Moving on up the chain, we rely on careerbuilder.com and monster.com for finding good managers. Times have changed, the newspaper isn't as effective anymore for finding good employees.

Train them? We have an employee training workbook we created and each new hire sits in on a 1.5-hour new employee presentation to cover the basics and fundamentals of our company and Subway.

Retain them? One way is that Subway has online training and we reward our people financially when they complete these courses. Financial incentives are performance-based.

"Growth meter"-- How do you measure your growth?: Three ways: sales, customer traffic, and profitability. You have to factor in all of these. And we look and measure numbers weekly instead of waiting for monthly P&Ls.

Annual revenue: We should do $35 million for 2008 and plan to do $44 million annually by 2010.

2009 goals: Obviously, getting LA Sunset Tan stores open and other franchises sold to the right people. That's so important. We also reassessed some strategies for our Subway units when we were remodeling all the stores this past year. We also set out growth objectives for Subway each year.
Published: December 29th, 2008
Share this Feature
Recommended Reading:
Comments:
comments powered by

Disqus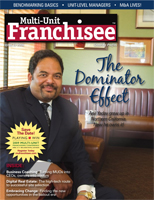 Multi-Unit Franchisee Magazine: Issue 4, 2008
The #1 fast casual Mexican franchise in the industry offering flexible formats with ample white space to grow.
Cash Required:
$350,000
Another Broken Egg is an upscale breakfast, brunch and lunch restaurant that specializes in Southern-inspired menu options and signature cocktails....
Cash Required:
$250,000