Don't Just Survive, Thrive!
(Yes, you can.)
I'm amazed at the resiliency I see in the franchising industry. While so much of the business world is whining over the daily reports of the latest economic upheaval, I look around this industry and I see calmer, cooler heads prevailing. Take franchise recruitment and development, for example. This is no time to panic.

In my feature story in this issue, I interviewed executives at a half dozen different franchise companies. I was curious to hear how they are handling the cards they've been dealt and what, if anything, they are doing to keep the recruiting well from drying up. The innovative plans and programs and the amount of thought, planning, and analysis going into creating and implementing recruiting programs is remarkable. Whether it's waiving the franchise royalty fee for the first year, agreeing to buy back the franchise and/or equipment, or providing access to desperately needed financing, franchisors remain aggressive in pursuit of qualified prospects.

In another story, Eddy Goldberg asked seven "old" brands what they're doing to keep fresh and new and growing in this economy. He found some common threads--innovation, creativity, reinvention, flexibility, and a constant reassessing of their customers' needs in ever-changing economic and competitive environments--something these established brands have been doing for decades, for customers and franchisees alike.

I saw this same can-do attitude in our "Challenge the Pros" Q&A this issue. We asked three top franchise execs for their thoughts on economic forecasting and their development schedule for 2009 and beyond. Here again, the insights and perspective were remarkable.

At Dunkin' Brands, Lynette McKee says that before any development forecasting is done, executives should first look within, at their existing franchisees and system. She says it's critical for the system to be financially healthy and filled with franchisees capable of weathering the storm.

TSS Photography's Joe Lindenmayer says that despite the business climate, his franchise plans to continue to invest in advertising and lead generation efforts for the remainder of the year. As he put it, "Just because the fish aren't biting, you don't leave the bait in the boat."

And Clix's David Asarnow shares how his organization turned to "outside-the-box thinking" to launch a complementary brand that doesn't require a brick-and-mortar studio. New franchisees can begin part-time from their home, reducing capital requirements and start-up time, building relationships, and putting themselves on the path to full-time self-employment.

Regardless of their individual plans and initiatives, franchise executives can agree that solid unit performance is essential during times like these; that it's one of the cornerstones of successful development. Fundamentals must be in place, and so must each brand's core competencies and enduring values. And over time, strategic concepts--adaptability, innovation, flexibility, and the agility to quickly and continually refine strategies--and their timely execution will separate the winners from the losers in this economic climate.
Published: July 13th, 2009
Share this Feature
Recommended Reading:
Comments:
comments powered by

Disqus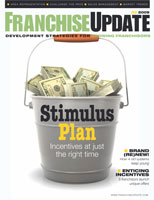 Franchise Update Magazine: Issue 2, 2009
Find the support you need to find success with your small to mid-sized business. Explore the PEO services offered by Integrity Employee Leasing.
Atmosphere TV is the world's leading cable alternative, providing free streaming TV for businesses.