Engineering Growth: Take Success, Add 30 Schlotzsky's, And Shake
When Chirag Patel left India 15 years ago, he had mixed feelings about leaving his home and his parents. "India is a beautiful country, but at the time there were not many opportunities to grow professionally. Being an engineer provided me with the background to pursue a better quality of life, so I left to join my wife, who had already moved to the United States to work."
Patel found work as an engineer and consultant. But he soon learned, through his family, that franchising offered big opportunities for anyone with an entrepreneurial spirit.
"At the time I began in the business, my family had seven Dunkin' Donuts units in three states, which allowed me to experience the industry and owning and operating multiple units firsthand," he says. "Also, my wife was my mentor. She was very supportive and gave me encouragement for success."
Patel took the plunge. In 1999, he acquired his first Dunkin' Donuts in Burlington, N.J., and expanded to 10 units in New Jersey, New York, and Pennsylvania. "The key challenges I faced as a new franchisee were starting in a completely different business--franchising wasn't around in India when I was there--and understanding fundamentals such as system development and financial management," he says. "Having family members in the business made the transition go much more smoothly." (All of Patel's family members, with the exception of his parents, are in the U.S. now.)
Having proven himself more than capable as a franchisee, two years ago Patel became CEO of Philadelphia-based Prayosha Philly Group, where he is one of four partners, along with family friends Ashok Patel, Dasharath Patel, and Atul Patel. "My older partner is in charge of finances and has been an important mentor to me, and there are two younger partners who are the eyes and ears of the organization," he says. "We work together every day and we're all responsible for the success of our concepts throughout Philadelphia. We have a full structure in place, and this allows for unity across our group and our franchises."
Last November, the close-knit multi-brand operation expanded its portfolio (Dunkin' Donuts, Moe's Southwest Grill, Comfort Inn, Hampton Inn, and Howard Johnson's) by signing a 30-unit area development deal with Schlotzsky's for both traditional and non-traditional locations in the Philadelphia area.
"This is by far the largest franchise deal in our company history," said Kelly Roddy, president of Schlotzsky's. Patel and his partners are excited about their new challenge and are working hard to open the restaurants. They plan to open four locations in 2012, the first this summer.
"As an organization, we could handle opening more than that, but the systems we need to truly succeed would not be in place," he says. "I have learned to take the opening of new locations slower before expanding. This allows me to grow strategically. We'll have one restaurant up and running, making sure it is not only profitable but also systematically sound with employees, managers, day-to-day operations, and everything else that goes into building a successful restaurant before moving on to the rest of the locations."
Despite his busy career, the high-energy CEO still finds time to spend with his wife and their three children, and to read and play cricket. "I like to read in my free time, and I sometimes work from my home office so I can spend quality time with my children."
Patel advises would-be franchisees who want to be successful in the long term to start out with a goal of multi-unit development. "Having one store is not the way to make money," he says.
In the future, Patel says he'd like to grow his business in India. "Today, India is growing at a rapid pace, and because of recent liberalization and globalization it now offers great opportunities for individuals to grow."
Name: Chirag Patel
Title: Principal, CEO
Company: Prayosha Philly Group
No. of units: 10 Dunkin' Donuts, 3 Moe's Southwest Grill, 1 Howard Johnson, 1 Comfort Inn, 1 Holiday Inn, and 1 Hampton Inn; area developer for 30 Schlotzsky's
Personal
Age: 39
Family: Wife, Apeksha, two daughters and a son
Years in franchising: 13
Years in current position: 2
Key accomplishments: My key accomplishment, to date, is having started with one Dunkin' Donuts and building that up to 10 units.
Biggest mistake:
Growing and opening franchises too fast early on. Growing too fast may not seem like a problem, but it didn't allow me to have the team in place that I needed to take on extra business. I didn't have the key individuals I needed to help me succeed and grow. As a result, I learned to build systems that allow me to grow when I am ready. Today I build operations first and make sure each location is up and running the way it needs to be for success before opening a second unit.
Smartest mistake:
My smartest mistake was letting my partner push me into business with Focus Brands, which I now see is a great opportunity for us.
How do you spend a typical day?
I start my day at my home office. Then I meet with key managers, network, and visit the stores.
Work week:
Like most franchisees, I do whatever is needed, but generally my work requires 65 to 70 hours a week.
Favorite fun activities:
I enjoy reading books and articles by and about multi-unit franchisees and restaurateurs. I find them inspiring.
Exercise/workout:
Mostly I am a runner.
Favorite tech toys:
My BlackBerry and iPad.
What are you reading?
The 7 Habits of Highly Effective People by Stephen R. Covey.
Do you have a favorite quote/advice?
In the development of others, lies your own.
Best advice you ever got:
Start small, build big.
Formative influences/events:
My grandfather advised me to take calculated risks and never step backward.
How do you balance life and work?
I work hard, but I also give enough time to my family and share equal responsibility with my wife at home.
Management
Business philosophy:
I don't want growth for the sake of growth. I want growth, but I want it to be smart growth.
Are you in the franchising, real estate, or customer service business?
I'm in the franchising business and, of course, in customer service, because our first responsibility is to take care of our customers.
What gets you out of bed in the morning?
I'm enthusiastic about creating a great experience for our customers.
What's your passion in business?
It's most satisfying to give outstanding value to our customers every day.
Management method or style:
I try to demonstrate leadership with each key team member, who then leads his people.
Greatest challenge:
Like many multi-unit franchisees, I find the greatest challenge to be finding and keeping the right people.
How close are you to operations?
Very close. I know the day-to-day operations of each shop, and I visit the stores every other day. I don't just monitor from afar--we receive reports on the stores' operations every day and I hold weekly meetings with managers to learn what is going on from an inside perspective. In the weekly meetings, I receive a comprehensive overview of each unit. I hold myself responsible for the success of each location, and every week I spend three or four hours with each brand. I have found that visiting the different locations on a regular basis helps keep me accountable for the success of the individual unit and allows me to grow the business.
Have you changed your marketing strategy in response to the economy? How?
We continue to market the quality and value of our products to our customers.
How is social media affecting your business operations?
Social media is part of our business plan. It affects all businesses positively.
Personality:
I'm an extrovert for doing business, and an introvert for my listening skills.
How do others describe you?
I think they would say I'm quite demanding.
How do you hire and fire?
I hire key team members for the long term. I don't hire for the short term and I don't like lazy, so I can fire on that basis.
How do you train and retain?
I'm a strong believer in team development, so we're continuously training our people.
How do you deal with problem employees?
We try to get to the cause of the problem and go from there.
Bottom Line
Annual revenue:
$9 million
2012 goals:
$13 million
Growth meter: How do you measure your growth?
By bottom-line growth.
Vision meter: Where do you want to be in 5 years? 10 years?
In 10 years, I'd like to have 50 units for all our brands.
How has the most recent economic cycle affected you, your employees, your customers?
Of course it affects our bottom line, but we're working hard to retain our valued team members. We see our regular customers coming in less often because of the economy.
Are you experiencing economic growth/recovery in your market?
The last two quarters have been positive ones.
What did you change or do differently in this economy that you plan to continue doing?
We've been buying quality locations and building faster, and we'll continue to do that.
How do you forecast for your business in this economy?
It's difficult to forecast, but we are in full growth mode.
Where do you find capital for expansion?
Primarily from our bank partners.
Is capital getting easier to access? Why/why not?
Not really. The banks are still tightening, so things continue to tighten for franchisees.
Have you used private equity, local banks, national banks, other institutions? Why/why not?
We've used local banks because that's what works best for us.
What kind of exit strategy do you have in place?
We don't have one in place and don't feel the need for one in the near future.
What are you doing to take care of your employees?
Our team members are part of our family, so we do whatever is needed to support them.
How are you handling rising employee costs (payroll, healthcare, etc.)?
We're cutting costs and then absorbing the rest.
How do you reward/recognize top-performing employees?
We evaluate our employees on a quarterly system, while examining the day-to-day operations and success of each location. As we do this, we put into place benchmarks to help our employees and our shops move to the next level.
Published: May 30th, 2012
Share this Feature
Recommended Reading:
Comments:
comments powered by

Disqus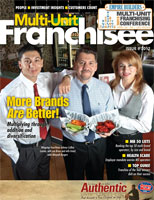 Multi-Unit Franchisee Magazine: Issue 2, 2012
Since 1962, customers have trusted Big O Tires for all their tire and automotive service needs. Today, we have over 465 locations across the country,...
Cash Required:
$50,000
With over 2,000 locations globally, Midas is the auto repair and service shop people know and trust. Multi-unit ownership with Midas is a terrific...