Family Business: Not Child's Play!
Three families succeed where many have failed
Operating a successful franchise business is challenging enough. Add in family members and things can get really interesting. Who's the favorite child? Who gets to be CEO, president, COO? When does the founder let go of the reins (and what if he won't)? Issues such as control or favoritism can sink an otherwise healthy enterprise. And then there's the problem of taking the business home or leaving it at the office. Here are three stories of family-run franchises showing that potential problems with family dynamics not only can be overcome, but can be the source of unique strengths that can be channeled into building a prosperous, healthy enterprise--and family.
His three sons
Ever since his sons can remember, Matt Holker has been an entrepreneur. In the go-go 1990s, he was a general contractor and part owner of a home construction firm. "I knew housing was going to eventually come to an end," he says, "I just didn't know it was going to come to an end as it did."
When that dried up, Holker, then in his early 50s, wasn't ready to retire. And his son Greg, then in his early 20s, had finished some college and was looking for a career. So in 2006, Holker, who enjoys outdoor work, financed the purchase of a Spring-Green Lawn Care franchise for $125,000 and set out to find customers for the lawn and tree care business.
At first, the seasoned business owner took care of the company's books and handled outdoor lawn work, with Greg also maintaining customers' yards and trees. It was a wild ride, Holker recalls. For the first three years, he says, "We ran nonstop just to keep things even." Things are better these days: the Minnesota-based operation reported $620,000 in sales last year, up about 6 percent from 2011, says Holker.
Both the business and family involvement have continued to grow with the addition of Holker's other two sons, Luke in 2009 and Kevin in 2010. Today the four hold equal partnership in the business, GM Lawn Care, named after its first two owners, Greg and Matt.
When Luke, his eldest son, began to tire of his manufacturing job at a glass production factory, he started helping out at the family business on a part-time basis. His father quickly recognized Luke's knack for office and financial work. "He would come in to do the book work after he got back from his other job so he could get introduced to that side of it," says Holker. Since 2009, Luke has been the company's treasurer and office manager, handling payroll and compiling customer lists as well as monthly and quarterly business reports.
Youngest son Kevin joined the company a year later, after his discharge from the Air Force, where he had maintained airplanes as a crew chief. "I didn't have as much influence on him joining the company as his two brothers did," says Holker. "He didn't have anything else lined up at the time and they wanted to take him in as a partner. I said, 'That's fine. Let's put him to work.'" Kevin is now responsible for maintaining the company's five trucks, as well as pitching in on yard care work.
Their experience illustrates what it takes to keep a family business thriving for the long term, while ensuring family connections stay strong. They say their achievements have been made possible through a shared strategic vision, open communication, and plain old hard work.
"I think the biggest thing we have going for us is we all fit into our roles well," says Luke. "If you're looking for a family franchise, study who is going to do what and whether it fits your family and the individual people in it."
Adding more family members, however, boosted the company's need for revenues. "We couldn't stay at that small stage," says Holker. "We had to get a little bit bigger. Otherwise we couldn't support all those families. That in essence moved us to buy out other franchisees."
They made their first purchase in 2009, buying a Spring-Green franchise in a nearby territory from a couple who were retiring. Two years later, they purchased another.
With those purchases came difficult lessons, says Luke, including having to cut the position of the customer service manager who had come along with the purchase of the second franchise. That left him handling customer service along with responsibility for the company's books. "That was challenging to say the least at first," he says. "And it still is. The volume can get pretty impressive at certain times of the year." With the addition of two more franchises, their client count tripled to 1,200, resulting in a huge increase in customer service calls.
Luke says his family has successfully taken on the challenge of expanding their family-owned franchise because "we're all honest with each other and work hard."
The four owners meet regularly to keep each other apprised of their progress, an especially crucial practice since each sees a slightly different part of the business. Though he's the most recent to join the company, Kevin is encouraged to weigh in. "If you don't leave that avenue open," says Holker, "we might miss some creative idea from him that none of the rest of us would ever have thought of."
Exceptional communication is one of the hallmarks of a successful family-run enterprise, says Joseph Astrachan, executive director of the Cox Family Enterprise Center at Georgia's Kennesaw State University. People in thriving family-run businesses, franchised or otherwise, "constantly have discussions about where they are going and why. Another phrase for that is strategic planning," says Astrachan, who is also a professor of management and entrepreneurship at the university. "It's constantly asking, 'Are there things we could be doing differently than what the franchisor suggests in terms of the operating systems, advertising, and promotions we do, or how we deal with employees?'"
As president, Holker has the ultimate say on business decisions, even though he and his sons each hold an equal 25 percent ownership stake. Still, he prefers that his sons reach a consensus among themselves, basing those decisions on what's best for the company. And when it comes to spending on marketing, equipment, and other needs, a majority must approve, he says.
"We're a four-way partnership," says Holker. "Opinions are wonderful, but you've got to back them up with something. And if the numbers don't back you up, you don't have much leg to stand on. As much as we can do it, we try to base things on numbers."
Once Holker, now 58, is no longer involved in the business, he wants Luke to assume the top decision-making post. "He's the oldest, so the others tend to listen to him better anyhow. But they don't have to follow that sequence if they don't want to," he says. Way to let go!
Family ties that bond
Before signing on as one of the first dozen Batteries Plus franchisees in 1994, Jose Perez already had racked up a successful career in international business. After leaving a job as a Spanish teacher at a high school in Illinois, Perez became a sales rep for GTE Sylvania. Promotions led to top marketing posts in Central America, where he was based in Costa Rica and Venezuela.
In 1979, after leaving that job, he started a company in Miami that sold light bulbs in the U.S. and also exported them to Central America. In 1992, after growing that business to $10 million in sales, he sold his share of the company to his partner. Soon afterward, when a major hurricane destroyed his neighborhood in Miami, Perez and his wife Regina left to settle in Oregon.
While searching for a new opportunity, Perez, a self-proclaimed lover of new technology gadgets, became exasperated trying to find batteries for his electronic devices. "My laptop battery went bad, my cell phone battery went bad, and my camcorder battery went bad, and I couldn't find replacements," he says. He spotted an ad in the Wall Street Journal for Batteries Plus, a new company seeking franchisees, and was on his way.
Perez started the company in 2004 with his wife Regina. Their son Miguel, then a recent college graduate, also worked for the company from day one. About a year later, Tony, their other son, joined the company after earning a degree from Florida State University.
Today Perez, along with family members, operates eight stores in Oregon and two more in Vancouver, Wash. He says his franchise, with about $13 million in sales in 2011, is now the largest in the Batteries Plus system, and three of his five children are involved in the business.
Both sons are now are shareholders, each holding a 20 percent stake in the company, while Perez retains 60 percent. Each son runs half the company's commercial sales operations. Tony also trains the company's 47-employee staff. Perez's daughter Lara also works in the business, as does one of his son-in-laws.
Enduring family ties, along with lines of communication that are always open, help keep the company on track. Perez says he's part of "a typical Spanish family" that's gregarious and close, regularly spending time together at their vacation homes or holding family tailgating sessions at Oregon Ducks football games. Bringing his children into the business was only natural, he says. "I just wanted my kids around me."
Keeping the family together outside the business is critical to a family-run company's long-term success, says Ira Bryck, director of the Family Business Center at the University of Massachusetts-Amherst. "You need to make sure the family has a life outside of the business. You need to build a strong, loving, and tolerant family."
Moving the business forward economically, however, meant maintaining a strong work ethic. "If they needed to work 80 hours, they worked 80 hours," says Perez. "There were never any kind of breaks in that regard. There were always rules and regulations and professional expectations."
At the conference table, no one shies away from tough discussions or tells Perez only what they think he wants to hear, just because he's their father as well as CEO. "That doesn't happen here," Perez says with a laugh. "We've got a very lively group, a very strongly opinionated group. I encourage that. The conversations can be heated and sometimes get emotional. But at the end of the day, we respect each other, and the synergy between us has allowed us to grow the business rather significantly."
The company's inner circle also includes two non-family members who have worked for the company for at least a decade and have an equal voice in decisions. Both of those individuals, the vice president of store operations and the director of administrative services, have been with the company for many years, says Perez. "I have nurtured them and helped them grow. They know how I think. They know what's good for the business and what's not."
Astrachan says that many of the strongest family-run enterprises have an active and involved board of directors willing to speak openly and directly. "The most effective people are willing to tell you the truth, even if you might not want to hear the truth. They have the capacity to be candid or be brutally honest," he says.
Such candidness also can be a source of new ideas that benefit the company as a whole. "This person on the board would be maybe highlighting some of the things you could be doing differently that would be outside of your normal way of thinking about the world," says Astrachan. They also can provide insights and opinions that can prompt franchisees "to think much more broadly than the frame of reference that the franchisor might be coming from."
In line with that, for the past four years Perez has relied on an outside consultant to help the business hone the best strategies for growth. They touch base through a series of monthly phone conversations that last a couple of hours, as well as through a three-day management team meeting each summer and quarterly meetings with all the staff. "We review all the programs that we have started and see the progress on those programs. So we're getting an outside view." Always a good idea in a closely held business.
Family affair
As CEO, Gregory J. Hamer Sr. presides over B&G Food Enterprises, a fast-food business he and his wife Brenda started in 1982 when they opened their first Taco Bell franchise in Morgan City, La. Today, still based in Morgan City, B&G has 83 locations, more than $100 million in total sales, 1,700 employees, and is the largest Taco Bell franchisee in Louisiana.
A host of next-generation Hamers have helped drive growth at the company, whose brands include Taco Bell and KFC, as well as combination Taco Bell/KFC, Taco Bell/Pizza Hut, and Taco Bell/Long John Silver's units in Louisiana, Texas, and Mississippi.
Hamer knows firsthand what it means to work for a parent. In 1968, as a 20-something with a freshly minted business degree from Louisiana State University, he began working for his father's oilfield service firm. He did well, but decided that if he ever ended up running a company that included his own children, he'd make some changes--like allowing them to implement more of their own business decisions.
"I always felt that my father had run his business for a long time by himself and he didn't think a lot of efforts to see it my way. If his way was working fine, he didn't see any reason for changing it," says Hamer.
At first, his two daughters joined the business after graduating from college. Tracie, an accountant, spent 15 years with the company, while Valerie worked in operations running one of the restaurants before moving on to handle advertising. Both eventually left the company to raise their children.
Today, Greg Hamer Jr., executive vice president of administration, handles development and support services; son-in-law Jay LeBlanc is vice president of human resources; and son-in-law, John Hover Sr., executive vice president of operations, oversees the restaurants.
While describing himself as the company's top decision-maker with no immediate plans to retire, Hamer also says he has been out of the company's day-to-day workings for the past three years, so his son and sons-in-law now handle the bulk of the company's operations.
Today Hamer Sr. and his wife own 50 percent of the business, and their children own the other half. He says he's been very open with family members about employee compensation and other financial perks, adding that he wants everyone to feel they are being treated fairly where pay is concerned. Also, he hopes that providing across-the-board knowledge to family members will make the eventual ownership transition smoother.
Recalling his days working for his own father--when he had big ideas but little authority--Hamer says that when it comes to how his own children run the business, "I've tried to just bite my finger and let them do what they want to do."
However, he still weighs in with opinions about new locations or other strategies. "Sometimes I'll tell them, 'Look, I've already made that mistake, let's try another option,'" he says. But, he adds, "Wherever possible, we try to make a decision with multiple people involved, as opposed to having one person making a decision. As long as I'm healthy and still around, I get the final vote. I just don't like using it because I prefer for them to make the decisions." Yes the family business is working, but no one said it was going to be easy.
Published: March 6th, 2013
Share this Feature
Recommended Reading:
Comments:
comments powered by

Disqus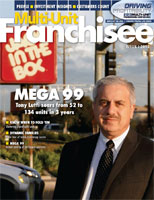 Multi-Unit Franchisee Magazine: Issue 1, 2013
Buddy's Home Furnishings is one of the fastest growing rent-to-own franchises in America with a 60+ year legacy of proven success.
Cash Required:
$150,000
Discover franchise opportunities with one of the world's largest chains of ice cream specialty shops.
Cash Required:
$100,000