Family Business: This Young Couple is Well on the Road to Success
Matt and Amariah Fultz have their hands full. The young couple is overseeing three Kona Ice territories with two trucks, with a third coming this summer. They also operate a Kona Ice kiosk and are raising two children, a 15-month-old and a four-week-old.
Matt was working as a CPA a few years ago when he had a realization about his career. "I saw the way businesses made money and saw that in order to make money and have some degree of flexibility in life, you needed to own your own business," says the 29-year-old today.
Around the same time, a friend told the couple about Kona Ice. They liked the concept and its low-cost entry, and four years ago signed on to become Kona Ice franchisees.
The couple began cautiously with just one truck. When they saw it was successful, they added a second truck, then a Kona Ice kiosk. They plan to keep growing, and their third truck will be up and running this summer. The duo now oversee territories in the Tri-State area of Ashland, Kentucky, Ironton, Ohio, and Huntington, West Virginia.
Matt's accounting background has come in handy for the financial part of operating a franchise business. Under his management, they tallied $300,000 in revenue last year and plan to continue generating double-digit sales growth.
Matt sees Kona Ice in his future for years to come and won't rule out adding another brand. He says that as a Kona Ice franchisee he will always work hard to make a difference in people's lives, be involved in community fundraising, and continue building a company that will secure his family's future.
Name: Matt Fultz
Title: Co-owner
Company: Kona Ice
No. of units: 3 territories
Age: 29
Family: Wife Amariah Fultz, 2 children, 15 months and 4 weeks
Years in franchising: 4
Years in current position: 4
Personal
First job:
Sports writer for local newspaper from 18 to 23; worked in the newsroom as a sports writer throughout college.
Formative influences/events:
Tracy Hillman was a former boss of mine when I worked as a CPA. I watched how the business made money and learned quickly that in order to make money and have flexibility you needed to own your own business.
Key accomplishments:
Passing the CPA exam on the first try. Proving that we can run multiple Konas in a very rural market. You don't have to be in a big city to make it work. Given back $150,000 since launch in 2015.
Biggest current challenge:
Consistent employees, since the brand is more of a seasonal business model. I'm very fortunate to have a couple of really reliable employees who come back year after year.
Next big goal:
To get the third truck up and going in July. Continuing double-digit sales.
First turning point in your career:
Getting the second Kona truck was a big deal for us. We did it once and wanted to see if the second truck could be equally successful. Being able to do it a second time made us believe we could continue to do it and sustain the business.
Best business decision:
Buying the first franchise with Kona, and doing it when we were young (25) and before we had kids.
Hardest lesson learned:
You can't be everything to everybody. Trying to please everyone is impossible and it is a hard pill to swallow when you are a people pleaser. Not everyone is going to like you and you have to accept it.
Work week:
During main season (April to early November), 50-55 hours a week; off-season 10-15 hours a week.
Exercise/workout:
With two children 15 months and younger, it's hard to find time to exercise, but we try to take the kids and dog on a walk two to three times a week.
Best advice you ever got:
People do business with people they like. You don't have to be the best business person or sales person, you just need to make people like you.
What's your passion in business?
Making a difference in people's lives. Fundraising for schools. Being able to build something for my family's future.
How do you balance life and work?
We try to take at least two full-week vacations every year, one with the entire family (in-laws and parents) and one with just the wife and myself.
Guilty pleasure:
Fast food.
Favorite book:
Rich Dad Poor Dad by Robert T. Kiyosaki.
Favorite movie:
"The Italian Job."
What do most people not know about you?
I care more about what people think than they realize.
Pet peeve:
Treating others poorly.
What did you want to be when you grew up?
To work at ESPN.
Last vacation:
Clearwater, Florida, last November with my wife.
Person I'd most like to have lunch with:
Rickie Fowler, professional golfer.
Management
Business philosophy:
Very conservative. We'll expand when we can afford it. Don't go in crazy debt when you can't afford it.
Management method or style:
We are not very authoritative. We offer employees a very flexible work schedule. We try to empower our employees, help them grow, and make sure they have a good experience.
Greatest challenge:
Making sure we are making the right decisions for the business. Another challenge I often face is finding a good work/life balance.
How do others describe you?
People would say that I am a people pleaser and very easygoing.
One thing I'm looking to do better:
My organizational skills could use some help. I know where everything is, but if anyone else tried to find it they would not be able to.
How I give my team room to innovate and experiment:
Each of our team members manages the truck on their own. We have trained them to be able to make decisions within reason and always want them to do the right thing. Any suggestions or recommendations that our team members make will be taken to heart.
How close are you to operations?
Extremely close. We talk every day and the team is all in a very similar age range.
What are the two most important things you rely on from your franchisor?
Product development and leadership. Make sure the brand stays at the top.
What I need from vendors:
Consistency.
Have you changed your marketing strategy in response to the economy? How?
Yes, in the sense that businesses are much more willing to spend money on employee and corporate events, so we have started to target businesses a bit more with our marketing efforts.
How is social media affecting your business?
Social media is a huge part of our business. It affects us in a positive way. We receive a lot of our event requests and leads through social media, mostly through Facebook and some through Instagram. It's a great source of unpaid advertising for us. When a guest visits the truck and posts about their experience, it helps us get more brand recognition.
How do you hire and fire?
Most of the people we hire we have had a relationship with, either through parents or church. We rely heavily on referrals. We haven't really had to fire anyone. For the one or two individuals who have left, it was more a mutual agreement because we could tell the job wasn't fulfilling for them any more.
How do you train and retain?
New Kona employees go through a week-long training process with our more seasoned employees. They help with any upcoming events we have so they can get hands-on experience. They also go through some driver training to make sure they are being safe when operating the Kona Ice truck. For retaining, we hire with a degree of flexibility and allow employees to work when it fits their schedule. Most of our employees are college students.
How do you deal with problem employees?
We've been lucky in the sense that we haven't really had to deal with problem employees. If we do have a problem employee, we address it head-on and as quickly as possible. If an employee seems to be having personal issues, we allow them to take some time to figure it out.
Fastest way into my doghouse:
Showing up late.
Under 30
How did you get into franchising at such a young age?
One night my friend's wife, whose dad is a pastor in Florence, Kentucky, where Kona Ice is based, brought up the idea of us owning a Kona Ice truck. I had just passed the CPA exam 10 months before and said I wasn't really interested. After thinking about it more, I thought it might be a great opportunity. The fees weren't crazy and you didn't have to go into major debt. I also knew someone familiar with the concept, so I thought we would give it a shot.
Was becoming a franchisee something you'd planned on?
I knew I wanted to own a business, and owning a franchise was a safer way of owning a business. I didn't plan on it, but knew it was an option.
Did you have a mentor or inspiration for getting into franchising?
No.
What jobs, skills, and experience have helped you operate a franchise business?
My experience as a CPA. Seeing how others ran their business provided me with an inside scoop on running a business. I also knew what licenses were needed and had a firm grasp on the finances. While working at the local newspaper, I had made some connections and learned how to manage relationships.
What kinds of obstacles did you face in franchising at such a young age?
People didn't take us seriously at first because we were young and purchasing a shaved ice truck business. Also at the time, our banking situation wasn't ideal. If Kona didn't have such a great financing program, it would have been very difficult to buy a business at such a young age.
How would you describe your generation?
We work hard for things that matter to us. We don't work hard just for the sake of working hard. We are driven by social causes and are always looking to contribute to the greater good.
Do you see franchising as a stepping-stone or a career for you?
There is always a possibility for us to add another brand to our portfolio, but I can never see us selling our Kona Ice business. No matter what, we will always be involved to a certain degree.
Bottom Line
Annual revenue:
$300,000.
2019 goals:
Getting the new franchise up and running and continuing double-digit sales growth.
Growth meter: How do you measure your growth?
Comparing year-over-year numbers and unit-over-unit numbers.
Vision meter: Where do you want to be in 5 years? 10 years?
In 5 years, I want at least one more unit, kiosk, or truck. In 10 years, less day-to-day involvement, as well as being able to create bandwidth as an organization and a business and spend more time with my family.
Do you have brands in different segments?
Why/why not? No.
How is the economy in your region affecting you, your employees, your customers?
About a year or so ago, our community lost a lot of blue-collar jobs. Businesses had to relocate and our steel mills closed. It didn't affect our business too much because our prices are low and children will always want shaved ice.
Are you experiencing economic growth in your market?
Our economic growth is rebounding. We've seen some replacement industries coming in, and things are looking more positive than they have in a long while.
How do changes in the economy affect the way you do business?
We maintain a low-cost option for people to be able to afford our treats. Kids will buy shaved ice no matter what the economy is like because we are not highly priced.
How do you forecast for your business?
Year over year, we keep detailed records. We have documents of every event we've ever done and we experience a lot of repeat events every month. We fill out forecast documents with what we know and use historical data to help us project what we will make.
What are the best sources for capital expansion?
Kona Ice has financing options, which is very helpful when you want to expand but may not have all the funds you need.
Experience with private equity, local banks, national banks, other institutions? Why/why not?
Local banks are much easier to deal with when your business is a cash-heavy concept. It is easier to deposit large sums of money without having large cash handling fees added on.
What are you doing to take care of your employees?
When employees turn in a referral for a possible event, they get a bonus. We give gift cards to local restaurants and show them that they are truly appreciated for all of their work. We also give our employees a lot of job flexibility.
How are you handling rising employee costs (payroll, minimum wage, healthcare, etc.)?
This doesn't affect us as much because we do not have full-time employees since we are a seasonal and more event-based business.
What laws and regulations are affecting your business and how are you dealing with it?
Regionally, we had some foodborne illness scares last year and our local government has increased scrutiny of companies handling consumable products. They have required a lot more city training and immunization records to make sure people are handling the food properly.
How do you reward/recognize top-performing employees?
We provide top-performing employees with bonuses and more tangible items.
What kind of exit strategy do you have in place?
We invested in Kona Ice so we would be able to pass it down to our children. This way they have a debt-free start.
Published: October 14th, 2019
Share this Feature
Recommended Reading:
Comments:
comments powered by

Disqus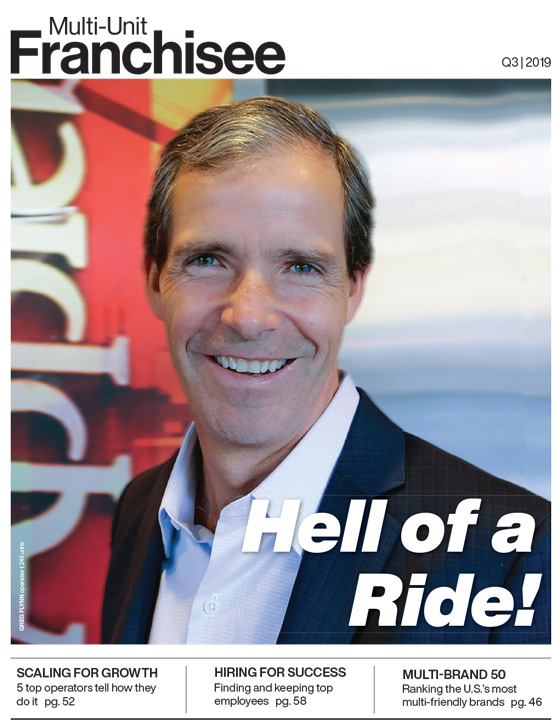 Multi-Unit Franchisee Magazine: Issue 3, 2019
Discover opportunities with Liberty Tax. As one of the nation's largest and fastest-growing tax preparation companies, there are tremendous...
Cash Required:
$65,000
Get A Piece Of The Booming Cannabis Market Without Headaches.
Cash Required:
$1,000,000