Family, Fun, and Franchising: It All Goes Together For Gavin And Kim Hart
By Debbie Selinsky

If there's anything Gavin Hart enjoys more than a vanilla cone at one of his Dairy Queens, it's handing one over to a customer.

"That makes me glad to get up every morning," says the Indiana family man and multi-brand franchisee. "I feel the same way about my Dunkin' Donuts coffee. It's incredible and addictive and I have it every morning while I watch everyone else enjoy theirs. We try to create a family-type environment for our customers in all our restaurants--it makes them want to come back."

Hart, an athlete and a criminal justice graduate of Indiana University, strongly believes that a relaxing, fun, upbeat work environment is largely responsible for the success of his 9 Dairy Queens and 14 Dunkin' Donuts. "We believe good people equals good profits. We treat every employee as family, which creates loyalty and an emotional connection and makes a lot of things easier. We have no theft issues, our retention is good, and we have good employees taking care of our guests. We find that when we treat our guests like family, they return more often."

This perspective took hold slowly when Hart went from operating stores in the smaller city of Fort Wayne to opening units (and another office) in Indianapolis. "At first, I think some people thought we were a little hokey when we spoke about family, but I think time has shown them that we're sincere," he says. Undaunted by the economy, Hart says he looks forward to being able to offer more benefits to his team, such as a retirement plan and college scholarships or tuition assistance.

With five more DQs and five more DDs slated to open this year, Hart considers juggling two brands and multiple units a "benefit," rather than a challenge. "There are many similarities between the brands, so it's an opportunity to take the best from both and meld them together in our system," says Hart, who worked in restaurants as a teenager and in college.

Hart's first experience with franchising came soon after college graduation, when he was offered an opportunity to join a management training program at Hyatt Hotels. The company sent him to Chicago, where he was assured he'd be given a resort property within six months. Six months turned into a year before Hart--who by then had learned plenty about food, beverages, and catering--left to open his own specialty retail store outside Orlando.

It was in Florida that he met his future wife, Kim--and her parents, who were in the Dairy Queen business in Fort Wayne. "Her parents were looking to sell their units and territory and retire, so I flew up and looked at the stores. My wife and I bought them, and I moved back home to Indiana," he recalls, adding that the full-service DQ Grill & Chill restaurants are a "hidden gem" of the food industry.

Hart proudly calls his wife the "heart of the business," citing her willingness to do everything from baking birthday cakes to training to HR. "Fortunately, our girls are mature for their age and interested in the business, so there's a lot of flow between our work and home lives," he says.

When they're not attending their daughters' gymnastics, cheerleading, or diving competitions, the couple often can be found on the golf course. "I'd never played growing up. I wrestled and played football, which I thought of as more 'masculine' sports," he says. "But Kim got me into it and we tend to be addicts. One of the great things about golf is that even if you don't play well, you've spent four hours outside that day. We're real outdoors people."

Name: Gavin Hart
Title: CEO
Company: PDQ Inc. and H&H Restaurant Group (Dairy Queen); 3 companies for Dunkin' Donuts
No. of units: 9 Dairy Queens, with 5 more slated to open in 2012; 14 Dunkin' Donuts, with 5 more planned for 2012.
Personal
Age: 45
Family: Wife and 2 daughters
Years in franchising: 21
Years in current position: 21
Key accomplishments:
Family is a big one. We have two great kids. Business-wise, it comes down to the people. Over the years, we've influenced and helped support hundreds of teens and young adults. We're proud of staying connected with many of them.
Biggest mistake:
Probably getting involved with businesses that go outside our core. We took a number of other, non-restaurant businesses and tried to replicate the success we had with our restaurant side. We had average success but it was not fulfilling. We understand now what we're good at and that we should stick with it.
Smartest mistake:
After we'd been in franchising, we went back and opened an independent bagel shop where we did everything from scratch, from the menu to the training program. And it was difficult after being used to the support, buying power, and marketing/advertising of franchising. The silver lining was that it brought me back in contact with good friends from college, who have become a big part of our company.
How do you spend a typical day?
I'm in the car more than I like since our stores are located throughout Indiana. I'm in the north part of the state for two days and in the central and south for the rest. I visit as many restaurants in the morning as I can. Then I have meetings with executive staff and key leadership at one of our offices, either in Fort Wayne or Indianapolis.
Work week:
24/7. Something always pops up.
Favorite fun activities:
We love to play golf, and we like to water ski and snow ski. We're lake people in the summer at our cottage.
Exercise/workout:
I work out in my home gym for 30 minutes every morning before work.
Favorite tech toys:
My iPhone, iPad, and MacBook Air. All three go with me wherever I go.
What are you reading?
When I Stop Talking, You'll Know I'm Dead by Jerry Weintraub.
Do you have a favorite quote/advice?
As we say at Dairy Queen: Good isn't good enough.
Best advice you ever got:
Don't step over dollars to pick up pennies.
Formative influences/events:
I played football and wrestled in high school, and I think I learned more about discipline, self-restraint, and dedication from wrestling than anywhere else. Our coach, Danny Tilton, was a big influence on all of us.
How do you balance life and work?
Since my wife is active in the business--she does HR, was a trainer when we were smaller, and is a people person with contagious, positive energy--our personal and business lives are pretty intertwined. Our kids, who are mature for their ages, have grown up with that. We'll be at the dinner table talking about business and the kids will ask questions, and we get input from them, too. We're fortunate that we can flow between both business and personal and not interrupt the other.
Management
Business philosophy:
It's pretty simple. We believe good people equals good profits. We treat every employee as family, which creates loyalty and an emotional connection and makes a lot of things easier. We have no theft issues, our retention is good, and we have good employees taking care of our guests. We find that when we treat our guests like family, they return more often.
Are you in the franchising, real estate, or customer service business?
I think if you're not in customer service, all these other things don't matter.
What gets you out of bed in the morning?
I'm excited every day, because there's always something different happening. It also helps when you're proud of your product. When our guests come into Dairy Queen, they're coming for a treat and we're happy about handing it to them.
What's your passion in business?
My passion has a lot to do with our growth and our dreams of what we can do for our employees--things like retirement programs and college scholarships are what we'd like to accomplish in the next few years.
Management method or style:
My style is a little laid back. I don't want to micro-manage the teams, and I think if you hire the right people you don't have to do that.
Greatest challenge:
The greatest challenge is always getting the right people.
How close are you to operations?
Both my wife and I are very close to operations, but as we've grown--we have around 500 employees now--we're closer to operations with the executive staff, who then look after operations with their people.
Have you changed your marketing strategy in response to the economy? How?
Most brands have you pay into a national fund for marketing and advertising, but on top of that, we've spent more on local store marketing.
Personality:
I'm pretty laid back, but I can switch gears quickly. Our philosophy is try to make sure everybody is having fun at work.
How do others describe you?
They'd probably cover the range from laid back to intense.
How do you hire and fire?
Hire slowly and fire quickly.
How do you train and retain?
Retention comes back to loyalty, involving employees and team members in the store family. Obviously, competitive wages and benefits are also important, but I think it comes back to the work environment. We try to make things as pleasant as possible with relaxing uniforms and flexible scheduling.
How do you deal with problem employees?
We have a "three strikes and you're out" policy. There are violations that call for immediate termination, but in most cases we write them up, coach them, and set up an action plan to rectify the situation. If they don't get it after a certain amount of time, we let them move on.
Bottom Line
Annual revenue:
We don't disclose.
2012 goals:
10 percent increase in sales.
Growth meter: How do you measure your growth?
We measure not only in number of units but also in same-store sales.
Vision meter: Where do you want to be in 5 years? 10 years?
In 5 years we want to increase expansion throughout Indiana on both brands. In 10 years, we'd like to be adding five to six stores a year on both brands and to be adding another two or three restaurant brands to our company.
How has the most recent economic cycle affected you, your employees, your customers?
Our business tends to follow the unemployment rate, so as the rate remains high, our guest transactions remain low. Recently, we've seen the rate come down a little, so there's been a bit of a bump.
Are you experiencing economic growth/recovery in your market?
We're seeing a little bit. In 2011 in Dunkin' we saw nice double-digit comp sales. For Dairy Queen, we were flat in 2011, because in our neck of the woods we had the worst weather we've seen in 20 years. We're in the ice cream business, so we are somewhat weather-dependent.
What did you change or do differently in this economy that you plan to continue doing?
We'll continue to pay attention to value prospects. We're giving customers loyalty programs and discount cards, but you don't want to discount too much and become known as a discounted brand. It's a fine line to walk.
How do you forecast for your business in this economy?
In addition to looking at unemployment rates, we forecast every week, looking at the trends from the previous year.
Where do you find capital for expansion?
We've been lucky to stay with local banks in Indiana.
Is capital getting easier to access? Why/why not?
We've not seen much of a change. Things are consistent for us since we've been working with the same local banks for years and we know which projects will be greenlighted.
Have you used private equity, local banks, national banks, other institutions? Why/why not?
We used local banks because they're easier to deal with and the customer service is a notch above national. It's nice to walk into a local branch where they know who you are and decisions can be made on the spot.
What kind of exit strategy do you have in place?
Right now, we're in growth mode and have no exit strategy yet. We just plan to build as many brands and units as we can and to be as profitable as possible.
What are you doing to take care of your employees?
We have competitive wages and benefits for our executive staff. Depending on growth, we plan in the future to provide additional assistance such as college tuition or home care and babysitting needs.
How are you handling rising employee costs (payroll, healthcare, etc.)?
It's part of the game. We try not to pass that on to our customers. Our bottom line is smaller because we just have to absorb a lot of it.
How do you reward/recognize top-performing employees?
We have bonus programs for controllables and random things like who had the fastest drive-thru time as a team this week. We have competitions between stores and give the winners movie tickets or gift cards for dinner, groceries, or to Target or Walmart.
How is social media affecting your business?
It definitely affects us. We have Facebook pages for our stores and people are checking in. This will continue to get bigger, especially with our 18-to-34 DQ demographics. Their heads are always down because they're on the phone or tweeting. We've done some mobile marketing and will continue to work in this arena.
Published: June 20th, 2012
Share this Feature
Recommended Reading:
Comments:
comments powered by

Disqus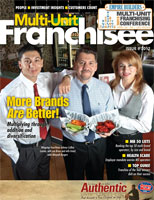 Multi-Unit Franchisee Magazine: Issue 2, 2012
Join the growing $811 Billion grocery industry. Save A Lot is the nation's leading independent grocery chain. Our proven licensed model provides the...
Cash Required:
$300,000
With 5 locations currently open and several in the development pipeline, Bobby's Burgers by Bobby Flay has launched its full-scale U.S. and...
Cash Required:
$500,000