Family Matters: Bojangles' Franchisee Balances Business, Family, Community
When Columbus, Ohio, native Jeff Rigsby was a 16-year-old frying chicken for KFC, he couldn't have foreseen that one day he'd own 21 Bojangles' restaurants.
At the same time, he's not really surprised that things turned out this way. In fact, the soft-spoken husband and father has made himself right at home in Boiling Springs, S.C., and at the restaurants he owns in South Carolina and Western North Carolina.
Rigsby had worked his way up through the KFC organization, relocating to Spartanburg, S.C., in 1988. In 1994, his supervisors bought out the Bojangles' brand. "Bojangles' was in a turnaround situation, and it looked like a great opportunity, so they brought some of us over with them," he says. "The concept took off right away--everybody was talking about it and how they loved the food. It's almost a cult following. People from all over would say, 'Yeah, when we come down to the Carolinas, we have to stop at Bojangles'.' It was an exciting time."
Having always wanted to be an entrepreneur, Rigsby, then regional director of operations, says he let Bojangles' know that he'd like to be a franchisee. Ten years ago, he and a partner bought six stores in Asheville, N.C. He sees only advantages from having been on both the franchisor and franchisee sides.
"I believed in the concept, and I figured that, since I managed stores for other companies, that this was a natural transition. I was able to bring some great people along with me, and when you put great people and great products together great things happen," he says.
Although he'd always respected franchisees, Rigsby admits he quickly realized how very challenging the position is. "As a franchisee, you wear a lot of different hats. You have to make sure the company is going in the right direction and take care of your employees. The learning curve was just the realization of my responsibility now for the whole thing."
Three years ago, Rigsby bought out his partner and now owns the 21 restaurants solo. There are still four or five units he can place in his current territories, but his next big challenge, he says, is opening up four or five stores in Eastern Tennessee as part of a development agreement.
While the travel can be rigorous, Rigsby says he's happiest when he's out in the restaurants, working alongside employees and talking with customers. "I'm not an office guy--I'm an operations guy and I like to be out there doing it. The best feedback you can get is talking to your customers--they will let you know how things are. We have some loyal fans out there. It energizes you, and your employees feel good to talk with them."
Bojangles' "travels well," he adds. "We do especially well in communities because we strive to give back in any community in which we're located. We find out what's important to the area, whether it's schools, churches, or local charities, and we do our part as a business to build strong relations. It builds loyalty on both sides and is a win-win for everybody, but the basic reason we do it is that it's the right thing to do."
Rigsby, a devoted family man, is also happy that two of his three sons--the third is just 16 and learning the business from the ground up--are restaurant managers with his organization.
Although the recent recession has taken its toll on restaurants and franchising, Rigsby encourages would-be franchisees. "My advice to franchisees would be to be patient with the concept. We've been in markets where the stores took off right away, and then we've had some that take a couple of years to mature. If you operate every day on a consistently high level, it comes around every time," he says. "And once you grab customer loyalty, they'll stay with you forever."
Questions
Name: Jeff Rigsby
Title: President/Owner
Company: Bojangles of Western NC
No. of units: 21 Bojangles'
Personal
Age: 49
Family: Wife Kim, married 29 years; three sons and daughter-in-law
Years in current position: 10
Years in franchising: 10
Key accomplishments: Creating a company that has great opportunity for me, family, and employees.
Biggest mistake:
Not expanding our infrastructure sooner.
Smartest mistake:
Committing to a real-estate deal without doing much homework. We were afraid of possibly losing it to a competitor. It worked out fine, but took a few years to come around.
How do you typically spend a day?
I review previous day's sales numbers. I talk to our operations leaders in the morning to get updated. On my way to the office I visit restaurants and talk with teammates and customers. I usually arrive at the office by 10 a.m. I communicate with HR and accounting, then I log in to restaurants to view trends for the day and communicate with managers through email or phone. I spend a part of each day on the growth of our company.
Work week:
Five and a half days, 55 to 60 hours or whatever it takes
Favorite fun activities:
I am a football fanatic. Other than that, I spend quality time with my family.
Exercise/workout:
I am always involved in a project and sometimes use this as an excuse. I try to walk when I can with my wife and work out with my oldest son, but it has not been consistent.
Favorite stuff/tech toys:
I am a movie buff, so we put a large theater in our home. I spend time there when I can.
What are you reading?
Joe Torre: The Yankee Years. I also read any trade publications about the restaurant business.
Do you have a favorite quote or advice you give?
I feel people work a lot of their lives. So it's important to find something you're passionate about and do it the best you can. I hate to see people work jobs they hate.
Formative influences/events:
My father always encouraged me and believed in me. In my professional career I have been fortunate to have worked for some great mentors. I try and learn from people who have been successful in this business.
How do you balance life and work?
It's hard sometimes. I have set priorities: God, family, and work. It flows well most of the time, and if I get off balance my wife reminds me of what's important.
Management
Business philosophy:
Put people first. Have high standards for taking care of customers. They are the lifeblood of any company.
Would you say you are in the franchising, real estate, or customer service business? We are in the customer service business. It's really about how well we take care of our customers.
What gets you out of bed in the morning?
I feel blessed to be where I am. We have a successful company with great people. We're currently in a growth mode. It's exciting to go to work each day and see it happening.
What's your passion in business?
I want to be the best restaurant operator in town. I try and surround myself with people who have that same desire.
Management method or style:
I expect a lot. I don't like mediocrity. I feel I set an environment for people to be motivated to be the best. I am very approachable and a good listener.
Greatest challenge:
Dealing with things I can't control like commodity costs and government mandates. I try not to spend too much time on these.
How close are you to operations?
I visit restaurants regularly and know most all our employees. I meet regularly with our operation leaders and talk about our standards.
Personality:
I am very passionate about what I do. I'm very easygoing and easy to talk to.
How do others describe you?
Bit reserved, but easy to talk with, compassionate about people.
How do you hire and fire?
We look for the best. Experience and accomplishments are important. But attitude and willingness are equally important. As far as firing goes, we try and salvage a person first by putting a plan in place to get them on track. If that does not work, they really fire themselves.
How do you train and retain?
We are very diligent in training and development of our team at all levels. We have internal programs and also use outside seminars. We have low turnover, and retention is a big part of our success. Good coaching is an important role for our leaders. We also have a very good benefits and compensation plan. We always look for ways to recognize top performers.
How do you deal with problem employees?
We communicate what we feel is not working for us. Then we agree on an alternate direction with a timeline. Now it's up to the employees. We have no problem letting them go if that doesn't work.
Bottom Line
Annual revenue:
$24 million
2010 goals:
$28 million
Growth meter: How do you measure growth?
Sales to last year and customer count to last year. Unit growth is also an important measure.
Vision meter: Where do you want to be in 5 years?
We want to have 30 units.
In 10 years? Still growing.
How has the most recent economic cycle affected you, your employees, and your customers?
Unemployment has been a big issue for both customers and employees. We have, however, brought in some good people who before would not work in our industry. Many have found the challenges, excitement, and compensation to be a pleasant surprise.
Are you experiencing economic growth/recovery in your market?
We are probably in between. We had a great year last year.
What did you change/do differently during the recent tough economic times that you plan to continue doing into the future?
We focused on operations. Customers are looking for value. Cost is important, but value is the whole experience. Our concept offers a good home replacement meal for less than the casual dining restaurant.
How do you forecast for your business during trying times?
Can you even forecast at all? We look at trends to last year and current daily trends. It works well for us.
Where do you find capital for expansion?
We have a good relationship with our local bank.
Is capital getting easier to access?
No, and I don't think that will change. All lenders require more cash down and are looking hard at a company's track record.
Have you used private equity, local banks, national banks, other institutions?
We have used local banks for the most part.
What kind of exit strategy do you have in place for your business?
We are working on this. My sons are very involved in the business. But it must be something that they are passionate about. This is something I think we have to take seriously.
What kinds of things are you doing to take care of your employees?
We have a good compensation and benefits plan, we offer a 401(k), which we match, they get paid vacation, health insurance, life/dental, and we reimburse for gym memberships.
How are you handling rising employee costs (payroll, healthcare, etc.)?
We focus on sales and unit economics.
How do you reward/recognize top-performing employees?
We always look for ways to recognize top performers. We have email recognition that is sent out to the company. We use special on-the-spot bonuses. We give out tickets to sporting events and races. At the end of each year we have a Christmas party and awards banquet. We give out plaques to recognize top performance in our company. Did I mention each plaque comes with a check? It's a big deal each year and a lot of fun.
Published: August 23rd, 2010
Share this Feature
Recommended Reading:
Comments:
comments powered by

Disqus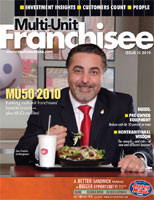 Multi-Unit Franchisee Magazine: Issue 3, 2010
Marco's Pizza is the nation's fastest-growing pizza brand* with 1,100+ stores and counting. It is America's No. 5 pizza brand based on annual...
Cash Required:
$242,142
Vitality Bowls specializes in acai bowls, smoothies, juices, salads, grain bowls, wraps, toast & panini, made with unique superfoods like pitaya,...